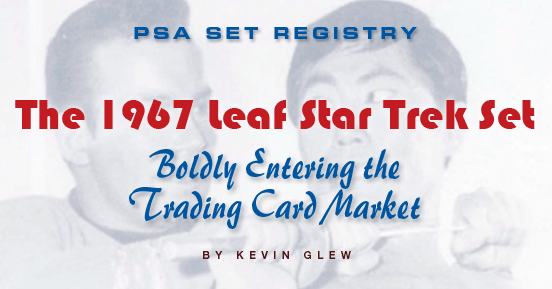 In 1967, Leaf boldly went where no other card manufacturer had gone before.
That year, the Chicago-based gum company unveiled the first set devoted to the Star Trek TV series, an offering whose history has become so mysterious and scandalous that even the brainy Enterprise crew would have trouble explaining it.
"What's kind of neat about the 1967 Leaf Star Trek set is that there are a lot of mysteries surrounding it, and I don't know that we're ever going to have them answered," said non-sports card expert, Kurt Kuersteiner, who's the owner of www.monsterwax.com and www.monstercards.org.
Chief among this black-and-white, 72-card set's perplexities was how it was distributed and why it was withdrawn from store shelves so quickly.
There are several theories as to why these cards were only available for a short period. The most recurring explanation is that they were manufactured without obtaining the proper licensing, and Leaf was subsequently forced to halt production and recall boxes.
"But what company in their right mind is going to produce a series thinking that they had the licensing and then wait to get the licensing until after they have printed the cards?" questioned Kuersteiner. "That's not going to happen because that gives the company with the license all the power."
Kuersteiner believes the cards were more likely yanked from store shelves because of a dispute with the show's cast and/or writers.
"It's possible that the cast members may have said, 'Well, Desilu [the TV production company behind Star Trek] may have given you permission to use the images, but I didn't give you permission to use me in the card set,'" he offered.
Perhaps even more plausible is that the writers could've objected to their storylines being used on the backs of the cards, contends Kuersteiner. While some storylines on the card backs stray wildly from the TV plots, some are very similar. For example, Kuersteiner notes that the description on the back of card #3 "A Grup Appears" is nearly identical to the plot for the TV episode entitled "Miri" and that the back of card #5 "Murasaki Mischief" describes the plot of an episode called "The Galileo 7."
"The writers could've griped about their stories being used [without permission] because Star Trek used a lot of other writers, including some science fiction writers who adapted their stories to the series," said Kuersteiner. "The writers could make the complaint that they didn't get their cut."
The savvy hobby authority adds that it's also possible that Leaf secured rights to use some of the writers' stories but not others. That would explain why some descriptions are similar to the TV plots, while others are laughably different.
Another explanation that's sometimes offered for the scarcity of these cards is that they were test marketed in Illinois and Ohio and didn't sell well, so Leaf simply discontinued production.
"I find that a plausible explanation also," said Kuersteiner. "Remember, Star Trek was basically discontinued in its third season and it never really caught on in a tremendous way until people saw it in reruns."
For the record, the Gene Roddenberry-created series originally aired on NBC for 79 episodes from 1966 to 1969 before it was cancelled. But Desilu Productions – a company overseen by Lucille Ball at the time – invested heavily in the production values of the show and recognized that it might thrive in syndication.
"They spent the money on special effects and better writers," said Kuersteiner. "And as a result, the series stayed alive and grew into a phenomenon while in syndication."
The 1967 Leaf Star Trek cards were distributed in five-cent packs with gum. Today, wax packs, wrappers and boxes from this series are in high demand.
"The wrappers go for hefty prices," said Mark Adams, who owns the No. 2 Current Finest registry set, adding that he paid $550 for an ungraded wrapper.
The cards feature black-and-white photos from various Star Trek episodes, as well as some photos that appear to have been snapped between takes. Captions are also included along the bottom of the fronts, while the backs offer descriptions of the photos. The backs also exhibit the card number and a photo of Captain Kirk and Spock. A red border surrounds the text on the backs on three sides.
The stories on certain card backs are particularly outlandish. For example, card #17 "Phaser Daser" describes strange creatures materializing aboard the Enterprise that "threaten to destroy the craft." The creatures can make themselves invisible and can only be attacked by phasers when clearly seen. Kirk uses Yeoman Rand as a decoy to lure the creatures into his sight.
"At first the deadly creatures only appear when Rand is alone," the text reads. "But Kirk corners their leader by pretending to be the Yeoman and saves the Enterprise."
Kuersteiner chuckles at the text on this card.
"The front of the card has this photo of a handsome, dashing Kirk holding a phaser, but on the back of the card, it says that he tricks the creatures by pretending to be Yeoman Rand," said Kuersteiner. "What did he do? Dress up in Rand's uniform [a dress]? That's one episode of Star Trek I definitely missed."
Another laugh-out-loud scenario is described on the back of #23 "Teeny Bopper." The text on this card says a "weird gas causes Mr. Spock to believe he's a 1967 Teeny-Bopper." Dr. McCoy attempts to restrain him but can find no antidote. Kirk then becomes annoyed and shouts at Spock.
"The sound of authority, spoken like an angry father, jolts Mr. Spock," reads the card back. "He rebels at first, then returns slowly to his own personality."
But when you get past the amusing plots on the backs of some of the cards, this set can be frustrating to assemble in top condition. Collectors say the first and last cards are highly coveted and difficult to uncover in pristine condition.
"The No. 1 card and the No. 72 card are extremely hard to obtain in high quality," noted Adams. "When people collected the set, those cards would be on the top and bottom and they would receive the most wear."
Damir Tomicic, who possesses the registry's No. 3 Current Finest set, agrees.
"I have the only PSA [MINT] 9, No. 1 card," he said. "When that came up for sale, I snatched that one up."
Boasting the caption "No Time for Escape," the No. 1 card features a photo of a distressed looking Spock with Dr. McCoy. Of the 43 graded, there has been one PSA 9 and just four PSA NM-MT 8s, making it the set's most elusive card in PSA 8 or better grade. The sole PSA 9 garnered $3,152.60 on eBay in March 2011.
Andrew Jude Dedo, who has assembled the No. 5 Current Finest registry set and owns the only PSA GEM-MT 10 example (#61 "Killer Aboard") from this issue, says that cards #1 through #10 are all evasive in high grade.
"The most difficult cards to find in high grade are the first 10 in the set and the last two or three. More specifically, numbers 1, 2, 3, 9, 10, 70, 71, 72 and, for some reason, number 37 in mint condition are a challenge," he said.
Tomicic says that card #3 "A Grup Appears" proved to be particularly tough for him to track down, but he adds that almost all of the cards are difficult to find in flawless form.
"I'm still upgrading, but it's just rare to see the cards come up in [PSA] 9s," he said. "It just takes them forever to show up. In a lot of cases, a PSA 8 is the highest graded card. And in other cases, less than 10 [PSA] 8s total exist of some of those cards."
Various condition woes hamper these cards.
"The cards were printed on very poor card stock and are easily susceptible to all types of physical damage," said Jude Dedo. "They were also very poorly cut, so the edges are rough and, thus, very rarely grade higher than a [PSA] 8. Also, the surface was susceptible to easy scuffs and scratches. And if that weren't enough, there were many cards that came out of the packs with machinery crimping on one of the edges."
Adams has also seen gum stains on these cards.
"A lot of these [Leaf Star Trek card] packs were opened well after they were originally produced – when people realized how much they were worth. The cards sat inside the packs with the gum for a long time," he said.
On top of examining the cards for condition issues, collectors also have to wary of reprints. Two sets of reprints have been cited. One is easy to distinguish because the cards are marked as reprints on the backs, but another European version has been the source of considerable hobby controversy.
In the mid 1990s, an unscrupulous dealer began selling what he claimed was a rare European version of the 1967 Leaf Star Trek set that he found in a warehouse. Kuersteiner recalls seeing an ad offering the set for $50, and he purchased one.
"Then I got the set and immediately all sorts of red flags went up," he said. "Unlike a lot of other people, I had experience in printing because, at that point, I had started producing Monster Wax Trading cards. However, I was still in need of money, so in order to keep the printing costs down, I actually went and worked at the printer's place for a number of weeks to pay for my printing job. While I was there, I learned a lot of things, and one of the problems they have are these things called moray patterns."
Kuersteiner says that moray patterns occur when a photo is taken of another photo or screened image (e.g., taking a photo of a trading card), and the resulting photo is used in the production process.
With this knowledge in hand, Kuersteiner started questioning a few things. "If this set was made in Europe at the exact same time in 1967, with the blessing of the company and the people who had the license, why would they be taking photos of screened pictures?" wondered Kuersteiner. "Wouldn't they send the actual photograph? Or better yet, wouldn't they just send the actual film?"
Then Kuersteiner also noticed that the stock was different on the European cards.
"Back in the 1960s, it was typical for monster cards to be printed on gray cardboard because it was cheap, and that was what a lot of printers used back then. But in more recent years, trying to get that [gray] cardboard is very, very difficult. In fact it's almost impossible," explained Kuersteiner. "The Leaf Star Trek cards from 1967 had kind of a blend. They had gray cardboard in the middle and it had a white finish on both sides. The outside of the cardboard was this smooth glossy white, but the inside of the cardboard was solid gray. These European cards, on the other hand, were solid white stock, like all of the modern cards."
Kuersteiner shared his concerns about this alleged rare European set with other hobbyists. In the meantime, however, the dealer who was selling the sets managed to produce a letter of authenticity from Richard Arnold, who had worked closely with Roddenberry in the Star Trek merchandising division. And this letter seemed to confirm that these cards were, indeed, printed in 1967.
"That letter just had the effect that common sense be damned. It looks like somehow these are authentic. So I thought to myself, I'm not sure how they can be authentic, but I guess I just have to shut up," said Kuersteiner.
More than 10 years passed and dozens, if not hundreds, of the European sets were sold as original 1967 issues by the time Arnold discovered that the letter he had written to the dealer telling him that the cards were reprints had been altered and transformed into a letter of authenticity.
"It's kind of a shameful chapter in non-sports," said Kuersteiner.
Adams agrees.
"I've seen those cards. They're worthless," he said. "It was a way for someone to get into the market when the cards were becoming very, very popular."
With so many bogus European sets now in circulation and not marked as reprints, Kuersteiner encourages collectors to examine the (side) edge of the cards closely before they purchase them.
"If they look at the edge and see that the sandwich portion of the card is white, then it's a reprint. If it is gray right in the center of the card, then it's authentic," said Kuersteiner.
But even with this scandalous chapter in its history, the 1967 Star Trek set remains one of the most sought-after non-sports sets ever produced.
"A few more collectors with deep pockets have entered the market and have driven up prices five- or six-fold," said Jude Dedo. "A PSA 9 selling for $300 a few years ago now readily fetches $1200 to $1500."
Tomicic has witnessed the same trend.
"There is just so much competition for these cards," he said. "Within the last year and a half or so, I've noticed a lot more collectors coming aboard."
And with the new Star Trek movie (Star Trek Into Darkness) opening in May, interest in the original set has continued to soar.
"This set is going to get bigger and bigger," said Tomicic. "It's gone up so much in the past couple of years that it's unlikely to slow down."
View the set in the PSA Set Registry.
---
Please feel free to contact Kevin Glew at [email protected] if you have any additional information or comments. Thanks to Mark Adams and Heritage Auctions for providing photos to go with this article. Please note that the Population Report figures quoted and Set Registry rankings reported are those as of May 2013.