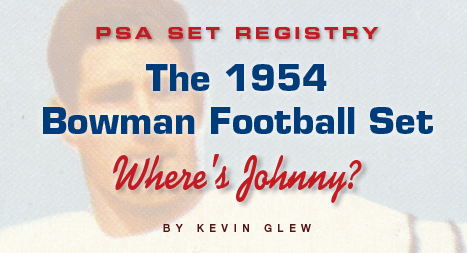 In a set that boasts pasteboards of more than two dozen Hall of Famers, it's surprising to learn that the key card features a collegiate star named Johnny who played just one season in the NFL.
But collectors seem to agree that a high-grade John Lattner single (#128) is the most desirable card in the 1954 Bowman Football set.
"The Holy Grail of the set from a grading point of view is the Lattner card," said Doug McManus, who owns the No. 3 Current Finest 1954 Bowman set on the PSA Set Registry. "That card doesn't exist in either a [PSA MINT] 9 or a [PSA GEM-MT] 10."
But if you examine Lattner's resume and position in the set further, it's easier to understand why his card enjoys such vaunted status.
"It's the last card. It's his rookie card. He's a Heisman Trophy winner and he went to Notre Dame. He has all that going for him," noted Mike Thomas, the webmaster of www.vintagefootballgallery.com
The Lattner is also the only card in this issue without an unqualified example to grade above PSA NM-MT 8. A number of factors combine to make it difficult to uncover in pristine condition. As Thomas noted, it's the set's last card and was therefore subjected to additional wear and tear at the bottom of collectors' piles. Also, according to Thomas's research, this single appears to have been located in the bottom right corner of a print sheet, a position that traditionally makes cards susceptible to flaws such as miscuts. This would help explain why McManus has seen a lot of Lattner cards with poor centering.
"I don't even want to think of what the Lattner might go for if one graded a [PSA] 9," said McManus. "I wouldn't be surprised if it went for $10,000 or $12,000, and that could be a conservative estimate on my part."
But if you're thinking of starting a 1954 Bowman Football set, don't let this intimidate you. The rest of the pasteboards in this series aren't likely to come with such lofty price tags.
Highlighting players from the 12 NFL franchises at the time, this issue is comprised of 128 cards – 32 more than the previous Bowman gridiron issue. Measuring 2-1/2" by 3-3/4", these cards showcase colorful player pictures on their fronts, with the player's name and team indicated in a white pennant near the bottom, alongside a picture of the team mascot.
"To me this set has a real nice eye appeal. The colors are fantastic, and there are a lot of action poses," shared McManus. In his opinion, the set visually depicts the action and energy of the game really well. "The players just look like they're ready to play football," he added.
The horizontal card backs exhibit the card number in black print inside a red box, and the player name and position can be found in black print inside a football graphic outlined in red. The player's personal details (e.g. college, residence, age, height and weight), a biographical write-up and copyright information are also showcased on the backs. Some cards have statistical information, while others showcase a "Football Quiz." Some also flaunt drawings that explain officials' signals.
Although Thomas hasn't seen a sheet of 1954 Bowman Football cards, he believes they likely followed the same pattern as the other Bowman gridiron issues from the same era. He has constructed the virtual sheets for this series on his website. He believes that the 1954 cards were most probably printed on four, 32-card sheets (with four rows of eight cards on each sheet).
Also, if these sheets follow the same pattern as their Bowman contemporaries, the cards were sequenced in numerical order on the sheets. For example, the first row of the first sheet would include cards #1 to #8 from left to right. Hobbyists seem to agree that cards from the third sheet (#65 to #96) are the toughest to track down.
These cards were distributed in one-card, penny packs and seven-card, nickel packs. Both types of packs contained gum. McManus, who owns an example of each of the packs, says that the five-cent packs are significantly scarcer.
Cards in this issue also adhere to an identifiable sequence. One representative from each of the teams is presented in the following order until card #70:
Pittsburgh Steelers
Baltimore Colts
Washington Redskins
Cleveland Browns
Detroit Lions
San Francisco 49ers
New York Giants
Los Angeles Rams
Philadelphia Eagles
Green Bay Packers
Chicago Bears
Chicago Cardinals
This sequence is maintained through cards #71 to #80, but the Bears and Cardinals are then skipped on cards #81 and #82. The sequencing then varies somewhat until cards #96 to #107, when the 12-team sequence above is restored. Inconsistencies exist in this sequence again from cards #108 to #128, but it's interesting to note that five of the last 11 cards are Bears players.
On top of the coveted Lattner single, this set boasts a number of other decent rookies, including Zeke Bratkowski (#11), Les Bingaman (#29), Dave Hanner (#88), Don Heinrich (#92) and Wilford White (#125), as well as the cardboard debuts of Hall of Famers Doug Atkins (#4) and George Blanda (#23).
"The Atkins rookie in higher grade is a very difficult card to obtain," said McManus.
Of the 194 Atkins singles submitted, there have been five PSA 9s. A PSA NM-MT+ 8.5 sold for $589.89 on eBay in September 2008.
Collectors say the Blanda rookie is readily available in high-grade.
"The Blanda is not that difficult; it's just expensive," noted John Woodring, who owns the No. 1, 1954 Bowman Football registry set.
There are 14 PSA 9 Blanda cards, one of which fetched $1,100 on eBay in December 2012.
This set also offers pasteboards of several other Hall of Famers, including Norm Van Brocklin (#8), Elroy Hirsch (#32), Otto Graham (#40), Y.A. Tittle (#42), Lou Groza (#52), Bobby Layne (#53), Frank Gifford (#55), Leo Nomellini (#76) and Lou Creekmur (#85).
The most evasive Hall of Famer in top condition, however, is Chuck Bednarik (#57). Woodring owns one of the three existing PSA 9 examples. In October 2008, this card garnered $2,154.95 in a Mile High Card Co. sale.
Like the Lattner single, one of the reasons the Bednarik may be difficult to track down is because of its sheet position. It appears to have been the first card on the left in the bottom row of the second sheet (another vulnerable edge sheet position).
"The Philadelphia Eagles cards [including the Bednarik] were more difficult for some reason. If you look at them, they're mostly out of focus and not very good photographs at all," explained Woodring. "In fact, one of the other cards that I don't have in a PSA 9 is Harold Giancanelli who's also an Eagle. Those cards are almost all out of focus."
The Giancanelli single (#33) has also been tough for McManus to uncover in top condition.
"There are only two PSA 9s of this card and there are no PSA 10s," noted McManus. "The centering is atrocious. Trying to get it in any sort of high-end condition is absolutely impossible."
If Thomas's virtual sheet is accurate, the Giancanelli would be the first card on the top left edge of the second sheet, again a position that regularly leads to condition woes.
McManus also notes that the Dick Chapman card (#65) – most likely the first card on the left of the third sheet – is also elusive in flawless form. There are just two PSA 9s.
However, the most difficult card for McManus, before he finished his set, was the Dale Dodrill (#81). The savvy collector says this single is frequently found with "focus problems." And it, too, appears to have had an unforgiving sheet position (left edge of the third row on the third sheet). But in recent years, more high-grade examples have emerged. There are now five PSA 9 copies, one of which garnered $218.28 on eBay in July 2010.
There are also two error cards to watch out for. The most renowned is the Tom Finnin card (#97). The "error" version of this single has Finnin's last name spelled "Finnan" on the front and "Finnin" on the back. A "corrected" version features "Finnan" on both sides. But Thomas has discovered that the correct spelling is actually "Finnin," so both versions are, in fact, error cards. That said, the widely accepted "error" version (with "Finnan" on the front and "Finnin" on the back) appears to be harder to track down and often commands a substantial premium.
The Emlen Tunnell error (#102) is less publicized. The first version features Tunnell's last name without a second "l." The "l" was added to the corrected version, but as Thomas notes, it almost looks like the second "l" was written in by hand. Neither version commands a premium, and collectors aren't required to track down the Finnin or Tunnell errors to complete their registry sets.
Largely due to a find of over 250 unopened boxes of 1954 and 1955 Bowman Football cards by Alan "Mr. Mint" Rosen in Paris, Tennessee, in 1987, the 1954 Bowman cards are easier to find in high grade than most of their gridiron contemporaries.
"For years in the late '90s and early 2000s, you could buy unopened packs on the internet for a reasonable price," said Woodring. "And that led to an explosion of these cards being graded in [PSA] 9s and [PSA] 10s."
But this issue remains relatively underappreciated in the vintage football hobby. Despite boasting two Hall of Famer rookies, cards of more than two dozen other Hall of Famers, some challenging commons and two interesting errors, the 1954 Bowman Football set is still less popular than the 1952 and 1955 Bowman issues.
Maybe the relentless search that some hobbyists have embarked on to uncover a MINT copy of the set's last card (Heisman Trophy winner John Lattner #128) will help to bring this set to the hobby forefront.
"I suspect after all this time that there's no Lattner out there that's worthy of a [PSA] 9, but who knows?" said Woodring, who has been looking for a MINT Lattner for 16 years and counting.
View the set in the PSA Set Registry.
---
Please feel free to contact Kevin Glew at [email protected] if you have any additional information or comments. A special thanks to Mike Thomas for sharing information from his website: http://www.footballcardgallery.com/ and for providing scans. Thanks also to Mile High Card Co. for providing scans. Please note that the Population Report figures and Set Registry rankings are those as of April 2013.