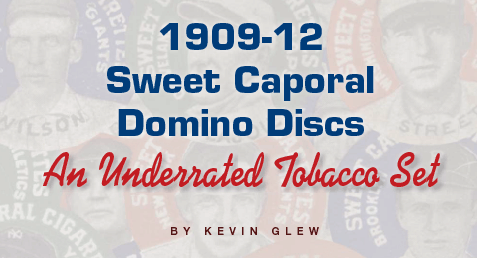 It's scarce yet inexpensive, colorful yet fragile, but the 1909-12 Sweet Caporal Domino Discs PX7 set barely registers on the radar of most vintage collectors. The set's relative anonymity has baffled its small group of devotees.
"The Domino Disc set is a very scarce and desirable set," said Mike Charron, who owns the No. 2 Current Finest set on the PSA Set Registry.
David Burmon, owner of the No. 1 Current Finest set on the PSA Set Registry, enjoys collecting hard to find sets and this is precisely why he chose to tackle this one. "As a collector, I try and find quality and high grade cards or pins in whatever set I collect, and this [set] took me about five years to complete. But when I did, it was a wonderful moment."
Mike Pugeda, who has been collecting this set for 12 years, likewise acknowledges the scarcity of this set. "There's probably less than 10 full sets in existence," he said.
The dearth of these discs likely indicates that fewer of them were produced than other tobacco collectibles from the same era, including the 1910-12 Sweet Caporal pins (P2).
"At shows, vintage dealers will have a lot of pins, but they generally only have a handful of discs," said Tom Lane, who owns the third-ranked registry set.
Inserted in packs of Sweet Caporal cigarettes between 1909 and 1912, these 1-1/8", cardboard discs boast a metal rim. Unlike the P2 pins produced in multiple factories, these pins were manufactured in a sole New York plant (Factory No. 30, 2nd Dist., NY). This may explain why fewer discs have surfaced compared to the pins.
Pugeda also believes there were at least two print runs of these discs. The second run incorporated picture enhancements and team changes.
To complete this offering on the PSA Set Registry, collectors must acquire 137 discs (129 different player discs, seven noteworthy variations and a Home/Visiting team disc).
Disc fronts showcase black-and-white player portraits against one of four color backgrounds (red, blue, green and brown (sometimes deemed purple, violet or sepia)).
"The brown or sepia ones can have any colored [disc] back," pointed out Pugeda. "But the red will always have red backs. Green will always have green backs. And blue will always have blue backs."
The player and team name are also featured on the front, while the backs showcase a white domino.
Numerous picture variations have been uncovered. Players can also be found with different colored backgrounds on their fronts. Similarly, no specific domino values are assigned to each player, so the domino combinations on the backs vary.
Most hobbyists acknowledge two versions of the Ty Cobb disc, and both must be acquired to complete the registry set. One version showcases the Georgia Peach with a "D" on his cap, while the other doesn't. The disc without the "D" commands a premium.
"Without question, the Ty Cobb with no 'D' on the cap is the most valuable disc in the set," said Charron.
Just 11 Cobbs without a "D" have been evaluated by PSA, and the highest grade recorded has been a PSA NM 7.
Pugeda has seen three versions of the Cobb disc.
"One comes with a 'D' on the cap, one without a 'D' on the cap and there's also a second one without the 'D' that is just a much smaller image. The discs are pretty distinct when you see all three side by side," he said.
Two versions of six other discs must also be tracked down to finish the registry set. Six players have two separate discs that feature them with different teams: Jack Knight (Yankees, Senators), Pat Moran (Cubs, Phillies), Doc Scanlon (Superbas, Phillies), Gabby Street (Senators, Yankees), Art Wilson (Pirates, Giants) and Owen Wilson (Giants, Pirates).
On top of the Cobb, baseball legends Walter Johnson, Cy Young and Christy Mathewson are also represented in this set. Cobb discs command the most, but some Mathewson discs have been known to sell for a few hundred dollars.
The Home/Visiting team disc is also highly coveted.
"I see a lot of dealers claiming that the Home/Visiting discs are very tough, and they probably are," said Pugeda. "There are people that say they were probably discarded because it wasn't a player. It was just a generic disc."
So far, just 11 have been submitted to PSA and the highest grade recorded has been PSA NM-MT 8.
It's difficult to discern what discs are particularly elusive because they're all hard to find.
"To be honest, there are so few to be found that every item is difficult," said Charron. "None seem to be more common than others from what I have seen,"
Pugeda agrees.
"As far as any specific player goes, I think they come up so infrequently that it's really hard to say that one is scarcer than any other," he said.
Compared to the pins, the discs are also tougher to find in high-grade because they were designed to be played with.
"I heard people used to toss and throw these as discs," said Lane.
Charron has noticed scuffs and stains on the discs, as well as rust on the rims. Lane has noticed the same problem.
"The rims grow rusty pretty easily," he said. "The metal rim is the most common condition problem."
These condition issues, coupled with the general scarcity of these discs, make this issue a challenge to complete. But with its relative affordability, this set seems like a challenge worth embracing. After all, if the dominoes were to fall in the right place, this could be a very valuable set in the future.
---
Please feel free to contact Kevin Glew at [email protected] if you have any additional information or comments. Thank you to Dave Burmon who provided his entire set for the images in this article. Please note that the Population Report figures and Set Registry rankings are those as of April 2013.