Clean Sweep is excited to present its current auction which offers strong offerings in so many categories. In particular, nearly all of the items in this auction are completely fresh to market, which we know is important to so many of our bidders. The current auction closes on June 12.
Auction opens with three great lots. The first is a stunning 1902 Carl Horner Boston Red Sox original cabinet display in the original frame, second is a very attractive uncreased 1952 Topps Mantle PSA 3.5 and third is a signed 1952 Topps Mantle, with the autograph graded a Mint 9 by PSA/DNA.
Next up are graded baseball cards, including a pair of Kalamazoo Bats, 19th century HOFers including Cap Anson, Ed Delehanty and Pud Galvin and a run of T207 scarcities with the key Buck Weaver card. There is a very attractive M101-4 Joe Jackson and a run of 1948 Leafs with a Babe Ruth and 36 different collector grade short-prints including the Satchel Paige. For the Topps collector, we have PSA 9s from 52 Topps, and 56 Topps Minoso and Pirates TC. There are also many very fine 8s of key HOFers from 56 and 57 Topps.
Sets and lots come next, with note to an enormous type card collection going back to the 19th century broken down into manageable lots. There is a 51 Bowman Near-Set with a Mantle, big lots of 52 Topps PSA 5 and PSA 6s and many quality sets from the 50s through the 70s, with note to superb sets of 58 Topps, 62 Topps, 63 Topps, 65 Topps, 67 Topps and 72 Topps.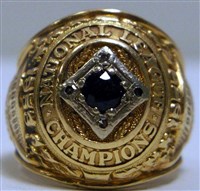 Baseball autographs come next, and features a superb signed 1950 Bowman Jackie Robinson, several rare Roy Campanella signed items, two great Babe Ruth cuts in superb condition: a quotes style signature from the 1920s and a fine signature from 1947 with the return envelope. Other rarities include a Satchel Paige endorsed check and letters from Hal Chase, Jimmie Foxx, Nap Lajoie, Jackie Robinson, Hilton Smith and Tris Speaker among others. Quality signed programs include a stunning vintage signed 1960 Yankees World Series program and a 1948 program signed by Honus Wagner and Cy Young.
Basketball collectors will see several quality Michael Jordan UDA items and a basketball signed by Chamberlain, Russell, Bird and Magic, a simply awesome piece. Football collectors will see a good mix of quality vintage card sets, autographs and memorabilia.
Collectors of historical and entertainment autographs will see a good run of Presidential autographs with letters from Franklin Pierce and Ulysses S. Grant, a vintage Ingrid Bergman signed photo and an Al Hirschfeld signed Barbra Streisand sketch.
Collectors of baseball memorabilia will see an eclectic mix of items, including quality game used bats and George Shuba's 1953 Brooklyn Dodgers World Series ring.
The auction ends as usual with autographed baseballs. Single signed ball collectors will see fresh singles from Alston, Averill, Dean, Foxx, Hartnett, Hornsby, Marquard and Ruffing, many vintage signed. There is a ball from 1983 signed by Roger Maris and Ronald Reagan headlining the multi-signed balls. Team ball collectors will see a 1924 New York Giants, 1927 and 1930 Cubs, 1937 Yankees and several Championship team balls.
For more information visit http://www.csauctions.com and bid today! Auction Ends June 12.