WEST BERLIN, NJ – MAY 1, 2013 - In its June 2013 auction, Goldin Auctions is offering collectors the rare opportunity to bid upon more than 100 items of unique memorabilia, consigned by Pamela Bryant, from the early basketball life of Kobe Bryant The Bryant Collection: presented by Goldin Auctions features a wide array of trophies, championship rings, medals, plaques, game worn uniforms and more from his childhood in Italy, his high school years in Pennsylvania and his early years in the NBA. All of the items have been consigned to auction by Pamela Bryant.
For more information, or to register for a free catalog, visit www.GoldinAuctions.com.
The centerpiece of The Bryant Collection: presented by Goldin Auctions is a road maroon Lower Merion High School (LMHS) #24 basketball uniform (shorts and jersey) from Bryant's freshmen year. This uniform is special in that he only wore #24, as a freshman, before switching to #33 for the remainder of his high school career. It is believed to be the only authentic game worn #24 Kobe Bryant LMHS jersey in existence. The next time he wore a #24 jersey was when he switched his NBA number to it after the 2005-06 NBA season. When he finally removes #24 from his back, it will hang in the rafters alongside, Wilt, Kareem, Magic and Shaq.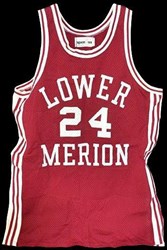 In addition to offering one fortunate collector the chance to own this rare #24 uniform, The Bryant Collection also includes two complete #33 LMHS uniforms (shorts and jersey) worn by Bryant during his high school career. One uniform is in the home white and the other is the road maroon.
The six rings in the collection include: a 1996 High School McDonald's All-American ring; 1996 High School State Championship ring; 1998 and 2000 NBA All-Star rings; plus a team issued Kobe Bryant 2000 Lakers championship ring given by Kobe to his father Joe Bryant and a specially designed version for his mother Pamela Bryant.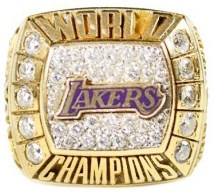 "A team issued championship ring is among the most treasured of all sports collectibles and the opportunity to own one from an active player as historically significant as Kobe Bryant is rare," said Ken Goldin, Founder of Goldin Auctions. "It's also an remarkable opportunity for collectors to own two prominent amateur rings including a McDonald's All-American ring and a High School championship ring. Normally items like these can only be viewed in a museum or the Hall of Fame. We are honored to be able to make these offerings to collectors around the world."
Some of the other items commemorating the legendary high school career of Kobe Bryant in the Bryant Collection: presented by Goldin Auctions are: the '93-'94, '94-95 and '95-96 LMHS MVP plaques; 1996 Gatorade High School Player of the Year plaque; several LMHS practice jerseys, sweatsuit tops, warm-up jerseys; multiple LMHS Varsity Letters awarded for basketball; and the actual LMHS Central League Champions jacket. From his time as a youngster in Italy, collectors will be able to bid upon the earliest known Kobe Bryant game worn jersey ever offered at auction - an Italian Rieti #44 jersey. Additional items will be announced closer the start of the auction in June.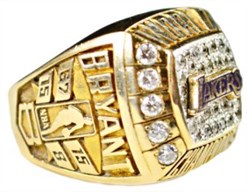 All items are accompanied by a Letter of Authenticity signed by Kobe's mother Pamela Bryant. The LOA's state that the items are all authentic and have been in her possession until being consigned to auction. Goldin Auctions will also be issuing a LOA with each item guaranteeing its authenticity as well as its origin.
About Goldin Auctions
Sports memorabilia impresario Ken Goldin has sold more than $600 million in memorabilia from many of the biggest names in sports, history and pop culture and was the pioneer of using the medium of television to sell sports memorabilia. Earlier this year, Goldin Auctions sold a Honus Wagner T206 card for a public sale record $2.1 million. Goldin Auctions strives to break new ground and offer collectors the best in collectible treasures up for auction in the marketplace. All game worn or autographed items come with team, player, league or additional LOA from industry leading authenticators; and collectors can bid with confidence that their proxy/ceiling bids remain confidential. For more information, visit www.goldinauctions.com.