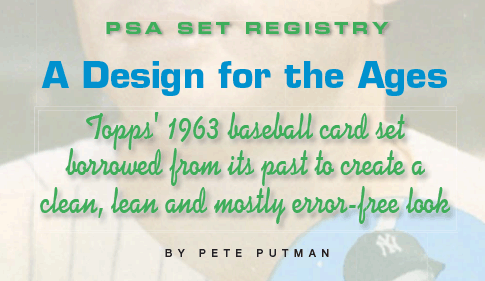 Fifty years ago this past April, the Topps Chewing Gum Company of Brooklyn released its twelfth set of baseball trading cards. For the first time since 1955, there were fewer cards in the set than the previous year. Not only that; the cards had sharper and cleaner photos, bold colors, a minimum of mistakes and a contemporary look that perfectly suited the 1960s.
The 1963 Topps set was Topps' 12th consecutive offering and you can appreciate how difficult it must have been to come up with a fresh design after all those years. The previous year's set, while it used a clever wood-grain border treatment, was plagued by so-so photography and a host of printing screw-ups, resulting in a nightmare of variations that still drive collectors crazy years later.
But 1963 would be different. Borrowing from the classic 1953 collection, Topps opted for a large color photo set above a solid color block that contained the player's name, position and team logo, along with a small black-and-white inset action picture. No more gray cardboard backs; only white backs would be used for player bios and stats.
Every card in the set followed this design template or a slight variation of it, even the team cards. And quality control was stepped up several notches. At first glance, the result was a set remarkably free of errors aside from the usual handful of mixed-up photos, a few statistical typos and a couple of checklist printing variations.
The contrast between 1963 Topps and 1962 Topps baseball cards couldn't have been more extreme. I recall opening five-cent packs back then and marveling at the bright, bold colors; the sharp photos; and the big, blocky type fonts. This was a set that commanded your attention from the start and made a statement while doing it.
The Year
There were plenty of statements made in 1963, all around the world. The Beatles released their first album, Please Please Me, in the spring of 1963, and it quickly shot to the top of the charts in England, followed soon by heavy airplay in the United States. Fellow U.K. band The Rolling Stones also burst out in '63, and although their first real hit was a couple of years away, they began touring and building their reputation as "rock's bad boys" that August.
August was also notable for Dr. Martin Luther King's "March on Washington" for civil rights, capped by his timeless "I Have a Dream" speech at the Lincoln Memorial. The Supreme Court made a statement two months earlier when they ruled the recitation of The Lord's Prayer in public schools as unconstitutional, setting off a series of debates and courtroom challenges that continue to this day.
In April, Dr. Michael DeBakey made history by successfully implanting an artificial heart in a human patient for the first time, although the patient only lived four more days. Actress Elizabeth Taylor drew attention by earning an amazing million dollars to appear in Cleopatra, a movie that cost $44M to produce, earned back only half of that at the box office and nearly drove 20th Century Fox studios into bankruptcy.
Taylor wasn't the only newly minted millionaire that year. Boxer Sonny Liston took home a megabuck paycheck for knocking out heavyweight champ Floyd Patterson in the first round in late September, after trying to arrange the fight for nearly two years. Eastman Kodak couldn't rake in the cash fast enough after it unveiled the legendary Instamatic point-and-shoot 35mm camera.
In sports, plenty of statements were made, starting with the Los Angeles Dodgers' 4-0 sweep of the heavily favored New York Yankees in the 1963 World Series. The Yankees breezed into the Series with a record of 104-57, 10.5 games ahead of the White Sox, while the Dodgers grabbed the National League pennant by six games over the St. Louis Cardinals, finishing 99-63.
However, the Bombers led the league in only two statistical categories (59 complete games, 1,239 hits allowed) and didn't head up any offensive category. Staff ace Whitey Ford won 24 games in 1963, while teammate Ralph Terry pitched 18 complete games. Over in the Senior Circuit, the Dodgers led the league in stolen bases (124), shutouts (24) and, not surprisingly, strikeouts (1,095); while Sandy Koufax captured the ERA, shutout and strikeout crowns (1.88, 11, and 306), tying San Francisco's Juan Marichal for wins with 25.
It should have been no surprise at all when the Dodgers' vaunted pitching staff of Koufax, Don Drysdale and Johnny Podres held the Yankees to just six runs off 22 hits and won the last two games by a single run. Koufax set a Dodger strikeout record in Game 1 by fanning 15 Bombers, with pinch-hitter Harry Bright the last victim in the bottom of the ninth.
The Dodgers' pitching staff combined to allow just four earned runs and five walks in four games, compiling 37 KOs (23 by Koufax) and throwing three complete games. After eight innings in Game 2, Podres was relieved by Ron Perranoski after allowing a run with two outs; otherwise, the Dodgers hurlers would have had an unprecedented sweep of Series complete games. That is a level of pitching dominance not seen since.
Other sports team legends also left their mark in '63. The Boston Celtics captured yet another NBA title, ousting the Los Angeles Lakers in six games, while the Toronto Maple Leafs disposed of the Detroit Red Wings in five to capture the Stanley Cup. New York's NFL Giants didn't fare well in their championship game, losing to the Chicago Bears 14-10 despite scoring 448 points in 14 regular season games. This game was notable as it was played in 10-degree temperatures at Wrigley Field, of all places!
At the movies, the 1963 Oscar-winner was Lawrence of Arabia, starring newcomer Peter O'Toole. This movie edged out some heavy competition from The Longest Day, To Kill a Mockingbird, Mutiny on the Bounty and The Music Man. The number one TV show was Beverly Hillbillies on CBS, while writer Betty Friedan published The Feminine Mystique, kick-starting the feminist movement. On the music charts, Walk Like a Man by the Four Seasons, He's So Fine by the Chiffons, Surf City by Jan and Dean and Blue Velvet by Bobby Vinton all took turns in the #1 slot.
But 1963 will be remembered first and foremost for the tragic assassination of President John Fitzgerald Kennedy on November 22 in Dallas, Texas, followed by the almost bizarre "live" murder of accused assassin Lee Harvey Oswald by nightclub owner Jack Ruby two days later. (Millions of Americans watched in disbelief as Oswald was gunned down on live TV while in police custody.)
I can still remember where I was when CBS news anchor Walter Cronkite delivered this short statement: "... From Dallas, Texas, the flash, apparently official ... President Kennedy died at 1 p.m. Central Standard Time — 2:00 Eastern Standard Time, some 38 minutes ago."
The Set
A complete set of 1963 Topps baseball comprises 576 cards without any printing variations. That's 22 cards less than the 1962 set and 11 cards fewer than the 1961 Topps set. This must have been a relief for collectors who believe you can indeed have too much of a good thing!
One reason for the smaller set size was the complete lack of MVP and All-Star cards. Topps did, however, retain the Worlds Series subset and also carried forth the League Leaders cards that were introduced in 1961.
Indeed, those 10 cards feature the American League and National League leaders in batting, home runs, earned run average, pitching victories and strikeouts. You'll find the usual superstars here including Mantle, Koufax, Aaron, Clemente, Mays, Killebrew, Maris, Banks, Robinson, Gibson, Drysdale and Ford.
The Rookie Stars cards, which comprised the highest of high numbers in 1962, are instead scattered throughout the '63 Topps set. There are a total of 20 (#29, 54, 158, 169, 208, 228, 253, 299, 324, 386, 407, 466, 496, 522, 537, 544, 549, 553, 558 and 562), and most of the rookies featured had journeyman careers in baseball; nothing more.
Of course, there are exceptions. Card #54 features Chicago White Sox rookie pitcher Dave DeBusschere, who moved on to a more lasting and rewarding career as a forward for the New York Knicks basketball team, winning NBA championships in 1970 and 1973. Gaylord Perry, seen on card #169, was nicknamed "The Ancient Mariner" and went on to pitch in 22 seasons for eight different teams, compiling a won-loss record of 314 – 265 with 3,534 strikeouts and an ERA of 3.11. He made the Hall of Fame in 1991.
Card #228 shows Tony Oliva, who played his entire 15-season career with the Minnesota Twins and racked up 1,917 hits along the way to go with a career .304 batting average. "Le Grande Orange," aka Rusty Staub, appears on card #544 and was a very popular player for the Houston Colt 45s/Astros, Montreal Expos and New York Mets from 1963 to 1985 (along with some side trips to Detroit and Texas).
Card #553 is where Willie Stargell first appears in a Topps set, and "Pops" played for the Pittsburgh Pirates for 21 seasons, grabbing two World Series rings, batting .282 with 475 home runs and securing his place in the Hall of Fame in 1988. And the last rookie card (#562) marked the debut of pitcher Dave McNally, one of the Baltimore Orioles' "fab four" hurlers from 1969 to 1971. In just 14 seasons, he compiled a .607 winning percentage with 1,512 strikeouts and an ERA of 3.24.
Naturally, the rookie card that everyone really focuses on is #537, Pedro Gonzalez. (Just kidding!) This card features none other than Pete Rose, who simultaneously managed to compile a sure-lock Hall of Fame career and get caught betting on the outcomes of baseball games.
"Charlie Hustle" (a moniker bestowed by Mantle) amassed 4,256 hits over 24 years with three teams, won World Series titles in 1975 and 1976 with the Reds and in 1980 with the Phillies and was a player-manager at the end of his career with the Reds again. Will he ever overcome his suspension and make it to Cooperstown?
Topps continued the combo card tradition in 1963, and there are many noteworthy examples in the set. Card #18, "Buc Blasters," pairs up Smoky Burgess, Dick Stuart, Bob Skinner and Roberto Clemente, while #43 describes Mets manager Casey Stengel and Gene Woodling as "Veteran Masters." Ironically, #68 shows "Friendly Foes" Duke Snider and Gil Hodges with the Dodgers and Mets respectively, even though Snider wound up on the Mets roster that year.
Stan Musial and Willie Mays, the "Pride of the N.L.," appear on card #138, while Tom Tresh, Mickey Mantle and Bobby Richardson are bat-to-bat on #173, "Bomber's Best." Ernie Banks and Hank Aaron share card #242 as "Power Plus," while the dominant National League pitching staff in the early 1960s – Koufax, Podres and Drysdale – are showcased on card #412 as the "Dodger Big Three."
There are plenty of Hall of Fame players in 1963 Topps baseball, including #25 Al Kaline, #115 Carl Yastrzemski, #125 Robin Roberts, #200 Mickey Mantle, #205 Luis Aparicio, #210 Sandy Koufax, #233 Casey Stengel, #250 Stan Musial, #252 Ron Santo, #275 Eddie Mathews, #300 Willie Mays, #320 Warren Spahn (age 42 in 1963 and still starting on the mound), #340 Yogi Berra, #345 Brooks Robinson, #353 Billy Williams, #360 Don Drysdale, #365 Jim Bunning, #380 Ernie Banks, #390 Hank Aaron, #400 Frank Robinson, #415 Bob Gibson, #440 Juan Marichal, #446 Whitey Ford, #472 Lou Brock, #490 Willie McCovey, #500 Harmon Killebrew and #540 Roberto Clemente. Phew!
The Errors and Variations
There are a few notable errors and variations in the set. Card #15 features the late Ken Hubbs, whose major league career lasted only two seasons and change before he perished in a plane crash in February of 1964. Hubbs' card has no position listed on the obverse and the mistake was never corrected.
Rookie Parade cards #29 and #54 are seen with two variations. The A variation is labeled "1962 Rookie Stars" on the top of the card, while the B variation states "1963 Rookie Stars." On the B variations, the numbers "1963" appear in yellow, while they are white on the A variation.
Card #102 (Checklist #2) can be found with red text on a yellow background and white text on a red background. Card #113, Don Landrum, instead shows a photo of Ron Santo, while card #231 shows Ryne Duren but identifies him as Eli Grba. Neither card was ever corrected, nor was Ernie Banks' #380 card. That one lists both minor and major league career stats for "Mr. Cub." Only problem is, Banks never played in the minors!
Card #431, Checklist #6, exists in two versions. The more common A version has white text on a red background, while the scarcer B version has black text on an orange background. And card #509, Checklist #7, has the copyright on the back centered on the A version and to the right side on the B version.
Card #454 of Art Fowler has a variation you need to hunt for carefully. On the reverse of the card, the box where the card number is printed can be found in white with an outline (A version) or on an orange background with no border (B version). Finally, card #483 (Jim Owens) has the letter R printed where a W should appear, above his won-loss record on the reverse.
A 2010 article by George Vrechek for Sports Collectors Digest identified 11 previously-unknown variations within the 1963 Topps set. These 11 cards were printed in the fifth run (cards #371 to #446, not the fifth-series cards) and have slight variations in image cropping and positioning, reverse printing and, in one case, back letter coloring.
To date, there is no significant premium attached to these cards, nor is there any indication of scarcity. The cards are #372 Don Lee, #376 John Wyatt, #386 1963 Rookie Stars, #387 Al McBean, #388 Jim Davenport, #407 Elroy Face, #409 Bob Oldis, #413 Jerry Walker, #438 Wes Stock, #439 Don Zimmer and #445 Norm Cash.
The Populations
As of early March 2013, PSA had graded 154,714 cards from the 1963 Topps baseball set, with 60,050 PSA NM-MT 8s; 1,826 PSA NM-MT+ 8.5s; 7,030 PSA MT 9s; and 178 PSA GEM-MT 10s awarded. The percentage of high-grade cards out of the total is about 45%, a higher number than you usually see with late 1950s and early 1960s sets.
For comparison, a total of 154,856 cards from the 1962 Topps set have been graded at the same time, with a total of 48,728 PSA 8s; 1,308 PSA 8.5s; 4,367 PSA 9s; and 76 PSA 10s issued. In this case, the percentage of high-grade cards is about 35% of the total, a number more in line with earlier Topps sets.
Those statistics are surprising because the solid color panels at the bottom of each '63 Topps card are quite susceptible to wear and tear, a condition shared with 1953 and 1971 Topps. But the numbers say that you are more likely to find high-grade '63 Topps cards in binders and sleeves at card shows, resulting in lower SMR values.
What's not surprising is the card that is submitted to PSA most frequently: It's #200 Mickey Mantle, and it has earned the PSA 8 designation 321 times and picked up eight PSA 8.5s, 38 PSA 9s and two PSA 10s along the way. And you shouldn't be surprised that #537, Pete Rose's rookie card, is right behind it. PSA has inspected this card 2,826 times, encapsulating 373 PSA 8 copies, 11 PSA 8.5s, 27 PSA 9s and a solitary PSA 10.
The 1963 Topps cards that hit the PSA grading room frequently include #2 AL Batting Leaders (287 PSA 8s, eight PSA 8.5s and 19 PSA 9s); #18 Buc Blasters (166 PSA 8s, three PSA 8.5s and nine PSA 9s); #25 Al Kaline (188 PSA 8s, four PSA 8.5s and 11 PSA 9s); #115 Carl Yastrzemski (250 PSA 8s, two PSA 8.5s, 13 PSA 9s and one PSA 10); #120 Roger Maris (163 PSA 8s, three PSA 8.5s, nine PSA 9s and two PSA 10s); and #138 Musial/Mays (325 PSA 8s, three PSA 8.5s, 42 PSA 9s and four PSA 10s).
Other popular cards are #173 Bomber's Best, which has been inspected 2,096 times and awarded 198 PSA 8s, four PSA 8.5s and 16 PSA 9s; Sandy Koufax's #210 card (226 PSA 8s, six PSA 8.5s and 18 PSA 9s); and #242 Banks/Aaron (253 PSA 8s, four PSA 8.5s and 22 PSA 9s). Stan Musial's #250 entry (his last year as a player) has been submitted over 1,200 times and brought back 238 PSA 8s, three PSA 8.5s, 19 PSA 9s and one PSA 10.
Willie Mays' #300 card has won 267 PSA 8 designations, followed by seven PSA 8.5s, 30 PSA 9s and a lone PSA 10, while Hank Aaron's #390 entry has fared slightly better (286 PSA 8s, seven PSA 8.5s, 30 PSA 9s and one PSA 10). Roberto Clemente's #540 card has been submitted nearly 1,700 times, resulting in 345 PSA 8s, eight PSA 8.5s, 31 PSA 9s and two PSA 10s.
There are some scarcities, too. According to the PSA Population Report, one copy of Musial's #250 card exists with the wrong back. Card #341, Jack Baldschun, is found with a white slash in the inset photo 50 times, and 35 times with red mottling. The latter version has earned three PSA 8s and nothing higher, while the white slash has picked up 10 PSA 8s, one PSA 8.5 and two PSA 9s. Baldschun's regular #341 card has been graded 67 times with 32 PSA 8s awarded and nothing higher.
Art Fowler's #454 entry shows up 68 times with the number box in white, and 141 times with it in orange. The white version has scored 34 PSA 8s, one PSA 8.5 and seven PSA 9s, while the orange version has achieved 55 PSA 8s, four PSA 8.5s, 16 PSA 9s and one PSA 10.
Checklist #431A is a real scarcity in high grade with 36 PSA 8s, one PSA 8.5 and three PSA 9s in circulation. Other "tough" cards include #34 Dick Schofield (two PSA 9s), #328 Dick Williams (seven PSA 9s), #21 Marty Keough (three PSA 9s), #324 Rookie Stars (nine PSA 9s), #325 Jack Sanford (43 PSA 8s), #14 Pedro Ramos (four PSA 9s), #354 Dom Zanni (one PSA 9s) and #100 Joe Cunningham (three PSA 9s).
Some cards are just impossible to find in high grade. The statistics say that #289, Hal Brown, has been graded 133 times with 55 PSA 8s awarded, two PSA 8.5s and two PSA 9s. Well, good luck finding one in decent raw condition at a card show! I've searched intensively for several years and only have an NM 7 copy to show for my efforts.
The Values
Because the percentage of high-grade 1963 Topps cards in circulation exceeds that of other contemporary Topps sets, SMR values are lower. Common cards from #1 - #446 are currently listed at $22 for a PSA 8, although you'll usually see them fetch lower prices in auctions.
In a switch from previous years, the "tough" cards in this set are found in the #447 to #522 run and not in the seventh-series high numbers. Common cards in this series command about a 25% premium over earlier series cards, while cards in the final high number run from #523 to #567 are about 10% more expensive than the first four series. A complete 1963 Topps set in NM-MT 8 condition is currently valued at about $24,000.
As expected, Pete Rose's #537 rookie card has the highest SMR value at $1,750 for a PSA 8, and the PSA 8.5 version is valued at almost double that -- $3,400. A PSA 10 #537 Rose sold for $157,365 in 2012, while a PSA 8 copy brought $1,429 at gavel.
Mickey Mantle cards usually occupy the top spot in any set valuations, and his #200 card sits right behind Rose's with an SMR value of $1,175. Surprisingly, Yogi Berra's #340 card takes the #3 slot with an SMR value of $1150 – it's just difficult to find in high grade and raw copies often have centering problems.
Cards of Clemente, Mays, Aaron, Killebrew and Banks all have SMR values between $230 and $365 in PSA 8, which are relative bargains for Hall of Fame players. A PSA 9 Koufax fetched $2,850 at gavel this past summer, while a PSA 8 version realized $284. A PSA 9 Mathews commanded $415 in the same auction, as did PSA 8 copies of Clemente's and Stargell's cards. Another Clemente in a PSA 9 topped out at $585.
In 2012, the hobby also saw quite a few PSA 10 copies of 1963 Topps cards make an appearance in auctions. Stargell's rookie card was bid up to an amazing $12,130, while McNally's rookie card fetched $3,006 in a PSA 10 holder. Other PSA 10 sales included #563 Mike McCormick ($2,031), #567 Jim Duffalo ($1,117), #405 Floyd Robinson ($2,576) and #491 Harry Craft ($896).
The Wrap-Up
If you've been thinking about building a representative set of the 1960s, the 1963 Topps offering is an excellent choice. It's loaded with Hall of Famers, has a simple but striking design and won't break the bank (thanks to the abundance of raw cards in high grade). Your only stumbling block might be the Rose rookie card, but these are quite affordable in mid-grade if price is an issue.
Auctions are excellent places to pick up lots of raw and graded '63 Topps cards at reasonable prices. It's not unusual to see 20, 30, 40 and even 50-card lots of PSA 8 commons on the auction block, and entire sets frequently come to market in mid-to-high grade. That's probably due to many "finds" of '63T vending cases over the years.
If you feel ambitious, hunt down an unopened wax or cello pack to top off your collection. These 1963 Topps five-cent packs do command a price premium in all series, but you can also find one-cent packs (two cards and a fossilized slab of gum) for $100 - $200, depending on condition.
For a true master set, you can also chase a manageable number of errors and variations without losing your mind. At the December 2012 Philly Show, it took me all of 15 minutes of scanning through albums at one dealer's table to flush out five of the 11 fifth-series variations in EX-MT to NM condition. And there's no doubt I could have dug up more had I searched nearby tables. (Now, if I could just find a NM-MT copy of Hal Brown that easily... )
View the set in the PSA Set Registry.
---
Thanks to Levi Bleam of 707 Sportscards, Don Johnson and Anthony Nex for lending images of their cards and packs for this article. Please note that the Population Report figures and SMR prices are those as of March 2013.