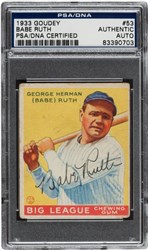 DALLAS, TX – Significant fresh-to-market memorabilia punctuates Heritage Auctions' Vintage Sports Collectible auction, May 2-4, further bolstering Heritage Sports' reputation as the hobby's leading source for significant "finds," with numerous discoveries making their auction debuts.
Also, for the first time in the history of the sports category at Heritage, all lots will close in the Extended Bidding format, so collectors are advised to place initial bids early.
Hobbyists with a concentration in the infancy of the game will thrill to the discovery of the Cincinnati Cabinet Photo find of nearly pristine cabinet cards believed to be derived from the family of William "Buck" Ewing, the Hall of Fame catcher for the New York Giants. The top offering from the collection is a never-before-seen image of Ewing shaking hands with Mike "King" Kelly, apparently commemorating the birth of the short-lived 1891 Cincinnati Kelly's Killers.
"The compilation of images picturing both Buck Ewing and his brother, John, together and separately, leaves little doubt that the Ewing family is the original derivation," said Chris Ivy, Director of Heritage Sports. "Personally owned material from 19th century baseball royalty almost never appears in the public market."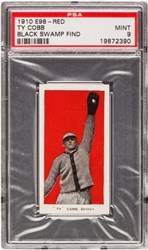 Perhaps the most famous trading card discovery of the 21st century makes another appearance in this event, as the next installment of "The Black Swamp Find" of 1910 E98's provides the opportunity to own pristine century-old specimens from the likes of Cobb, Wagner and Cy Young.
"No quality collection, at this point, should lack at least one entry with a 'Black Swamp' pedigree," said Ivy.
Other noteworthy trading card offerings include the finest 1916 M101-5 Blank Back Babe Ruth Rookie and 1915 Cracker Jack Joe Jackson cards ever submitted to the SGC grading service, and a remarkably high-end PSA-graded set of 1956 Topps Baseball, complete with NM-MT 8 checklists.
The iconic Babe Ruth provides his customary clout to the memorabilia portion of the auction, most notably in the form of the final jersey and contract ever issued to the Bambino by the New York Yankees.  Also on offer is a remarkable assembly of relics from a Ruth hitting exhibition in 1941 with a photo-matched bat, single signed baseball and an archive of telegrams and invoices from the event.  The competitive subgenre of signed baseball card collecting gets a shot in the arm in this auction with the finest known signed example of a 1933 Ruth Goudey.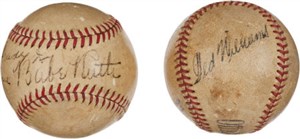 Thurman Munson's road trip roommate with the Yankees, Gene Michael, provides this auction with a mask and mitt used by the tragic Yankee captain during his final season.  Hot on the heels of his rookie jersey's sale in Heritage's February Platinum Night auction, Lew Alcindor (Kareem Abdul-Jabbar) reappears in the form of a shooting shirt believed to be the very one he wears on his famous Topps rookie card.
Olympics collectors will find plenty of targets in this auction, including one of the subgenre's greatest rarities – a Gold Medal presented to an athlete at the 1904 St. Louis Games. Also on offer are a 1976 Silver and 1980 Gold Medal won by Cuban boxer Andres Aldama.
This auction's trophy case provides still more sparkle in the form of Championship awards from four of the greatest practitioners of pre-war golf and tennis, with fresh offerings from the incomparable careers of Jim Barnes, Alexa Stirling, Ellsworth Vines and Helen Wills.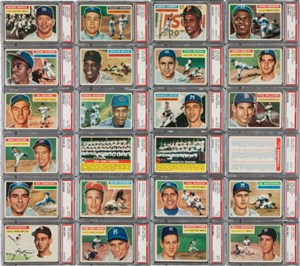 After creating a bidding frenzy in Heritage's February Platinum Night auction, the Dr. Mark Cooper Collection of Vintage Baseball Games, featured in the acclaimed volume Smithsonian Baseball: Inside the World's Finest Private Collections, provides dozens of new targets for those collectors with a concentration in this intriguing subgenre.
The auction is divided into three sessions: Trading Cards on Thursday, May 2; Memorabilia on Friday, May 3, and Final Session on Saturday, May 4, with each lot closing in Extended Bidding format after 30 minutes of inactivity.
"With no live floor session, we're encouraging bidders to place early initial bids to widen their options during the Extended Bidding period," said Ivy.
Heritage Auctions, headed by Steve Ivy, Jim Halperin and Greg Rohan, is the world's third largest auction house, with annual sales more than $600 million, and 500,000+ online bidder members. For more information about Heritage Auctions, and to join and gain access to a complete record of prices realized, along with full-color, enlargeable photos of each lot, please visit HA.com.