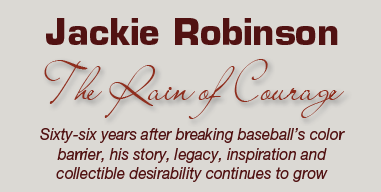 I remember the storm in 1947 –
Dark, taunting, aggressive.
Violent storm.
Hostile storm.
A shameful storm of judgment, allowing no peace.
As the sun set on the evening of April 14, 1947, no African-American player had donned the uniform of either an American Association or National League Baseball team since the color line had been drawn, 59 years earlier. Sadly, there were many Americans who were just fine with that policy, hostile to seeing it changed and willing to employ violence to make sure it remained in place.
I remember the rain in 1947 –
Fast, intense, daring.
Vivid rain.
Unforgettable rain.
An eloquent rain of courage, cleansing the nation.
Twenty-four hours later, as the sun set on the evening of April 15, 1947, a sharecropper's son from Georgia, whose outstanding athletic abilities earned him varsity letters in four sports at UCLA, who served as a second lieutenant in the U.S. Army and who played one season in the Negro Baseball League, donned the uniform of the Brooklyn Dodgers. Having played on that day, for that team, in that league, he not only courageously broke the color barrier in baseball, but he also challenged the custom of racial segregation in America.
There had never been a rain like it before.
There would never be a rain unlike it again.
Pounding on the rafters.
Soaking the fields.
Dripping into the dugouts and trickling out into the streets.
As the 1947 baseball season came to a conclusion, and the man who broke the color barrier took National League Rookie of the Year honors, much of the furor surrounding the racial integration of baseball began to subside. His inclusion into America's pastime, into mainstream popular culture, also served as a metaphorical mirror for the country's leaders and its people. It forced them to look at themselves, search their souls and question how the continuation of segregation could be acceptable in a nation that, 171 years earlier, declared all men to be created equal.
I remember the rainbow in 1947 –
Emerging slowly and casting a new light.
Respectable rainbow.
Decent rainbow.
A miraculous rainbow of change – the first of many to come.
There is a truth associated with any great change: it never comes easily and always comes slowly. Perhaps there is another truth in regards to great change: that for a person to inspire it, they themselves must possess qualities of greatness. Could it have been any African-American player to break baseball's color barrier? Of course. But to break it successfully with eloquence, courage, respectability and decency, it took a man who possessed those qualities – it took Jack Roosevelt "Jackie" Robinson.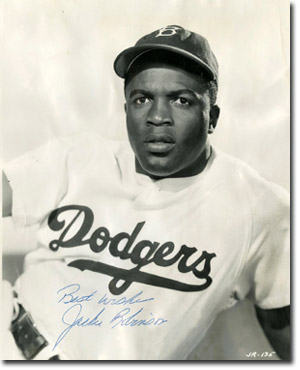 Robinson the Man
"You want a player who has the guts to fight back?" Robinson famously asked Brooklyn Dodgers President Branch Rickey, who knew, as the color barrier breaker, Robinson would face hostile racism and dehumanizing discrimination.
"No," Rickey responded. "I want a player who has the guts not to fight back."
Robinson, who had a history of dealing with racism aggressively during his military days, agreed with Rickey. If he was to be given the opportunity to play with the Dodgers and integration was to prove successful, Robinson conceded that he could not lose his temper and jeopardize the chances of all African-Americans to follow in his footsteps.
Explaining to Robinson that there would be no army of support for this controversial move, Rickey went further, saying there was virtually nobody on their side – no owners, no umpires and few sportswriters. "I'm afraid that many fans may be hostile," Rickey warned Robinson. "We'll be in a tough position. We can win only if we can convince the world that I am doing this because you're a great ballplayer and a fine gentleman."
"You give me a uniform," Robinson quietly told Rickey. "You give me a number on my back, and I'll give you the guts."
Rickey, believing Robinson was the right man to break the color barrier, gave him that uniform and the number 42 – a number that would ultimately be retired by not only the Dodgers, but by every Major League Baseball team. In giving and accepting those things, Rickey and Robinson set in motion the spirit of inspiration that, as the years and decades would pass, would give courage and hope to millions of African-Americans.
Included in this group would be a seamstress from Montgomery, Alabama, who refused to give up her bus seat, nine students from Little Rock, Arkansas, who simply wanted a high school education, a clergyman from Atlanta, Georgia, who harbored a dream of equality never to be realized in his own lifespan and a young man from Honolulu, Hawaii, who actually made that dream come true.
Robinson the Story
Robinson's story is a great one, so it's not surprising that Hollywood took notice and, in 1950, produced and released The Jackie Robinson Story, a biopic that starred Robinson as himself. The other unsurprising fact is that when Hollywood produces a film that tells a great story, one thing is for sure: at some point in time, they will do a re-make.
For Robinson's story, that time has come. This spring, coinciding with the start of the 2013 baseball season and the 41st anniversary of his death at the age of 53 (due to complications of heart disease and diabetes), Warner Bros. will release 42: The True Story of an American Legend.
Directed by the Oscar-winning writer and director Brian Helgeland, the film will star Chadwick Boseman as Robinson, Harrison Ford as Branch Rickey, Christopher Meloni as Leo Durocher, John C. McGinley as Red Barber, T. R. Knight as Harold Parrott, Lucas Black as Pee Wee Reese and Nicole Beharie as Rachel Isum Robinson.
Robinson the Collectible
While Robinson's sportscards, memorabilia and autographed items have always been in high demand with collectors, most dealers expect the release of the film to spark a heightened resurgence in the popularity of his material. As a result, we here at Sports Market Report felt it was a good time to offer a primer on what is available out in the market and the pitfalls collectors should be aware of as they make bids or purchases on Robinson-signed items.
To provide this information, we went to PSA/DNA's authentication team. We spoke to the lead authenticator to tap into his knowledge of Robinson-signed material, and we began by asking him what kind of signer Robinson was.
PSA/DNA: He was a great signer – a very accommodating signer, who rarely turned down an autograph request. Even in 1972, when he could hardly see because of his diabetes, he was still a gracious signer. I've seen some of his autographs from '72 – the last year of his life – that just look terrible. Because they look so bad, they are often mistaken as forgeries, but they just look that way because he was struggling to sign his name due to his loss of vision and his many other health problems.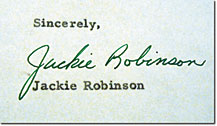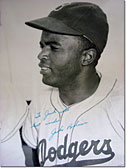 Sports Market Report (SMR): Since he was an accommodating signer, would it be right to assume there is a good amount of Robinson-signed material available?
PSA/DNA: Although he died relatively young and has been gone for so long, there is still a good supply of quality Robinson signatures available. His stuff is not hard to find. There's a lot of it out there. But even though his material is fairly plentiful, his autograph is also highly desirable and holds real value. Depending on the quality of the signature and what it is on, a Robinson signature can be worth a lot of money.
SMR: You say there is a lot of Robinson material available. What are the types of things that are out there?
PSA/DNA: It runs the gamut, from things that are relatively easy to find and can be purchased in the $250 to $500 range, up to the extremely rare stuff that goes for really big money. I would say that on the scale of rarity, sweet-spot, single-signed balls are up there. I've seen plenty of Robinson-signed baseballs and he almost always signed underneath the seams, in the horseshoe region of the ball. It was very rare that he signed the sweet-spot of a ball.
I would always be leery of Robinson-signed balls where the signature appears on the sweet-spot. He just didn't sign the sweet-spot often. I don't know why, except that many players back then felt that the sweet-spot was the manager's spot. They got used to reserving that spot for the team's manager, and many of them (even after they retired) were just accustomed to signing in some place other than the sweet-spot. I think that was the case with Robinson. He just got used to signing in what became his spot on a ball.
SMR: What are some of the other tough things to find?
PSA/DNA: I've only seen two authentic Robinson-signed bats. The thing I have seen a rash of is these multi-signed bats that came from some alleged dinner he attended in Los Angeles. They had the signatures of all these dignitaries that had been in attendance, including Robinson, and they are all forgeries.
Robinson-signed bats are really rare – just super tough. His baseball cards, signed or unsigned, especially in high grades, are also really rare and bring a big premium. I've seen maybe 40 or 50 Robinson-signed cards over the past 11 years, so they are out there, but they are certainly not common or inexpensive.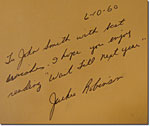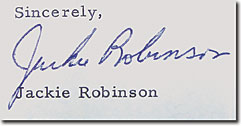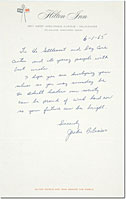 SMR: What are amongst the easier things to find?
PSA/DNA: The easier stuff would be three-by-five signed cards, signed programs, scorecards – he's in autograph books like crazy. Those things are the relatively easy items to find in a price range that would be affordable for just about any collector. There are also signed eight-by-ten photos out there. Most of the stuff is from the late-1940s and early-1950s.
SMR: What about items signed by both Robinson and Branch Rickey? It seems like they would be extremely desirable.
PSA/DNA: They would be, but I have never seen anything signed by both of them other than a contract. I have seen a couple of baseballs that had Robinson and Rickey on it along with others. But as far as memorabilia with just the two of them – not only have I never seen it, I don't think it would have made much sense to fans or collectors back then to have obtained something signed by the both of them. People in the late-'40s and early-'50s just didn't have that kind of mindset – to get Robinson and Rickey to sign one item.
SMR: Lelands recently sold a 1950 Robinson game-worn jersey for close to $402,000. Are Robinson game-worn or game-used items out there?
PSA/DNA: I've seen some game-used bats surface from time to time, but that sort of material is really tough to come by.
SMR: You mentioned Robinson was a very accommodating in-person signer. What about mail requests? Would he respond to autograph requests by mail or answer letters?
PSA/DNA: His correspondence seems to be a mixed bag. He did actually sign his letters from time to time during the '40s and '50s, but his correspondence from that time right up through his later years is also heavily secretarial. I don't know if his wife, Rachel, signed for him or if the Dodgers' clubhouse guys did it, but there are a lot of secretarial-signed letters out there.
As many fans know, after he retired from baseball he went to work for Chock full o' Nuts, and a lot of the letters on the Chock full o' Nuts letterhead are secretarials. Like I said, his correspondence is tough because he did sign his mail, but just as often, at different times, others signed for him because it was just overwhelming, or he was traveling or too busy.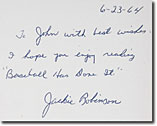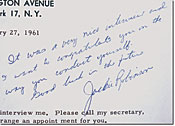 SMR: What are the tell-tale signs for Robinson secretarials?
PSA/DNA: There are definitely tell-tale signs when it comes to his secretarials – ones that take a real expert to decipher. However, I'll tell you, the secretarials from the late-1940s are good – very good. Whoever was signing for him during that time got really close. So close that they have fooled many knowledgeable dealers.
In my opinion, I think it was a woman who was signing for him during that time. I say that based on the flourishes, connecting strokes and angles; that just leads me to believe it was a woman who was behind many of those signatures.
SMR: What are some of the things collectors should be on the look-out for when it comes to discerning a genuine Robinson signature from a secretarial or a downright forgery?
PSA/DNA: When you are looking at a Robinson signature you have to factor in the late-'40s and early-'50s clubhouse epidemic with the Dodgers – where they had two or three guys signing for the players. That's where you have to be really careful and know that a lot of the Robinson-signed balls out there are not authentic. One thing to be aware of and to look for, especially with his signed material from '53 to '56, was that there was a Dodgers clubhouse guy named Charlie DiGiovanna who signed a lot for the players.
DiGiovanna was known to have an artistic flair in the way he signed, but more importantly, he was also known to sign things the same way over and over again. One of his big trademarks was that he would sign Roy Campanella, Jackie Robinson and Carl Erskine underneath the logo on a Spalding ball. Those three signatures together, right under the logo, is always a very strong indicator you are dealing with a clubhouse ball.
Collectors should also be aware that there exist a lot of government postcards from the late-'40s that were supposedly signed by Robinson. They are out there. They surface a lot, and they are all bad.
SMR: What about the way he signed? Were there things he either always did or never did when he signed?
PSA/DNA: He would usually sign "Best Wishes Jackie Robinson." You see that on balls and photos. He also predominately used a ballpoint pen – not exclusively – but the majority of stuff out there is done in ballpoint. I would tell anyone to be very leery of anything signed with a Sharpie. Robinson died right around the time the Sharpie marker was coming into play. He would have never used a blue Sharpie, but he did sometimes use some of the big markers that came out in the '60s.
So there is some marker stuff and some Sharpie stuff, but it's not common, and the Sharpie he used was not a traditional Sharpie as we know it today. Just keep this in mind: anything supposedly signed by Robinson that has been signed with a Sharpie should be looked at as suspect.
SMR: With the new film coming out, would you expect there to be a renewed interest in Robinson-signed material?
PSA/DNA: Sure, although Robinson-signed material has always been highly desirable. His autograph has always appealed to collectors – and not just sports collectors. There is also an interest in his material with those who collect Americana and civil rights autographs. His popularity, which has always been huge, will continue to soar. His memorabilia brings top prices, and that will never stop.
And yes, the new movie – which looks great – will bring about even more excitement when it comes to his stuff. The downside to that is it will also bring out the forgeries – the bad guys that are always out to capitalize on an occasion or a milestone.
SMR: What is the best advice you can give to a collector to help protect them from the bad guys?
PSA/DNA: The first thing I would advise to anyone buying any autograph, at any time, is to educate yourself before purchasing anything. In this particular case, I would suggest that collectors don't get caught up in the hype and jump into something in the midst of the excitement that will come about with the film's release. The key thing is to avoid buying anything that is not PSA/DNA certified.
There is a good supply of PSA/DNA authenticated Jackie Robinson stuff out there – with dealers, on eBay and with auction houses. He signed a lot, so the nice thing is that his autograph is available to someone who really wants it. Just be smart and, by all means, don't get lured into purchasing something that is being offered at a very low price. A price that is lower than other similar things is always a warning sign that something is fishy.
SMR: What are your own personal feelings as to why Robinson's popularity and his desirability with autograph collectors has always been so strong?
PSA/DNA: His appeal comes from breaking the color barrier – that's number one. If you talk to any African-American baseball players who are playing today or who have played over the past 20 or 30 years, they all recognize number 42 as the man who blazed the trail for them. Besides that, he was a great player. He changed Dodger baseball and baseball overall. He changed the mindset of the nation. His enduring popularly is just amazing.
Every fan knows his story. Every fan knows that his number has been retired by every team. There are always new documentaries being produced about him. Kids today do reports on him in school. He's a part of mainstream America. He also stands out as being a wonderful person. He has been, and continues to be, such an inspiring hero to so many people. His legacy is just incredible – and that will never change.