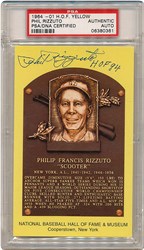 Clean Sweep is excited to present this fun auction, with all manner of affordable sports collectibles. This is 2-day auction - day one is all about baseball autographs. It begins with autographed cards, including a 1967 Topps Roger Maris, two early Derek Jeters and many group lots. There is a big run of signed Yellow HOF Plaques, including toughies Dean, Flick, Hafey, Hartnett and Schalk. We have our usual deep selection of 3x5s, GPCs & cuts, including Jimmie Foxx and Roger Maris.
The auction continues with a broad selection of signed 8x10s, including Earle Combs, Nellie Fox and several multi-signed Joe DiMaggios. Collectors of documents and letters will see many signed checks, some interesting contracts and letters with great content, including a Ford Frick with important content, a Waite Hoyt with 1927 Yankees content and many truly poignant letters from former Negro League players.
Perhaps our best selection ever of signed equipment and large prints is available, to which we dedicated the front cover. There are many HOFers, key modern players and future HOFers. There are lots of great signed pieces here, all with super low minimum bids. For collectors of postcards, we have some terrific larger vintage lots organized by team.
Signed baseballs conclude the first day of the auction. We have higher grade singles from Curt Flood, Bill Dickey, Joe DiMaggio, Lefty Gomez, Sandy Koufax, Mickey Mantle and two Ted Williams, including an OAL MacPhail. Team balls go back to the 1920s, including many high grade White Sox team balls, several Yankee balls and other interesting pieces.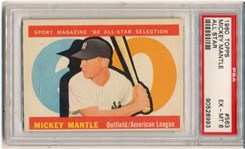 Day two of the auction contains baseball cards, memorabilia and publications and autographs, cards and memorabilia from all of the major sports.
Starting off with baseball cards, including many clean Exhibits, a run of 1955 Topps Doubleheaders with a Ted Williams, 1956 Topps Pins and there are also many clean 1960s Topps star cards, high number lots and partial sets. We have a big run of complete sets from the 1970s through the 1990s.
Basketball follows, with some better 1961/2 Fleers, a 1970/1 Topps Poster Set and many higher grade partial sets from 1969/70 through 1973/4. Basketball autograph collectors will see a run of HOF signed basketballs and several better signed jerseys. Boxing collectors will see five different Ali signed items and 8x10s of Gus Lesnevich and Sugar Ray Robinson, among others.
Football is always a vital part of these auctions, and we offer many clean partial sets from the 1960s and 1970s as well as some star cards. For football autograph collectors, we have many of the better Goal Lines, the best run we have offered of signed mini-helmets and many signed jerseys. Hockey collectors will see a quality run of Rookie and star cards from the 1950s through the 1970s.
Baseball memorabilia concludes the auction. We have many new pins, including a Balfour Salesman Sample case, tickets going back to 1940 and a quality run of Hartlands. Baseball publication collectors will see World Series programs going back to 1931, yearbooks back to 1941, including a clean 1962 Mets, and many better group lots of 1940s and 1950s programs and magazines.
For more information visit http://www.csauctions.com and bid today! Auction Ends April 3 and 4.
Clean Sweep Auctions' 2013 looks to be another great year for Clean Sweep. We are currently accepting higher quality consignments for our big auction in May 2013 - there are already many superb items in this auction, including a fresh 1952 Topps Mantle, stunning quality 1960s Topps sets, George Shuba's 1953 Dodger World Series ring and much more. Now is a great time to call or email us with any better items you were considering putting up for auction or selling outright.