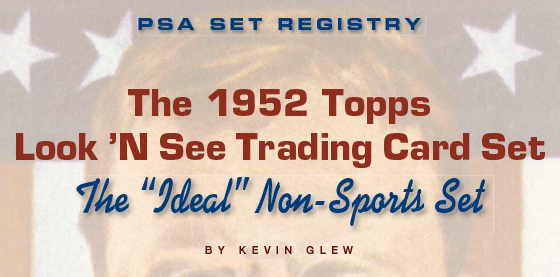 It's hard to resist a set that features cards of both Babe Ruth and William Shakespeare.
And it's this type of diversity that has made the 135-card, 1952 Topps Look 'N See set so popular.
"The Look 'N See set doesn't hit just one subject," explained Bill Christensen, a well-known non-sports scribe. "It's not a specific genre like science fiction with Mars Attacks or western with Davy Crockett. The focus of this set is humanity, so you're wide open on the broadness of appeal."
Mike Berkus, the executive director of the National Sports Collectors Convention who once owned 21 Look 'N See sets, concurs.
"It's always been a challenge for manufacturers to create diversity in their sets, and Topps did a pretty good job with this set in the '50s," he said.
Measuring 2-1/16" by 2-7/8", the Look 'N See cards showcase famous presidents, aviators, scientists, pirates, explorers, composers, inventors, military heroes and trailblazing women, among other subjects.
The white bordered fronts present portraits of these figures with their names and occupations emblazoned below them, as well as small logos identifying the subsets to which they belong.
"For me, the attraction was the colors," noted Christensen, who discovered these cards when he was around five years old. Having been hand drawn by a Topps in-house artist, these cards offer a unique selection of colorful images that Christensen remembers being a stand out feature of the set.
These were the first cards that Bill Bengen, who has held the No. 1 set on the PSA Set Registry for a decade, remembers from his childhood.
"I think it's really a sharp looking set," he said. "The colors are vibrant and you had that neat feature on the back where you had a hidden answer. You had to use that red paper to find out the answer. That was kind of an interesting thing for a kid to play with."
The card backs that Bengen is referring to exhibit the card number, subset information and a biographical paragraph about the subject on an orange-red background. Also found on the backs is a question that requires collectors to place a piece of red cellophane (included in packs) on the back of the card to uncover the answer – or spy a hidden message as it was advertised on the packs.
One small criticism is that the subset information is confusing. The first nine cards in this issue, for example, feature U.S. presidents, but while Franklin D. Roosevelt is card #1, the subset information indicates that he's "No. 2 of 9 Presidents." Conversely, Abraham Lincoln is card #4, but he is credited as "No. 1 of 9 Presidents." To complicate matters further, not all of the cards in the individual subsets – which also include Famous Americans, Military Leaders, Famous Women, Explorers, Men of the West, World Figures, Inventors, Famous Writers and Famous Canadians – are grouped together like the presidents.
The Look' N See cards were released in one- and five-cent packs with gum. Berkus and Christensen say that the one-cent wrappers surface more frequently. Rich Wiles, who owns the No. 5 Current Finest Look' N See set on the PSA Set Registry, says that unopened packs are extremely rare and that one would fetch a lot of money if it were to come up for sale.
A one-cent wrapper and a five-cent display box sold in a lot for $1,298 in 2004, so an unopened pack today is likely to command thousands.
Berkus also confirmed that vending boxes were uncovered in the '90s.
These cards were released in two series: series one consists of 75 cards, while the second series was reduced to 60 pasteboards.
"The first series is extremely well thought out, with the presidents, the western folks and the women roughly appearing in the same general area," noted Christensen. "Somebody did a lot of thinking on the first series. But then the second series is sort of haphazard. It's all over [the place]."
"The only thing that kind of goes together in the second series is the pirates. There are three Pirates out of five cards, but other than that, it jumps around from a scientist to a writer to J.D. Rockefeller. It looks to me like Topps was struggling for an extra 60 cards and they came up with these folks. It was sort of, I want to say, an 11th hour decision, although I can't prove that."
Most hobby publications list this as a 1952 set. However, Christensen believes it may have been released in 1953, while Berkus remembers buying these cards in stores in 1954 and possibly as late as 1956.
Non-sports card authority Dave Hornish confirmed that these cards were printed on 121-card sheets (11 rows of 11 cards). Christensen says that a first-series sheet has never surfaced, so he can't say definitively what cards are single prints from this series.
However, a second-series sheet has been uncovered and nine cards appear on this sheet only once, while all of the other cards appear two or three times each. These single prints (see accompanying list) are all located in the bottom row of the sheet.
The Rembrandt single (#82) is considered the key card in this issue. Located in the bottom right corner of the sheet, it was vulnerable to condition flaws and is often plagued by poor centering.
"There were no Rembrandt [PSA NM-MT] 8s until probably a year or two ago," noted Wiles. "Now there are four PSA 8s and nothing higher. I think his popularity as a historical figure, factored in with the scarcity of high-grade examples, is what makes it so alluring."
One PSA 8 Rembrandt sold for $3,839 on eBay in August 2012.
The Rockefeller single is also situated in the bottom row of the sheet (fifth from the left) and is elusive in top grade. At one point, there were rumors that Rockefeller's family was hoarding his cards, but Christensen doesn't believe that this has actually happened.
Of the 69 Rockefellers submitted, there have been just two PSA MINT 9s and three PSA 8s. One PSA 9 fetched $1,704.76 on eBay in May 2012.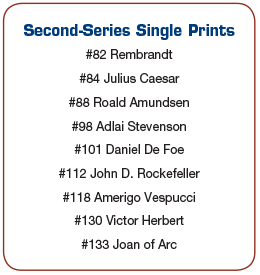 Amundsen (#88), Stevenson (#98) and Joan of Arc (#133) are also in the bottom row of the second-series sheet and are tough to find in pristine condition.
"The Adlai Stevenson was thought to be the second toughest [card in this set], but a lot of those have come out of the woodwork, so I don't think that it's the second toughest anymore," said Wiles.
With just one PSA 8 copy (and no examples grading higher), the Amundsen has emerged – at least statistically – as the second-toughest short print to find in high grade. The sole PSA 8 fetched $655.55 on eBay in May 2008.
A number of first-series singles are also difficult to uncover in flawless form. The FDR (#1), which was subjected to the additional wear and tear associated with being on the top of collector piles, has proven to be evasive in Mint condition.
"There's not even a [PSA] 9 Roosevelt out there," said Wiles. "There's only a PSA [NM-MT+] 8.5, and I'd venture to say that it would fetch a pretty penny if it came up for auction."
One PSA 8 garnered $3,148.74 in a Goodwin & Co. auction in July 2012.
Two other first-series singles that command premiums are Lindbergh (#30) and Earhart (#45), and the Ruth (#15) is also highly coveted.
"The Ruth isn't really a rare card at all, but I guess because of the crossover with sports [collectors], it carries a high price tag, which it probably wouldn't deserve on its own if it was just a non-sports card," explained Bengen.
With 355 submissions, the Bambino single has been sent into PSA more than any other card in this issue. There are two PSA 9s, one PSA 8.5 and 46 PSA 8s. One PSA 8 sold for $425 on eBay in July 2012.
Christensen says some of his favorite cards in this set are those with vivid backgrounds. The cards of the presidents, for example, feature American flags, while planes are pictured behind the aviators and ships behind the explorers. The card of Captain William Kidd (#122), who's described on his card back as a "bloodthirsty" pirate, depicts a man being hanged.
"My favorite card in the set is the one of the viking, the Leif Ericson card (#126)," said Bengen. "That's the one I remember seeing first. To me, it's an astounding card because the guy is looking at you with his mouth wide open. It looks like he wants to take your head off."
Christensen also points out that Queen Elizabeth II (#104) is the only subject in this set that's still living.
Centering and chipping on the back borders are two of the condition issues that hamper these cards.
"A lot of the cards are notorious for what I call 'notching,' where they were cut and brought off the assembly line with two notches that are midway up the edge of the card on either side. And that probably hurts a lot of the grades," noted Wiles. "These cards are also well known for having spider creases or real light creases on the front of the cards (creases that don't penetrate the back of the cards)."
Bengen also points out that the borders are generally narrower on the second-series cards.
"The cards are physically the same size, but the images on the high numbers are larger. Therefore, the borders on the high numbers are much narrower," he said. "This contributes to a grading problem because when you have very narrow borders and they're the slightest bit off-center, it throws the card into the OC category very quickly."
This surplus of condition issues helps explain why prices for high-grade cards have spiked in recent months.
"PSA 9s have really gone through the roof," said Bengen. "Even for some of the commons, it's not unusual to see them sell for $300, $400 or $500, and the scarcer cards will go much higher."
But Bengen says that you can still put together a nice looking set in PSA NM 7 condition for a reasonable price. And when you study the artwork and read the backs of these cards, it's hard not to feel enlightened. Christensen says the cards served as a good starting point for a lot of kids' book reports in the '50s.
"I'm sure the cards inspired a lot of kids to read about someone that appeared in the set. If you saw the Captain Kidd card, it might inspire you to read a little bit about a pirate," he said.
Wiles agrees.
"I think it's really a nice set for the kids to get into," he said. "You read about stuff like [Guglielmo] Marconi with the first wireless device. It has some neat history."
Bengen agrees, adding that he believes this is one of the finest non-sports issues ever produced.
"I call it the quintessential non-sports card series because it has great graphics, great color, terrific narrative on the back and it has a gimmick with the red [cellophane]. So it's kind of the ideal non-sports set," he said.
---
Please feel free to contact Kevin Glew at [email protected] if you have any additional information or comments. A special thanks to Bill Christensen and Dave Hornish for generously sharing information for this article. Thanks to Mile High Card Company for providing photos for this article. Please note that the Population Report figures and Set Registry rankings are those as of December 2012.