A Bull, a Bronko and a Shipwreck are all part of this story.
No, this isn't a children's fable, but the tale of the venerable 1935 National Chicle set.
Celebrated as the first nationally distributed pro football issue, this 36-card set is lauded for its art deco design. Measuring 2-3/8" by 2-7/8", these pasteboards are smaller than today's standard singles. Card fronts generally present players in action poses amidst a colorful background. The pictures were adapted from 4-1/4" by 5-1/2" oil paintings.
"Back then it was really true art, they were hiring artists to do the painting. They weren't doing photographs," said Greg Pietsch, who owns 12 of the original paintings and a Hall of Fame Chicle PSA Set Registry set.
Exhibiting both vertical and horizontal layouts, the fronts also showcase the player's name. The backs feature the series name, card number and biographical sketches written by Boston Redskins coach Eddie Casey. Casey's facsimile signature and qualifications also appear, along with player personal data (height, weight, etc.) and copyright information.
A notation indicating that the card is "one of 240 football players with playing tips" is also included. This suggests that National Chicle intended to manufacture 240 cards rather than 36. There's no universally accepted explanation as to why only 36 cards were produced.
Brian Wentz, CEO of BMW Sportscards, notes in an article on his website that the first 24 cards boast variations. The disparity is in the alignment of Casey's signature and qualifications. One version showcases Casey's name centered with his qualifications to the right, while another displays his name in a smaller font and more to the right with his qualifications below it. There are generally no premiums for these variations.
Reportedly distributed in one-cent packs that included gum, these singles weren't overwhelmingly popular upon initial release. Ambitious collectors could send away 20 wrappers to receive a 17-card set of 6" by 8" photo cards (now known as the R311 set).
Today, National Chicle singles are difficult to uncover in high-grade.
"It's not so much that they're expensive. You just don't see them. I would go two years without seeing a card that I needed," said Bob Davis, who owns the Registry's No. 3 Chicle set.
Veteran football card dealer Joe Colabella shares similar sentiments.
"There was never that much real supply, mainly because baseball was the predominant sport," he said.
A reported find of these cards occurred in the '70s.
"Part of the find came out of Oklahoma, the Oklahoma City area. The other part came out of Pennsylvania and they were unopened packs," said Colabella, noting that he has heard that at least three Chicle boxes were uncovered.
High-number Chicle singles (#25 to 36) are particularly elusive. In his article, Wentz suggests that the Chicle set was produced in two series. The first series (#1 to 24) was distributed nationally, while the second series (#25 to 36) was disseminated solely in the cities of the teams represented in the set.
Colabella believes that stores simply may not have been interested in the second series.
"For the most part, this stuff was sold as a candy. When a store bought a box of cards, they didn't buy another box until they sold the box they had. They didn't care whether it was basketball, football, hockey, it was the gum they were selling," he said. "So if they still had a box of baseball cards in 1935, they were probably not going to buy the football cards, because as far as they were concerned, they still had gum. And with a lot of these issues, where there may have been a second or third series or fourth series, they bought (only) the first series."
Hobbyists have tabbed the high-number Bull Tosi (#27) as the set's toughest card to track down.
"To find him in (PSA) 7 condition literally took me five years," said Davis.
Pietsch had a similar experience.
"That's a really tough card to get in any grade let alone a high grade," he said.
Of the 25 submitted, there has yet to be a PSA 9 and there are just four PSA 8s.
The Shipwreck Kelley (#22) is another noteworthy card. The player-owner of the Brooklyn Dodgers was one of the last helmetless players. A PSA 9 Kelley sold for $5,407 in a Mastro Auctions sale in December 2006.
The set's first card, Dutch Clark, is difficult to find in top condition. Being the first card in the set makes it vulnerable to wear.
"It's always battered," noted Pietsch.
Of the 142 submitted, the highest grade doled out has been PSA 8. A PSA 8 sold for $8,630.38 in a Mile High auction in February 2008.
Even more elusive in flawless form is the last card, Bernie Masterson (#36).
"Cards were collected with the No. 1 card on the top and the last card on the bottom, and you put your trusty rubber band on it and you usually destroyed the top and bottom card," explained Colabella. "That's why the Masterson notoriously seems to be in bad shape."
Of the 79 evaluated, there have been six PSA 8s, with no copies grading higher. A PSA 7 sold for $2,404.80 in a Mastro Auctions sale in April 2007.
The Knute Rockne single (#9) is likely the set's second most coveted card. The legendary college coach was the only non-professional athlete represented in this set. Of the 219 Rocknes submitted, there have been three PSA 9s and 19 PSA 8s. A PSA 8 sold for $4,700 in a Robert Edward auction in May 2008.
But the most famous card in this set is the Bronko Nagurski (#34).
"It's the Honus Wagner of modern football cards," said Colabella.
Pietsch has owned several PSA 8 Nagurskis over the years.
"Not only is that a short print, but it's tough to find in a high grade and it's tough to find centered," said Pietsch.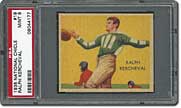 The sole PSA 9 Nagurski is rumored to have sold for $275,000 in a private transaction. A PSA 8 sold for $58,417.50 in a Memory Lane auction in December 2006, a far cry from the $125 the card listed for in the 1981 Sport Americana guide. This dramatic price spike exemplifies the increased popularity of vintage football cards in recent years.
"I'd say in the last five years, pricing has really gone through the roof," said Pietsch.
And thanks to a Bull, a Bronko, and a Shipwreck, the 1935 National Chicle set has become the most popular vintage gridiron issue.
"It really is the premier football issue for professional football as we know it," said Colabella.
---
Please feel free to contact Kevin Glew at [email protected] if you have any additional information or comments. Mastro Auctions provided pictures for this article. Please note that the Population Report figures quoted are those as of press time.