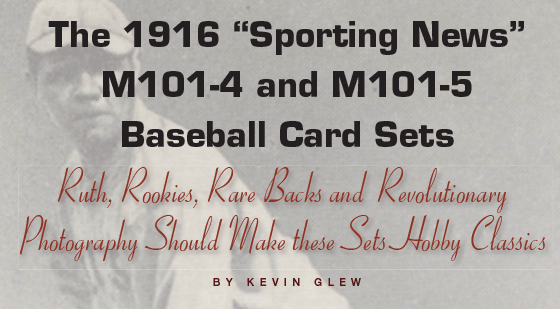 They possess all of the prerequisites to be hobby classics.
Hall of Famer rookies? Check.
Desirable variations and scarcities? Check.
Revolutionary photography? Check.
Mysterious omissions? Check.
So why then are there only six M101-4 sets and five M101-5 sets currently registered on the PSA Set Registry?
"The cards are not nearly as easy to find as the T206s or T205s, which are popular sets from the same period," noted Tim Newcomb, who has been amassing M101-4 and M101-5 cards for 12 years. "They're more in the range of the T207s in terms of rarity. If you go on eBay, you might only find a few cards. They're not like T206s where you can find them in many places and bid on them, so I think that discourages a lot of people from collecting these sets. Plus, I also think there is just a general lack of knowledge about them."
Veteran collector Scott Mt. Joy offers similar observations.
"They weren't really national issues," said Mt. Joy. "The T206s were in the most popular tobacco of the day – when tobacco was king. There are 100,000 T206s today, so how many do you think there were 100 years ago? These cards (M101-4, M101-5) are highly overshadowed."
The 200 cards in each of the M101-4 and M101-5 sets showcase identical front designs. Measuring 1-5/8" by 3", these pasteboards present a black-and-white photograph, along with the player's name, position, team and card number.
"The photographs are so sharp," said Newcomb. "They're small, but if you look closely at them, you can really see a lot of details, especially in the background. You can see other players. You can see stadium details. I remember looking at the card of Larry Doyle and thinking that it provided a real sense of the Polo Grounds."
Numbered in alphabetical sequence by the players' last names, the cards in these series are often referred to as Sporting News singles because a large number of the backs flaunt an ad from the renowned publication. In reality, however, the Sporting News was just one of 18 businesses – including other publications, clothing stores, department stores, bakeries, breweries and even a theatre – that had their names printed on the back of these pasteboards.
Distribution
Produced by Chicago-based printer Felix Mendelsohn, blank back cards were sold in sets and sheets. But Mendelsohn also marketed his cards to businesses, who had their company information stamped on the card backs and then used them for promotional purposes.
Newcomb notes that Mendelsohn took out an ad selling full sheets in the April 6, 1916 issue of the Sporting News, and in the summer of that same year, the Sporting News started offering these cards with their company details stamped on the back.
Despite their ACC designations, the M101-5 set was released prior to the M101-4 set.
"We think the M101-5 was issued in February 1916 and then the M101-4 in April, so they were only about two months apart," noted Newcomb, who researched these sets extensively with veteran collector Todd Schultz.
Newcomb says the M101-5 cards are more difficult to track down than the M101-4 cards.
"There were a lot of different ways these cards were distributed," explained Newcomb. "A lot of the companies that advertised on the card backs were clothing stores, particularly men's and boys' clothing stores. We assume they were offering them with a purchase of some kind."
Most of the same players are featured in the M101-4 and M101-5 sets but with different card numbers. Thirty cards, however, do maintain the same card numbers in both sets.
Newcomb says that some of the company ads only appear on card backs in one of the sets. The Sporting News, for example, is only found on backs of the M101-4 cards. Therefore, if one of the 30 singles with the same card number in both sets possesses a Sporting News back, it is clearly an M101-4 card.
"However, if the backs are blank, there really isn't any way of differentiating those," explained Newcomb.
Rookies
The Babe Ruth rookie is card #151 in both sets. Thus, it is impossible to determine which set the card actually belongs to unless it features one of the set-specific company ads on its back (i.e., Sporting News).
A PSA VG-EX 4 M101-5 blank back Ruth fetched $59,500 (including the buyer's premium) in a Memory Lane Inc. auction in August 2012.
Hall of Fame southpaw Eppa Rixey's rookie card also boasts the same card number in each set. Among the other Cooperstowners whose first-year cards have different card numbers in each set are Dave Bancroft, George Sisler and Casey Stengel.
Mt. Joy says that Jim Thorpe (#176), who's only in the M101-5 issue, is the second-most valuable card next to Ruth because it's the multi-sports star's only major league card. A PSA NM 7 blank back Thorpe garnered $22,898.40 in an SCP Auctions sale in January 2009.
The Joe Jackson cards in each set are also highly coveted, as are the singles of fellow 1919 Black Sox Buck Weaver, Chick Gandil (M101-4 only), Hap Felsch and Eddie Cicotte.
The Walter Johnson and Honus Wagner cards also draw plenty of interest, as does the Ty Cobb single, which for some reason was only included in the M101-4 issue.
"Obviously any printer would want Cobb to be in the set from the beginning if he could, but there may have been some kind of rights issue. We don't know if Mendelsohn paid the players for rights to their images," said Newcomb.
This might also explain why Tris Speaker wasn't included in the sets.
Variations
While the addition of Cobb was Mendelsohn's most high profile revision, he also switched up lesser-known players in the M101-5 series. There are three instances where two players can be found with the same card number: #12 Beals Becker and Lute Boone, #23 Forrest Cady and Mordecai Brown and #186 Bobby Wallace and Zach Wheat.
Newcomb says the Becker, Cady and Wallace cards are extremely rare and command a significant premium.
"There are probably five copies known of each of those," said Newcomb.
There aren't any players with the same card number in the M101-4 issue, but there are two versions of the Oscar Stanage card (#168).
"The rare Stanage card is a sort of waist-high, portrait shot where he's just standing there," said Newcomb. When compared to the other cards, he notes, it drastically stands out because the rest of the images in the set show the player's entire body from head to toe. Even the second version of the card, for example, features a full length shot of Stanage in an action pose. Incidentally, the introduction of this latter version to the set "seems to have been the last change Mendelsohn made," adds Newcomb.
Several uncorrected cards in the M101-5 set exhibit misspelled names or the wrong player photo. The John Lavan single (#97), for instance, was one error that was reportedly corrected. A version with his last name spelled "Lavin" is alleged to exist, but Newcomb has not been able to confirm this in his research.
Back Variations
As mentioned earlier, 18 businesses had their names emblazoned on backs of different versions of these singles. Some company backs appear fairly frequently, while others almost never. The blank backs sold by Mendelsohn are the most common, but cards with the Sporting News, Famous & Barr (a boys clothing store) and Standard Biscuit on them are also quite plentiful.
Newcomb says the most difficult backs are those advertising Green-Joyce (department store), Mall Theatre, Everybody's (department store) and Holmes to Homes (bread company).
"It's such a tough set because, say you want a back like Mall Theatre or Green-Joyce, there's maybe 20 cards in existence," said Mt. Joy. "I mean literally, Green-Joyce, there might be 12 cards out there, and that's out of a set of 200. And of those 12 that exist, somebody has to sell one. In the eight years I've been collecting the set, I've seen two Mall Theatre and three Green-Joyce backs."
Mt. Joy says the Green-Joyce and Mall Theatre cards command a significant premium.
"If you were to find a [PSA] VG 3 card of a generic player with a blank back, you're probably looking at a $20 to $25 card," he said. "That same card in a Green-Joyce back is probably $500, and the Mall Theatre might even be $700."
Many of the Holmes to Homes backs are found with paper missing because they were glued into an album.
"There was one big find of Holmes to Homes 20 years ago, and they were all found adhered to an album," said Mt. Joy. "So when that person took all of those cards out to resell them, they all had paper loss."
Newcomb saw several of these at the National this year.
"The Holmes to Homes cards with the back damage were being offered in the $150 range," he said.
Counterfeits
Collectors also have to be wary of counterfeits. Newcomb believes that some of the counterfeits could date back to the 1960s.
"You do see them looking kind of old," he said. "And that can be the reason why people who don't know the set will find it difficult to recognize them – since they do have some age on them."
Newcomb points out that a white space and a thin black-lined frame surround the photos on each of the cards.
"In the fake, that white space between the photograph and the black line is much larger, so that's the main way to tell," he explained. "On authentic copies, the white area between the photo and the black border is very small."
All of these idiosyncrasies make the M101-4 and M101-5 sets challenging and fascinating. And while demand for these cards may not rival that which T206 singles summon, they are becoming more popular.
"This is a set that has been really pulling in people because it has so many rookie cards – Ruth, Sisler, Bancroft, Stengel and Rixey. It's just loaded," said Mt. Joy. "It's the only [major league] set that includes a Thorpe card. Then you throw Shoeless Joe in there before the 1919 Black Sox scandal, and it has five Black Sox players in it. So it has some serious pull power."
"It's the premier set from pretty much 1912 to 1921 (when the Exhibits came out). It's the biggest set in that time frame. It's just loaded with rookies." Moreover, Mt. Joy adds, "I think the coolness of the set stems from all of the backs that exist and their scarcity levels. There's nothing really like it."
Memory Lane Inc. to Auction M101-5 Set in December
It was a "Ruthian" hobby discovery – literally.
This past August, Memory Lane Inc. auction director Dan Wulkan fielded a phone call from a collector in the Midwestern United States who told him that he had a complete set of the 1916 M101-5 cards.
Often referred to as the 1916 Sporting News set, this 200-card offering houses what is widely considered as the Babe Ruth rookie.
"When I first got the phone call, I kind of thought the cards were going to be reprints," admitted Wulkan.
However, after listening to the hobbyist further, Wulkan decided to fly out to view the collection in September. When he saw the cards, he knew almost immediately that they were real.
But before getting the collector – who wished to consign the set with Memory Lane – too excited, Wulkan wanted PSA to authenticate the cards. He was ecstatic when everything checked out and the cards received some solid PSA grades.
"We've never sold a set like this before at Memory Lane," said Wulkan. "We've sold individual cards from this set, but we've never had a full set available."
Extensive information about the M101-5 set can be found in the accompanying article. The cards in the set, which Memory Lane will sell in their mid-December auction, boast blank backs.
The highlight of their offering will be a PSA EX 5 Ruth rookie, which will be sold individually.
"It's a beautiful black-and-white photo of Ruth that has a real historic look," said Wulkan. "And you're talking about the biggest household name in sports history."
Memory Lane sold a PSA VG-EX 4 Ruth from the same set for $59,500 in their summer auction.
Also being sold individually in Memory Lane's December auction will be the Jim Thorpe (PSA EX-MT 6), Joe Jackson (PSA 5), Walter Johnson (PSA 4) and Honus Wagner (PSA 6) singles. They plan to sell the remaining cards, many of which have graded between the PSA 5 and PSA NM-MT 8 range, as one lot.
"It's amazing to think that these cards are approaching 100 years old—and that they have been handed down from generation to generation and have survived in this condition," said Wulkan. "It's a great find. It's an absolutely stunning set. When you come across this type of cream of the crop stuff, you can't help but get excited."
---
Please feel free to contact Kevin Glew at [email protected] if you have any additional information or comments. Memory Lane Inc. and Scott Mt. Joy provided photos for this article.