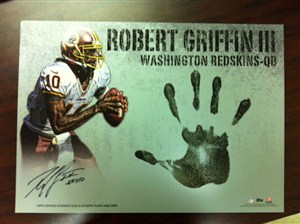 Our NFL football business is off to a strong start, our initial products have performed admirably and we are just starting to warm up! Triple Threads Football releases on Friday 11/23, the product is loaded with strong content and we are about to turn up the heat another NOTCH!
We have a history of creating special cards in our products that generate amazing buzz and value and we are about to drop something VERY special into Triple Threads FB, Topps Supreme FB, Valor FB and 5-Star Football!
We put a special Cal Ripken "Touched by Greatness" card in Archives Baseball that created much buzz. The card included Cal's autograph as well an impression of his actual inked handprint. We are now ready to blow this idea up and go Prime Time with our NFL products!
Kicking-off in Triple Threads Football, which hits shelves on Friday 11/23, look for special redemption cards to be redeemed for amazing NFL AUTOGRAPHED HANDPRINT cards! All of the over-sized cards include one Giant hand print and the player's signature!
The subjects who participated are the cream of the rookie crop. They include:
Andrew Luck
Robert Griffin III
Justin Blackmon
Brandon Weeden
Ryan Tannehil
Trent Richardson
Michael Floyd
Triple Threads will be the first opportunity to find these unique cards, but also look in 2012 Topps Supreme, the all-new Topps Valor and the collector-favorite 5 Star for these BIG Beauties! Visit our facebook page to see video and images of all cards and follow us on twitter @toppscards.