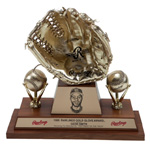 Laguna Niguel, Calif. (October 16, 2012) – SCP Auctions is proud to announce The Ozzie Smith Collection of baseball memorabilia for its November 2012 online auction. The collection features more than 100 pieces, many of which are Smith's awards and trophies that he collected during his Hall of Fame career. Among the collection highlights are his 13 Gold Glove Awards from 1980-1992, 11 of his All-Star Game rings, and St. Louis Cardinals World Series rings from 2006 and 2011.
Smith began his brilliant 18-year playing career in 1978 with the San Diego Padres. In 1982, he was traded to St. Louis, where he played out the rest of his career and helped the Cardinals win the World Series that year. Known for his colorful acrobatic flips as he took his position at shortstop, he earned 13 consecutive Gold Glove Awards and was a 15-time All-Star. In 2002, Smith was inducted into the National Baseball Hall of Fame.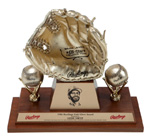 Nicknamed "The Wizard" for his defensive prowess, Smith set major league records for career assists (8,375) and double plays (1,590) by a shortstop (since broken by Omar Vizquel), as well as the National League record with 2,511 career games played at shortstop. He was equally adept on offense, accumulating 2,460 hits and 580 stolen bases during his career. He won the NL Silver Slugger Award as the best-hitting shortstop in 1987.
Smith has decided to offer his collection as part of his estate and family planning.
"I am honored to share a portion of the memorabilia from my professional baseball career with fans and collectors," said Smith. "My family and I have decided together which of my pieces to keep and which to share. I will forever cherish every experience associated with earning these awards that I shared with the Cardinal Nation and the baseball community. I hope those who are passionate about collecting and preserving such items will gain a similar measure of joy through their ownership."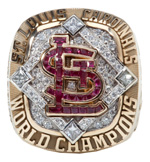 "Ozzie Smith was one of the most entertaining and charismatic figures ever to play Major League Baseball," said Dan Imler, SCP Auctions managing director. "The items in this collection represent the honors bestowed on him for his many contributions to the success of the St. Louis Cardinals."
Other significant artifacts from The Ozzie Smith Collection of Baseball Memorabilia include:
Ozzie Smith's St. Louis Cardinals Miniature World Series Trophy from 1982
Ozzie Smith's St. Louis Cardinals NL Championship rings from 1985 and 2004
Ozzie Smith's 1989 Lou Gehrig Award plaque
Ozzie Smith's 1984 Major League Baseball All-Star Game ring
Ozzie Smith's inscribed last game-worn Rawlings fielder's glove
Ozzie Smith's All-Star Game worn St. Louis Cardinals jerseys from 1987, 1990, and 1994
Ozzie Smith's MLB Roberto Clemente Award trophy from 1995
Ozzie Smith's Rawlings 50th Anniversary All-Time Gold Glove Team trophy
Ozzie Smith's 1987 and 1988 MLB All-Star Game Leading Vote Getter trophy
Ozzie Smith's 1975 Cal Poly San Luis Obispo game-worn jersey and plaque
Also a part of SCP Auction's November auction will be The Angelo Dundee Estate Collection of boxing memorabilia. The collection features hundreds of items spanning the breadth of Dundee's extraordinary career and includes some of the most historically important Muhammad Ali memorabilia ever offered to the public. Among the collection highlights are several significant pairs of Muhammad Ali fight-worn gloves including Ali's (then Cassius Clay) gloves from his February 25, 1964 bout against Sonny Liston and his gloves from his March 8, 1971 bout against Joe Frazier (Ali-Frazier I). These two pairs of gloves represent Ali's two most legendary fights and have been dubbed by SCP Auctions officials as "the most valuable and historically significant boxing artifacts in the world."
Bidding will be open to registered bidders on Wednesday, Nov. 14 and conclude on Saturday, Dec. 1. The auction will be conducted online at SCPAuctions.com. For more information on how to participate, visit www.scpauctions.com or call (949) 831-3700.