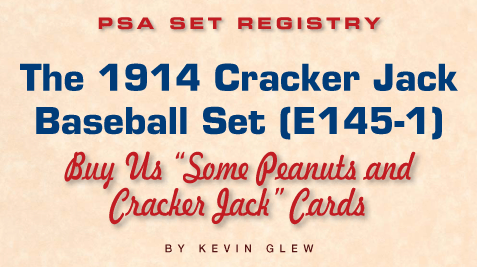 The 1914 Cracker Jack set is not only one of the most iconic baseball sets ever produced, but it's also one of the most difficult to complete.
Penned in 1908, the third line in "Take Me Out to the Ball Game" – "Buy me some peanuts and Cracker Jack" – forever linked America's pastime with this tasty caramel treat. So adding baseball cards into Cracker Jack boxes in 1914 only made good business sense.
"You have to be a little nutty to start the 1914 set," said Peter Garcia, who owned the top set on the PSA Set Registry from 2002 to 2010, in an interview in 2009. "When you start this set, you've got to make a decision and realize that it's going to take you a long time. It's going to cost you a lot of money and you have to be very, very patient."
Patience and determination helped Gary Dent and his son-in-law, Brian Kappel, complete a registry set. Boasting a GPA of 3.78, their set was sold by Robert Edward Auctions in May 2008 for $88,125. Eighteen months later, the No. 1 All-Time Finest registry set, boasting a 6.59 GPA, fetched $502,775 in a Mile High Card Company auction.
As Dent and Kappel would attest, developing relationships with fellow collectors is essential to completing this set. Fortunately, the Cracker Jack PSA Set Registry enthusiasts tend to help each other out.
"What I try and tell people is that when you start a set, you have to work with other collectors, dealers and the auction houses," said Ken Harrington, a well-respected hobbyist who has pursued both the 1914 and 1915 Cracker Jack registry sets, in a 2009 phone interview. "There's no way you can put together a main set without having somebody help you. When I first started, the person that helped me was Peter Garcia, who had the top 1914 Cracker Jack set."
The 1914 cards were available exclusively in Cracker Jack boxes (single card in each box). Measuring 2-1/4" by 3", the fronts of these cards boast an image on a red background. The player's name, team and league are indicated across the bottom. The backs feature a card number, biographical information and a company ad. The ad indicates that the card is part of a series of 144 cards. Cards #1-72 indicate that 10 million cards were printed, while cards #73-144 note that 15 million were manufactured.
"I have a hard time believing they produced that many," said Garcia "Those quantities are probably a marketing tactic."
But Anthony Nex, who has collected the 1914 and 1915 Cracker Jack sets, believes that those quantities are possible.
"Remember, people didn't keep things. They weren't collectors like they are now," he said in 2009. "How many times did people pull a card out and say, 'Ah baseball, just give me the candy'?"
One of the set's major attractions is that players from the short-lived Federal League are featured. The two-year existence of this renegade circuit corresponded with the release of the two Cracker Jack sets. Hobbyists also savor the design of these cards.
"I like the colors. I like the graphics, and I especially like the fact that it's the only set that depicts Federal League players," said Nex.
With cards of Ty Cobb (#30), Walter Johnson (#57), Honus Wagner (#68) and Shoeless Joe Jackson (#103), the player selection in this issue is tremendous. The Christy Mathewson card (#88) is also highly coveted. The 1914 single presents the legendary hurler in a pitching pose on a horizontal card. This card commands a premium over Matty's 1915 Cracker Jack issue, which showcases him in a portrait pose.
"A PSA [VG] 3, 1914 Mathewson will probably sell for more than a PSA [NM-MT] 8, 1915 Mathewson," said Garcia.
Of the 18, 1914 Mathewsons submitted, the highest grade recorded has been PSA NM 7. Robert Edward Auctions sold a PSA VG-EX 4 for $40,600 in April 2006.
The Frank Chance card (#99) is also sought-after. This Hall of Fame manager is one of a small group of players/managers featured in the 1914 set but not in the 1915 Cracker Jack issue. Of the 22 Chances evaluated, there has been just one PSA 8 and two PSA 7s (with nothing grading higher). A PSA 8 sold for $8,100 on eBay in April 2008.
The most elusive card in high-grade is Del Pratt (#93). Like the Mathewson, the 1914 Pratt single showcases him in a throwing pose, while his 1915 card is a portrait image. No 1914 Pratt cards have graded above PSA VG-EX 4.
"The fact that it's a different pose and that the card is so hard [to find in high grade], that's going to bring several thousand. It's hard to give you an exact amount, but the [1914] Pratt would go for over $2,000 easily," said Garcia.
There are two variations that exist of the Roger Bresnahan card (#17): one has a card number on the back, while the other doesn't. For years, the Bresnahan no number card was believed to be rarer, but this no longer appears to be the case.
"It seems like there are quite a few of both versions," said Harrington.
Aside from the Mathewson, there are eight other cards that showcase horizontal layouts: Chick Gandil (#39), Jimmy Austin (#40), Rube Marquard (#43), Jeff Tesreau (#44), Roger Peckinpaugh (#91), Al Demaree (#92), Ray Keating (#95) and Beals Becker (#96).
"The horizontal cards command more because they have great eye appeal," said Garcia.
Other than Chance, three others appear in the 1914 set but not in the 1915 offering: Harry Lord (#48), Jay Cashion (#62) and Nixey Callahan (#111). Rollie Zeider has two cards in the 1914 series (#60, #116), but he was replaced by Oscar Dugey on card #60 in the 1915 set. Harrington says these cards command a premium.
"Part of the reason is there are a lot of 1915 collectors that are also trying to get the cards in the 1914 set that are different," he explained.
Garcia says that various condition issues make cards in the 1914 set difficult to uncover in high-grade.
"The paper stock on the 1914 cards is a lot thinner. The '15s [1915 Cracker Jack cards] are thin enough, but the '14s, they're even thinner. They're very, very flimsy. You can hold a card up with two fingers in the air and it will just kind of sag down," he said.
Andy Montero, another passionate Cracker Jack collector, agrees. He adds that the red background on the card fronts sometimes bleeds into the lighter colored borders. The most common condition issue, however, is staining from being packaged with the caramel snack.
"Stains are the No. 1 thing that you're going to see," said Montero in a January 2009 interview.
The prevalence of these condition woes has raised the price of these cards in recent years, as did Topps' pursuit of low-grade original cards when they opted to insert them in packs of their 2004 Cracker Jack product, said Nex. The Topps issue employed the classic Cracker Jack design, but it featured predominantly modern players.
The fact that Topps reintroduced the Cracker Jack brand 90 years after its initial release illustrates the enduring appeal of this set. Unfortunately, as most collectors have discovered, buying "some peanuts and Cracker Jack" is much easier than buying 1914 Cracker Jack cards.
"I've met countless collectors [with] large collections who say I'm not even going to start the 1914 set. It's too difficult. It takes too long. I'm never going to get the cards that I want in the grade that I'm looking for," said Garcia.
View the set in the PSA Set Registry.
---
Please feel free to contact Kevin Glew at [email protected] if you have any additional information or comments. Mile High Card Company, Peter Garcia and Anthony Nex provided pictures for this article. Please note that the Population Report figures quoted are those as of press time.