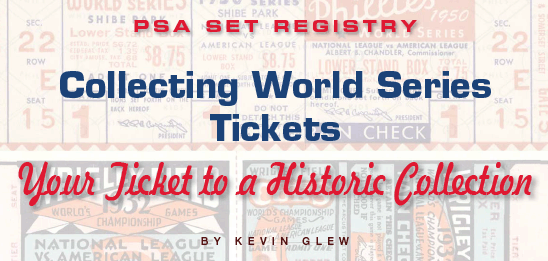 The first World Series featured a clash of baseball immortals.
In 1903, Cy Young and the American League's Boston Pilgrims battled Honus Wagner and the National League's Pittsburgh Pirates for diamond supremacy. But neither legend would emerge as the star of the inaugural Fall Classic.
It was Bill Dinneen, the Beantowners' No. 2 starter, who would win three games and lead the Pilgrims to triumph, trumping the heroics of Pirates hurler Deacon Phillippe, who tossed five complete games.
If you're looking for a ticket from this seminal event, however, good luck. Veteran collector and PSA authenticator Al Glaser has only seen a couple, and none have been submitted to PSA.
"The 1903 World Series ticket would be considered the Holy Grail of World Series tickets," noted Lou DiCioccio, who owns the No. 2 World Series Tickets set on the PSA Set Registry.
In July 2004, Lelands sold a non-graded, full ticket from Game 3 of the inaugural Fall Classic for $11,750.
This ticket is the key to the World Series Tickets set on the PSA Set Registry, which requires collectors to track down one ticket from each Fall Classic. Yet if you're looking for an even greater challenge, you can also pursue the World Series Deciding Game and Opening Game registry sets.
Full tickets and stubs can be amassed for these sets, but registry enthusiasts receive bonuses for acquiring full tickets.
Until recently, tickets were generally ripped upon entry to a stadium. But the 2005 World Series between the White Sox and the Astros was the first year wherein tickets were scanned at both venues. As a result, there shouldn't be any stubs from the 2005 Fall Classic.
Several factors can impact the value of a ticket, including its design, scarcity, condition and historical significance. Collectors generally prefer season tickets to box office tickets.
"Season tickets are more colorful," noted Glaser. "They're a larger ticket. There are more of them than the box office tickets, but nobody keeps the box office tickets. They want the big colorful season tickets. However, in many years, you take what you can get. If you can find a box office ticket, you're thrilled."
The number of World Series tickets produced for each game is limited to the seating capacity of the stadium.
"Anything from 1955 to the beginning of the World Series are very challenging in full form," noted Glaser. "And if there are any out there, they get snapped up pretty quickly, especially by registry collectors; plus, there are a lot of non-registry people out there looking for World Series items."
Tickets from the 1919 World Series, when the baseball world was rocked by the Black Sox scandal, are particularly coveted. Tickets from Chicago's Comiskey Park generally command a premium over those from Redland Field in Cincinnati.
"There aren't many 1919 tickets in high grade at all," said Glaser. "I don't believe there has been a full 1919 ticket graded."
Glaser is correct. Just 35 stubs from this historic series have been graded. The Game 1 and Game 3 stubs that have been deemed PSA EX-MT 6 are the two highest graded examples. A PSA Authentic stub from Game 2 garnered $3,900 on eBay in August 2011.
Tickets from Game 3 of the 1932 World Series, when Babe Ruth famously called his shot at Wrigley Field, are also highly desirable.
"That ticket is immensely popular," said Glaser. "There have been a handful of full tickets from that series. I have a full, and I know of a couple of other guys that have a full."
In all, five full tickets and 34 stubs have been evaluated by PSA. A PSA Authentic stub is available on eBay for $3,900.
Tickets from Don Larsen's perfect game in Game 5 of the 1956 World Series are also sought-after.
"I have a proof in a nice grade and I've only seen one other graded ticket out there," said DiCioccio. "That's a real tough one to get."
The PSA Population Report indicates that six full tickets and 49 stubs have been evaluated. A non-graded stub in EX-MT condition sold for $519.63 in a Lelands auction in December 2009.
Carlton Fisk's unforgettable home run in Game 6 of the 1975 Fall Classic has made tickets from that contest extremely popular. Eight full tickets and 14 stubs have been graded by PSA. Full tickets from Game 6 and Game 7 in Near-Mint condition fetched $6,202.19 in a Lelands auction in December 2006.
Also in high demand are tickets from the "Buckner Game" (Game 6 of the 1986 World Series). Five full tickets have been submitted and the highest grade recorded has been a PSA 6. Sixteen stubs have also been evaluated. Four non-graded stubs in Excellent condition sold for $640.39 in a Lelands auction in June 2011.
Until recently, tickets from most games were difficult to find in pristine condition. Traditionally, tickets were ripped on the way into the ballpark and fans would shove the stub into their pocket. If their team lost, they would most likely toss their stub in the garbage or leave it behind after the game.
"The main condition issue, if you're collecting stubs, is a bad tear," said DiCioccio. "The usher didn't care how he ripped the ticket."
Also, if you ordered tickets by mail, they would sometimes come stapled together and the edges of the tickets would get damaged as a result of sliding back and forth in the envelope.
Collectors also have to be wary of reproductions and counterfeits.
"There are some counterfeits out there," said Glaser. "There are a lot of people who like to make copies of tickets. Some people will at least sell them as copies, while others probably won't and will try to make some more money on them."
Each year's World Series tickets have distinct characteristics that Glaser looks for when he authenticates them for PSA.
When you consider their relative rarity and condition sensitivity, World Series tickets, in general, seem to be underpriced, but this appears to be changing.
"During the recession, people weren't buying anything," said DiCioccio. "And now we're starting to see some bidding wars on eBay."
Glaser has also seen more interest in recent months.
With the advent of the registry and the launching of their ticket grading services, he says, PSA has opened up the hobby to a broader selection of collectors—people who "maybe aren't really ticket collectors, but they're World Series fans." After all, "tickets are a great way of collecting something from the World Series."
---
Please feel free to contact Kevin Glew at [email protected] if you have any additional information or comments. A special thank you to Lou DiCioccio who brought his tickets into PSA to be scanned and the resulting pictures are included with this article. Please note that the Population Report figures quoted and Set Registry rankings reported are those as of press time.