No one respected the game of baseball more than Carlton Fisk did.
Just ask Deion Sanders.
During a game at Yankee Stadium in 1990, Sanders sauntered up to the plate and proceeded to draw a dollar sign in the dirt with his bat.
Fisk, a veteran catcher with the White Sox at the time, seethed, and when Sanders hit a pop up to the infield and didn't run, Fisk barked, "Run the ball out."
The flamboyant two-sport star didn't acknowledge Fisk, but when he came to the plate later in the game and drew another dollar sign in the dirt, the catching legend had had enough.
"There's a right way and a wrong way to play this game," Fisk yelled at Sanders. "And you're playing this frickin' game wrong and you know something? It offends old guys like me. And if you don't start playing this game right, I'm going to kick your ass right here."
(To listen to Fisk tell the full story, follow this link.)
It was in his role as a gritty guardian of the game that Fisk earned respect from teammates, opponents and fans.
"I admired his work ethic," said Steve Pont, who owns the top Fisk Basic Set on the PSA Set Registry. "He would continuously get hurt or suffer some pains and he'd be back out on the field. I just loved the way he played. He was always tough and I love the way he gave it to someone who would treat the game the way Deion Sanders did."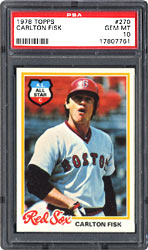 George Richardson, who owned the registry's top Basic Fisk Set from 2005 to 2010, admires Fisk for similar reasons.
"I like the way he played the game," he said.
Over the years, Fisk has credited his father for his hard-nosed approach. Born in Vermont but raised in New Hampshire, Fisk attended the University of New Hampshire on a basketball scholarship with dreams of becoming a power forward for the Boston Celtics. But at just 6-foot-2, he realized his prospects for a professional career were better on the diamond.
Selected fourth overall by the Red Sox in the 1967 amateur draft, Pudge wouldn't become the club's regular catcher until 1972, when he hit .293 and belted 22 homers to earn American League Rookie of the Year honors.
In June 1974, his career appeared to be over when he tore several knee ligaments in a home plate collision with Leon Lee. Following reconstructive surgery, doctors told Fisk that he'd never play again. But the stubborn New Hampshire native would prove them wrong, returning in 1975 to hit a career-high .331 and cement a permanent place in World Series lore.
In one of the most memorable moments in baseball history, the determined catcher socked a long drive down the left field line off of Reds' hurler Pat Darcy in the 12th inning of Game 6 of the 1975 Fall Classic. Replays show Fisk furiously trying to wave the ball fair. The ball, of course, would ricochet off the foul ball for a game-winning homer.
"One of the earliest games that I remember was in the 1975 World Series. I was born in 1966 so I was just a little kid then and I remember waking up during Game 6 to see the home run," said Pont.
Richardson shares similar recollections.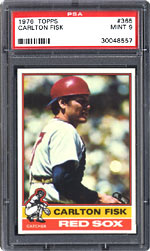 "I was a catcher when I was growing up. I was 13 when Fisk hit the home run," he said. "I can remember sitting in the living room with my parents begging them to let me stay up to watch the game because it ended well past midnight."
Fisk would play five more seasons in Beantown, before signing with the White Sox in 1981. In the Windy City, he would lead the White Sox to the post-season in 1983 and devote himself to a new weightlifting regimen that would help him wallop a career-high 37 home runs in 1985.
In all, Fisk would connect for 351 homers as a catcher, a record until Mike Piazza surpassed it in 2004. For his efforts, the 11-time all-star was elected to the National Baseball Hall of Fame in 2000.
With Fisk's track record, it's not surprising that a growing legion of collectors are pursuing his PSA Set Registry Sets: Basic (83 items), Master (430 items), Basic Topps (22 items) and Master Topps (117 items).
Fisk's most coveted card is his 1972 Topps rookie (#79) – a single that he appears on with fellow Red Sox "Rookie Stars" Cecil Cooper and Mike Garman.
"The centering is usually off on the rookie card," noted Richardson, who owns a PSA MINT 9 example.
Of the 3,145 rookies submitted, there have been three PSA GEM-MT 10s and 108 PSA 9s. One PSA 10 sold for $10,665.50 in a Memory Lane auction in April 2009.
Manufactured in Canada in significantly smaller quantities than the Topps card, Fisk's O-Pee-Chee rookie (#79) can be distinguished from the Topps single by the French and English text on the card back. Just 107 have been submitted and there have been two PSA 10s and three PSA 9s. One PSA 9 garnered $710 on eBay in September 2008.
Showcasing a horizontal layout, the 1974 Topps single (#105) is one of the most popular Fisk cards amongst collectors.
"The 1974 card is a gorgeous card because Fisk is bending down to take a throw from the outfield and getting ready to block the plate," noted Pont.
"I like the 1974 card because it has an action photo," said Richardson. "I think if you go back and you look at the cards from '72, '73 and '74, there aren't a lot of action photos. I think the Fisk card was one of the first ones."
Just one PSA 10, 1974 Topps Fisk has been uncovered.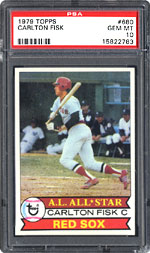 Another coveted issue is the 1974 Topps Deckle Edge single. One of the most desirable Topps Test sets of the past 40 years, this offering boasts 72 cards that were reportedly released in packs in Massachusetts and Brooklyn. Measuring 2-7/8" by 5", these pasteboards showcase black and white player photos and distinctive scalloped borders. These cards can be found with gray or white backs. Despite being considerably more scarce, the white backs generally don't command a premium. A PSA 9, 1974 Topps Deckle Edge Fisk fetched $650 on eBay in February 2011.
One of most difficult Fisk items to track down for the Master Set is his 1977 Venezuelan League Sticker (#141). Part of a 50-card subset featuring reproductions of regular 1977 Topps cards, this Fisk single measures 2-3/8" by 3-1/8" and was printed on flimsy stock. These cards were also frequently glued into albums, making them all-but-impossible to find in top condition. Just eight have been sent in to PSA and a PSA VG-EX 4 has been the highest grade recorded.
Demand for these hard-to-find Fisk cards continues to be strong. And though his Cooperstown plaque showcases him in a Red Sox cap, Fisk is equally beloved in Chicago. The catching legend is one of only eight players to have his uniform number retired by two teams.
"Today, whenever he's at Fenway, he still gets an ovation from Red Sox fans that's second to none, and I'm sure White Sox fans would do that too," said Pont. "The fans still respect how he played the game."
Please feel free to contact Kevin Glew at [email protected] if you have any additional information or comments. A special thanks to Dan Larkin for providing pictures for this article. Please note that the Population Report figures quoted and Set Registry rankings reported are those as of August 2011.
Toughest regular issue 1970s Topps Carlton Fisk cards to find in PSA MINT 9 or better
Card
Total # of Submissions
Total # of Submissions
in PSA 9 or Better
% of Submissions
in PSA 9 or Better
1972 Topps #79
3,202
113
3.50%
1974 Topps #105
430
46
10.70%
1973 Topps #193
694
77
11.10%
1976 Topps #365
425
51
12.00%
1975 Topps #80
852
108
12.70%
1977 Topps #640
235
56
23.80%
1978 Topps #270
589
230
39.00%
1979 Topps #680
359
143
39.80%
*Based on PSA Population Report statistics as of August 2011