Last December, I decided to make the hour-and-a-half trek from my home in eastern Pennsylvania to the Yogi Berra Museum and Learning Center in Upper Montclair, NJ. I had been there a few years ago with my wife's uncle (like me, a long-time New York Yankees fan) and my long-time friend George Achaves, a country music producer in Nashville, TN and another displaced Yankees fan.
We opted to drive up on a Friday morning when traffic was light, and we couldn't have asked for a better day. The sun was out, temperatures were mild, and we weren't in any hurry. I had wanted to re-visit the museum since I'd heard that all of the exhibits had been re-designed – the original museum was a collection of baseball memorabilia from the 1940s through the 1990s, and not all of it about Yogi.
The new layout was completely different: it now had a very Yogi-centric theme, going back to his childhood in St. Louis' Hill neighborhood (I did not know that Yogi worked in a women's shoe factory at age 15) and continuing on through World War II, his marriage to Carmen, and his glory years with the Bronx Bombers.
Among other things, the museum has an exhibit of all ten of Yogi's World Series rings (a feat that no other living player can boast), a collection of uniforms, gloves, and plenty of newspaper clippings, posters, and scorecards. Each exhibit had a theme, such as "community," "citizenship," "wisdom," "generosity," and "service," centering on one or more anecdotes about Yogi.
The museum provided more detail on Yogi's military service during World War II, when he was a vital part of a gunnery crew on a Navy support ship during D-Day at Omaha Beach. Yogi also played ball in the military when he was stationed at the Navy base in Norfolk, Virginia before heading to Newark, NJ to play for the Yankees AAA affiliate Bears in 1946.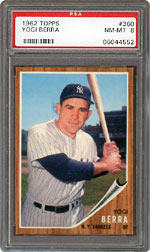 There was one entire section devoted to Yogi's tie-ins to advertising (remember Yoo-Hoo chocolate drink?), including cigarette endorsements (many ballplayers smoked back then). Longtime New Jersey residents surely remember the Rizzuto-Berra bowling alley in Clifton, NJ alongside state route three. Yogi had his face and name tied into numerous products and, of course, inspired a Hanna-Barbera cartoon character, Yogi Bear.
The museum likewise supplied an interesting selection of Yogi trivia. Did you know that Yogi shares a retired jersey number (#8) with Yankees Hall of Fame catcher Bill Dickey, who was instrumental in developing Yogi into an All-Star catcher and three-time MVP? Yogi was also lifelong pals with neighbor Joe Garagiola, who played for the Cardinals in the 1940s and 1950s and went on to have a long career in television as a commentator and host.
During his career, Yogi – a notorious, bad-ball hitter who would frequently swing at pitches way out of the strike zone and connect more often than not – played in 2,120 games over 19 seasons, all but one with the Yankees. He had a lifetime batting average of .285 with 385 home runs and 1,430 RBIs, with his best season coming in 1954 (.307 batting average, 125 RBIs, and 22 home runs in 151 games), one of his three MVP years.
Of course, no visit to the museum would be complete without a sampling of the famous Yogi-isms that have become entrenched in the English language, such as "I want to thank you for making this day necessary." "You can observe a lot just by watching," "It's déjà vu all over again," "It gets late early around here," and "When you come to a fork in the road, take it."
Other Yogi classics include "No one ever goes there anymore, it's too crowded," "Why buy good luggage? You only use it when you travel," and "A nickel isn't worth a dime today." Referring to Ricky Henderson's blazing speed on the base paths, Yogi stated, "He can run anytime he wants. I'm giving him the red light."
My favorite anecdote involved Yogi and New York City Mayor John Lindsay's wife Mary at a Yogi Berra Day event in the 1960s. It was a sultry day with high temperatures and humidity. Mrs. Lindsay commented, "Yogi, you are looking cool today." To which Yogi replied, "You don't look so hot yourself."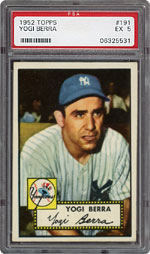 Yogi's career as a coach and manager is also covered in extensive detail, starting with his first stint as a Yankees coach in 1963 and going on to be manager in 1964, the year of the famous "harmonica" incident with rookie Phil Linz. (This, of course, is also detailed on one of the museum's walls.)
He continued through several terms as a coach and graduated to manager of the Mets for three and a half seasons, taking them to the World Series in 1973. Yogi also served on the bench for the Astros and skippered the Yankees a second time, helming the team for the 1984 season and sixteen games of the 1985 season.
One room in the museum serves as a small theater and screens clips from selected newsreels and videotapes of games, including the 1956 perfect game thrown by battery mate Don Larsen, who has been known to show up at the museum from time to time. Afterwards, Yogi summed up the historic event perfectly: "It's never happened in World Series history, and it hasn't happened since."
The back wall of the theater is a replica of the 1959 Yankee Stadium scoreboard, showing a game between the Red Sox and Bombers in the bottom of the seventh. Coincidentally, it also happened to be Yogi Berra day, as spelled out below the Longines clock.
Of course there is a prominent exhibit of Yogi's Bowman and Topps baseball cards (many of them graded by PSA). It is quite amazing to see just how many cards he appeared on from 1948 to present day, and you get a better idea of just how much work would go into assembling a Yogi Berra master set!
We spent a quiet hour-and-a-half checking out the museum and were ready to call it a day when a young boy ran into the room and shouted, "He's here!" That could mean only one thing, and a quick walk to the rear of the museum revealed Yogi himself, escorted by museum board vice chair Julie Jackson.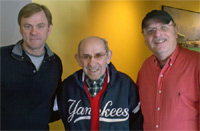 George momentarily seemed at a loss for words, so I asked Yogi if he'd mind posing for a picture with both of us – and he cheerfully agreed. (You rarely see Yogi with anything but a grin on his face, and my guess is that in the dictionary, the word "optimist" has his picture next to it.) Out came the phones and we clicked away for a few seconds before Yogi had to leave. My day was made!
I had met Yogi once before at a card show in New Brunswick, NJ back in 1985. Yogi had just finished his second turn as manager of the Yankees and the season was only a few weeks away. Unfortunately, his job only lasted about a month before mercurial owner George Steinbrenner fired him and created a rift between the Yankees and Yogi that took years to mend.
But that was all still in the future. So while a long line of over 1200 Mickey Mantle autograph seekers snaked out the door of the Hyatt Hotel, I walked right up to Yogi – standing alone at the end of one of the dealer aisles – and had a nice 20-minute conversation with him about a mutual acquaintance, after which he was kind enough to give me his autograph. It was just like talking to your favorite uncle!
Yogi will turn 87 on May 15th this year. It is hard to believe that 55+ years have gone by since he jumped into Don Larsen's arms and that a quarter of a century has passed since we had that conversation at the Hyatt. He's truly a living legend and I was just as excited to shake his hand this time as I was 27 years ago.
Yogi once said, "You've got to be very careful if you don't know where you're going, because you might not get there."
Fortunately, George and I did know where we were going, and we did get there. And when we came to that fork in the road, we just took it...
Yogi Berra Museum & Learning Center
On the campus of Montclair State University
8 Yogi Berra Dr
Little Falls, NJ 07424
Office: 973.655.2378
Fax: 973.655.6894
www.yogiberramuseum.org/
Open to the public Wednesday through Sunday noon to 5:00 p.m.