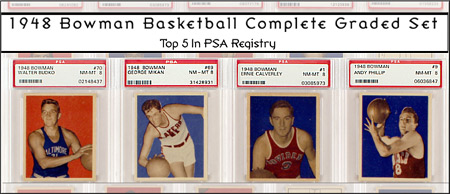 Premier Auctions LLC proudly presents The Conway Collection of Important Basketball Cards and Memorabilia as part of the nearly 300 lots being offered in the company's extended two-week auction ending October 16, 2012.
The crown jewel of the auction is the finest 1948 Bowman basketball set ever presented for sale at auction. The debut 1948 Bowman basketball set was the first mainstream basketball set ever produced and remains at the top of many collectors' lists. The offered set ranks as the #5 finest complete set on the PSA set registry, owning an astounding 7.83 GPA! The sheer scarcity of certain cards in this set - notably the elusive rookie card of Minneapolis Lakers forward George Mikan (#69) - makes Bowman's introductory basketball set a difficult task to complete in any grade, much less the quality offered this month by Premier Auctions.
Other auction items from the Conway Collection include several desirable rookie cards such as the 1957 Topps Bob Cousy (PSA NM-MT 8 - only four exemplars graded higher), 1961 Fleer Wilt Chamberlain (PSA NM-MT 8), 1961 Jerry West (PSA NM-MT 8) and a 1957 Topps Dick McGuire card graded PSA NM-MT 8 with none graded higher. Several dozen high-grade PSA encapsulated 1948 Bowman, 1957 Topps and 1961 Fleer Basketball cards are also being offered along with an extensive offering of complete sets and unopened wax packs and boxes, plus a smaller offering of baseball and football trading cards.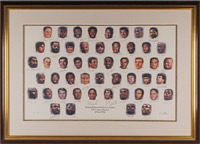 Not to be overlooked in this exceptional collection is an item that remains at the top of many basketball autograph collectors' want lists - the extremely limited edition lithograph entitled "National Basketball Association 50 Greatest Players - 1946-1996." This awe-inspiring, 25"x39" piece displays the likenesses of all 50 NBA legends - 49 of whom have signed in pencil near their respective image. (Pete Maravich, deceased at the time of printing, is the only missing autograph). The presented example, a Field of Dreams edition numbered "18/50", is exquisitely matted and framed and is being offered to the public for the first time.
Baseball fans will also have something to cheer about as Premier Auctions also offers items from the John Hudman Collection of 19th and 20th century baseball signatures. Featuring nearly 100 lots of tough-to-find and desirable baseball signatures including one from the officially recognized founder of the game, Alexander Cartwright, as well as many of the game's earliest stars, this will be a great opportunity for collectors to check several difficult names off their want lists at one time.
Please visit Premier Auctions at www.premierauctionsonline.com to register and to bid. For inquiries, call 480-991-8076. Note: 30-Minute Rule begins at 9pm EST on October 16, 2012.