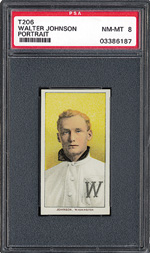 With an otherwise quiet demeanor, Walter Johnson spoke volumes with his fastball-many of his 3,509 lifetime strikeouts attest to that.
Ty Cobb, who batted against the pitcher in his 1907 big league debut and for 20 years afterward, said Johnson's fastball "looked about the size of a watermelon seed and it hissed at you as it passed." One could say that a lot of batters who faced this right-handed hurler, also known as "The Big Train," were "good listeners."
With a trademark easy sidearm pitching delivery, Johnson won at least 20 games every year from 1910 through 1919. In 1912, however, the fireballer had his first of two straight years winning 33 or more games in a season. Adding to those impressive numbers, the twirler usually pitched for a light hitting Washington Senators team that often finished with a losing record.
"Arguably, he was the greatest pitcher of all-time," said collector Jim Blumenthal of the ace with 417 lifetime wins (second most in Major League Baseball history).
Blumenthal owns several tobacco era cards but only two from the 1912 T202 Hassan Triple Folder issue: Johnson and Cy Young, the only big league moundsman with more career victories (511 wins).
In the T202 issue, Johnson appears twice in the set-both times in a side panel color self-portrait, with the following middle black and white panel action scenes: "Birmingham Gets To Third" (the one which Blumenthal owns) and "Knight Catches A Runner." About 8,500 T202s live in PSA holders and, due to the issue's hinged side panels, virtually all of them top out as PSA NM-MT 8s at best.
The PSA Population Report demonstrates that the Johnson T202s are no different, with the "Birmingham" (131 samples) ranking four PSA 8s and the "Knight" (88 samples) registering only two PSA 8s.
Another of Blumenthal's favorite Johnson pasteboards showed up in the 1915 Cracker Jack issue. That card, like its 1914 version, depicts the hurler in about mid windup, rocking back on his right leg. "It really captures the era he is from and the aesthetics of the set," he said.
The collector recently sold his 1915 PSA Cracker Jack set, but for about five years he owned the Johnson example from that offering in a PSA NM 7. "Yes, I'm a bit of a Walter Johnson fan," said Blumenthal.
"The Cracker Jack sets are just phenomenal, especially in high grade," said Donald E. Spence, #1 on the PSA Johnson Master Set Registry with 60% of the 60 some (and slowly growing) samples of the star's cards. Spence's Cracker Jack Johnson cards grade out at PSA EX-MT 6 (1914) and PSA Mint 9 (1915), respectively.
The 1914 Cracker Jacks usually show some discoloration from "the famous popcorn confection," as the cards were issued solely inside boxes without any wrapper to protect them from the snack-especially the caramel residue.
"The 1914 Cracker Jacks, in general, almost all have stains," said Brady Hill, owner of the #2 Current Finest set.
Issued both "raw" and through a mail-in offer, the 1915 Cracker Jack cards are more readily available than their "older sibling" (the 1914 set); however, they are by no means easy to find.
A snapshot of the PSA Population Report numbers for the Johnson Cracker Jack set depicts the following: in the 1914 set, there are 35 samples, with two PSA 6s and one PSA 8Q as the best grades; in the 1915 issue, there are 86 samples, with 14 PSA 8s and five PSA 9s ranking as the top marks.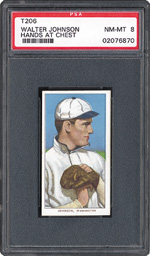 According to Hill, another condition-sensitive Johnson card is the one that came out of the 1911 T205 Gold Border issue, which has a tendency to chip. Earlier this year he obtained a PSA 6 T205 of the pitcher surrounded by gold-leaf. "I like that card because it's really tough to find in higher condition, and it looks special," said Hill. "And compared to several other Walter Johnson cards, it stands out as very unique."
T205 cards of the pitcher have shown up 231 times in PSA holders, with ten 7s and four 8s as the highest grades.
Little by Little
One of Spence's long-term hobby goals is to fill out his Johnson collection. "I love the challenge of completing sets," he said. Spence started his Johnson card stash about a decade ago when he first obtained some T206s of the Kansas native superstar.
Spence likes what the former hurler represents. "Johnson was the Nolan Ryan of his era," said Spence. "He threw hard, pitched several innings per game, and was very humble; the comparisons go on and on," said the collector.
On a side note, the Washington speed king was also nicknamed "Barney," a reference to Barney Oldfield, the era's best-known racecar driver. And you can't spell Barney without the letters r-y-a-n.
Hank Thomas likes Spence's determination to complete the Johnson Master Set, but he also recognizes that this pursuit poses an above average challenge. "The problem with Johnson cards," said Thomas, "is that in some cases only one or two are known to exist, and some collectors are not looking to give up those cards anytime soon."
Thomas, who owns a varied Johnson collection, is a grandson of the Hall of Fame pitcher. In the 1990s, he wrote the well-received biography Walter Johnson: Baseball's Big Train.
The author/hobbyist pointed out a handful of issues in particular that virtually any Johnson collector would have a difficult time finding and, moreover, affording: Darby Chocolates and Washington Times (both from 1910), Boston Garter (1912-1913) and Texas Tommy (1914), among others.
Early days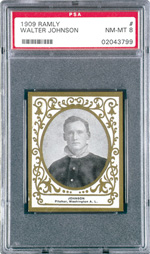 And then there are Johnson rookie cards, which first appeared in 1909.
The king of this "rookie parade" comes from the Ramly (T204) offering. Only 26 Johnsons from this set, featuring black and white photos, reside in PSA slabs. In May 2012, Memory Lane, Inc. auctioned a PSA EX 5 Ramly Johnson for $17,261. While in 2011, Heritage Auctions sold a PSA 6 of the card for $29,875.
Much more common than the T204 issue is the T206 set, which first appeared in 1909 and was produced through 1911. Johnson shows up twice in the T206s: once with his "hands at chest," where it looks like the fireballer is checking the catcher's signs, and once again as a portrait shot.
"The most popular Johnson card is the T206 portrait," said Thomas. "That is a beautiful image."
A few hundred of both versions can be found in PSA holders with the Piedmont and Sweet Caporal cigarette ads being the most common card backs, and Drum, Polar Bear and Uzit among the toughest to find. The SMR lists PSA 8s and 9s of T206 Johnsons as follows: "Hands at chest" ($10,000 and $45,000) and portrait ($18,000 and $56,500), respectively.
Another 1909 Johnson item, from the oddball department, is the Sweet Caporal Domino Discs issue. Heritage auctioned a raw Excellent condition Johnson Domino Disc in May 2012, and it realized $155.
Shifting Gears
Johnson led the Senators to the American League pennant in 1924 and 1925. In that first World Series appearance, the same year he won his second MVP trophy (1913 the other), the pitcher with the slingshot delivery helped his team win their only World Championship.
Johnson's last appearance in a major league game came as a pinch-hitter in September 1927; he hit .348 with two homers that season-the same contest in which Babe Ruth smashed his historic 60th home run. In that final at-bat, Johnson flied out to Ruth in right field. Playing against Cobb in his debut and Ruth in his denouement, this was certainly not a bad way to "frame" an amazing career.
The retired hurler managed the Senators from 1929 to 1932, Cleveland for parts of 1933 to 1935, and then stepped away from the big league spotlight.
In 1936, Johnson joined Cobb, Ruth, Christy Mathewson and Honus Wagner in the inaugural class of the Baseball Hall of Fame. In 1939, the Hall held its first induction ceremony and several members of the 1936-39 HOF classes attended that memorable day in Cooperstown.
When Johnson delivered his induction speech, his former opponents were once again transformed into "good listeners." But at least they did not have to face a fierce fastball this time.
At 32 words, Johnson's speech made quick work of the matter, kind of like his pitching. Whether at the podium or on the mound, Johnson was more than just "The Big Train;" he was a bullet train, and numerous collectors have been enjoying the smooth ride whenever they can.
A Fresh Pitch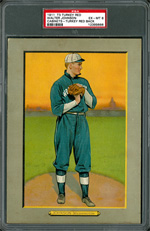 In the last few months Hank Thomas picked up an unusual Johnson card for his collection. "It appears to be from circa 1912," said Thomas, "and it's from The Cash Clothing Store in Sedgwick, Colorado." The sports memorabilia enthusiast had never seen this card before, nor had several others. The piece measures 3 1/2" x 5 1/2" and the hobbyist/historian said, "I think this will stand as an un-catalogued Johnson card."
Have Gum, Will Travel
In addition to players of the day, the 1940 Play Ball set contained a few spots where the card makers (Gum, Inc.) made room for stars from other eras, including Walter Johnson (#120). It's not that hard to find, but it's tough to locate in stronger grades. A PSA NM+ 7.5 Play Ball sample of the pitcher sold for $762 in 2011.
In 1948, Swell Gum produced the relatively rare Sport Thrills collection, and card #4 in the run highlights Johnson as the "greatest pitcher." With only 26 in PSA holders, good luck locating this one.
In 1951, Topps started to dip its toes into the pasteboard pool. For baseball they had their Red and Blue back sets of current players, as well as a pair of die-cut issues.
The rare die-cut cards had All-Stars of active ballplayers, and the Connie Mack set had eleven big names from previous generations including Ruth, Gehrig, Mathewson, Wagner and Johnson. A scant 20 or so PSA "Big Train" Mack samples exist in the hobby, but they are almost impossible to locate in a finer grade. In 2009, a PSA EX+ 5.5 sold at auction for a relative bargain: $770.