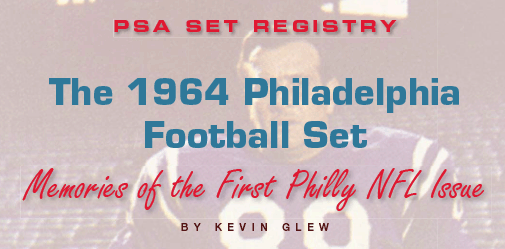 Tim Gleason vividly recalls buying packs of 1964 Philadelphia Football cards when he was a kid.
"That was the first set of cards that I collected," he explained. "I was nine years old and it was [during] the baby boom. My neighborhood had a bunch of kids my age and we would walk through the woods to get to the drug store. We discovered trading cards in the drug store."
The memories of ripping open those packs have inspired Gleason to revisit this issue and assemble the No. 1 Current Finest 1964 Philadelphia Football set on the PSA Set Registry.
Boasting an impressive 9.20 GPA, his registry set includes 56 PSA GEM-MT 10 cards.
"What happened was that four years ago, I had a bunch of memorabilia. I had other cards that I collected from the '70s and the '80s... some autographed baseballs... and statues and figurines. I had a bunch of stuff and I told my wife that if something ever happened to me, it would be a nightmare for her to try to sell all of these little individual pieces," he said. "And so I told her, the best thing to do would be to trade or sell all of those things off and collect this set, so that she could then auction the set off. It would be one item that she could just auction off."
The first of four Philadelphia gridiron offerings (1964 to 1967) to exclusively feature NFL players, this issue is comprised of 198 standard-sized cards. Topps manufactured AFL sets during the same period.
"We never knew that it was called a Philadelphia set," explained Gleason. "Philadelphia was just in tiny print on the back of the pack. We just thought they were NFL cards."
Released in one series, the 1964 Philadelphia singles are in alphabetical order by team city and then by the player's last name within each team series.
Card fronts showcase player photos surrounded by white borders with a rectangular nameplate displaying the player's name, team and position along the bottom. All of the players – with the exception of Erich Barnes (#113) and Y.A. Tittle (#124) – are photographed without a helmet.
"For some reason, every team took their photographs in their dark jerseys, except for one – my team, the Steelers," noted Gleason, who has written a book called From Black to Gold about his beloved club.
Most of the Cleveland Browns players were photographed in front of a Cadillac owned by Jim Brown.
Card backs exhibit blue and black text on gray card stock and offer statistics and a trivia question illustrated by a cartoon. The answer was displayed upside down in blue text.
The cards were distributed in one- and five-cent wax packs and cellos. The wax packs include a slab of gum and a tattoo transfer sheet.
On his website (www.vintagefootballgallery.com), Mike Thomas indicates that the 1964 Philadelphia cards were printed on two connecting 132-card sheets (264 cards). With 198 cards in this set, Thomas believes that 66 cards were double-printed, although the double-prints haven't been documented in any price guide.
Thomas hasn't seen both of the 132-card sheets, but he's been attempting to recreate the uncut sheets by collecting miscut cards. Among the cards that he believes are double-prints are the Herb Adderley (#71) and Merlin Olsen (#91) rookies.
On top of Adderley and Olsen, this set also holds the rookie cards of three other Hall of Famers: John Mackey (#3), Willie Davis (#72) and Jim Johnson (#161). Gary Collins (#31) and Cornell Green (#47) are two other coveted first-year singles in the set.
Dozens of other gridiron legends are also part of this issue. Hall of Fame, Colts receiver Raymond Berry is the first card. On top of the typical wear and tear associated with being the first card of the set, this card was also located on the top left corner of the sheet, which makes it vulnerable to miscuts and other flaws. Of the 239 submitted, there have been just seven PSA MINT 9s. A PSA NM-MT 8 fetched $818 on eBay in January 2010.
Other sought-after superstars in this issue are Johnny Unitas (#12), Mike Ditka (#17), Jim Brown (#30), Bob Lilly (#48), Paul Hornung (#78) and Bart Starr (#79).
"Mike Ditka is very popular for what he has done after his playing days," explained Gleason. "Mike Ditka is still a personality right now. And I don't think anyone else in that set is in the public eye right now."
A PSA 10 Ditka sold for $3,350 on eBay in May 2011.
Gleason also notes that the checklists (#197 and #198) are difficult to track down in top condition. These cards are erroneously dated 1963.
"There are very few checklists in high grade because people used to write on them," he said. "As kids, we used to get a pen and fill in the little square box whenever we had the card."
Gleason owns the only PSA 10 of the second checklist (#198), but there has yet to be an unqualified copy of the first checklist (#197) to grade above PSA 8.
Two of the toughest cards for Gleason to track down in top condition were Tom Gilburg (#2) and Billy Barnes (#183). There are just four cards and only two PSA 9 copies of each respectively. As is frequently the case with notoriously condition sensitive cards, both the Gilburg (third row, first card on the left) and Barnes cards (ninth row, first card on the left) are located on the edge of the print sheet, making them vulnerable to flaws.
With 47 and 48 submissions respectively, Ronnie Bull (#16) and John Reger (#150) are the two lowest population cards. Like Gilburg and Barnes, both of these singles are located on the edge of the sheet: the Bull is the last card on the right in the third row and Reger is the third card from the right in the bottom row.
"I don't have a Ron Bull higher than a [PSA] 8, and my John Reger just recently graded a [PSA] 9," said Gleason.
There's also a team photo card for each franchise and a play card that highlights the team's "Play of the Year." The play cards showcase a small black and white photo of the team's coach. Among the coaching legends featured are Don Shula (#14), George Halas (#28), Tom Landry (#56) and Vince Lombardi (#84).
On top of the checklists being inaccurately dated as 1963, there are several other uncorrected errors in this issue. Gleason points out that Herb Adderley's last name (Adderly) is misspelled on his card (#71). While Jim Ringo's pasteboard (#78) lists him as a member of the Green Bay Packers on the front and as a member of the Philadelphia Eagles on the back.
Gleason also notes that the photo on the Garland Boyette single (#169) is not Boyette.
"Garland Boyette wasn't even on the Cardinals in 1964, plus he was African American. They put some guy named Don Gillis on the card," said Gleason.
The savvy collector also points out an error on the Lamar McHan pasteboard (#163).
"On the back of Lamar McHan's card, it brags about him winning the Heisman Trophy. He never came close to winning the Heisman Trophy," he shared.
Gleason says that competition for PSA 10 cards from this issue can be heated.
"I looked at the number of PSA 10s in all of the other 50 registry sets combined and there are not many," he said. "I think the PSA 10s are in the specialty sets. There are so many other ways to collect. You could collect team sets and things of that nature. I think a lot of the high grade cards are held by those people."
With this type of competition, combined with the fact that these cards are now 48 years old, assembling this set in pristine condition is a challenge; however, it's a challenge that Gleason has happily embraced for the memories it evokes.
"We used to scrape pennies and nickels together everyday to buy packs. Some days you couldn't scrape together enough to even buy a pack. We would walk through the woods and go to the drug store. And if we had the 15 cents that could buy us three packs, that was a glorious day. I mean that was heaven," he said.
---
Please feel free to contact Kevin Glew at [email protected] if you have any additional information or comments. Photos for this article were provided by Tim Gleason. Please note that the Population Report figures quoted and Set Registry rankings reported are those as of July 2012.
---
Copyright © 2020 PSA – A Division of Collectors Universe. Nasdaq: CLCT. All rights reserved.