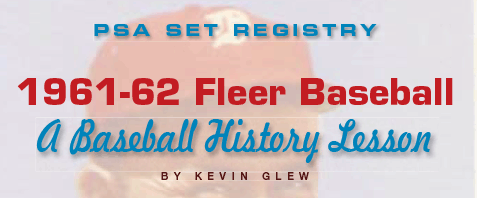 The backs of the 1961-62 Fleer Baseball cards offer a crash course in the history of America's national pastime.
Showcasing biographical information about legends that left their mark on the game between the late 19th century and 1960, these card backs are akin to a baseball encyclopedia.
Unfortunately in 1961, kids buying bubble gum cards weren't seeking an education. They coveted a slab of gum and pasteboards of current stars like Mickey Mantle, Roger Maris, Willie Mays or Hank Aaron. Consequently, the 1961-62 Fleer cards – like their 1960 predecessors – weren't big sellers.
Henri Nuber, who owns the No. 3 Current Finest 1961-62 Fleer Set on the PSA Set Registry, remembers purchasing packs of these cards as an 11-year-old. He was one of the few kids that continued collecting them despite their absence of modern stars.
"They were different. They were a bunch of old-timers that I had no idea about," recalled Nuber. "At my age in the '60s, I didn't know any of these people except for Babe Ruth or Ted Williams. But the old-timers fascinated me, and it wasn't a huge set."
A sequel to the 1960 Fleer offering, which also featured "Baseball Greats," the 1961-62 issue was expanded to include 154 cards (75 more than the 1960 set) in two series. Unveiled in 1961, the first series singles (#1 to 88) are easier to track down than the second series singles (#89 to 154), which were released in 1962. The cards in each series are sequenced alphabetically by the player's last name.
The white-bordered, 1961-62 pasteboards feature a player picture against a color background with five blue stars on each side of the picture. The player's name was showcased inside a blue pennant over top of four red stripes near the card bottom. A common criticism against these cards is that some of the pictures showcase players in street clothes rather than baseball uniforms.
Card backs boast a horizontal layout, with the player name, birth date and date of death (if applicable) indicated inside a rectangular orange/red frame at the top. The card number is showcased inside a trophy design, while biographical information is located on the bottom left and career statistics on the right.
These cards are often thought to be older than they are. "I like the antiqueness of the 1961-62 set," said Nuber. "The set does have that old card look."
Distributed in five-cent packs, these cards were packaged with two inserts: a team decal and a pennant sticker that celebrated past World Series champions.
"The Fleer packs were not widely available," said Nuber. "They were not [sold] at the large drug stores. I found mine in a small shop on the corner."
Today, one of the greatest appeals of this set is that it boasts cards of close to 100 Hall of Famers.
"The player selection is unbelievable," said David Freinberg, who owns the registry's No. 5 Current Finest set.
Among the immortals featured are Ty Cobb (#14), Lou Gehrig (#31), Babe Ruth (#75), Honus Wagner (#150), Ted Williams (#152) and Cy Young (#153).
The Ruth, as to be expected, is the most coveted card. Of the 481 submitted, there has yet to be a PSA GEM-MT 10 and there are just 14 PSA MINT 9s. One PSA 9 fetched $405 on eBay in August 2011.
Nuber says the first card – a checklist featuring Frank Baker, Cobb and Zach Wheat – is the toughest single to find in flawless form. There are no PSA 10s and one of the four PSA 9s sold for $660.61 on eBay in December 2010.
The second series checklist (#89) – depicting Cooperstowners George Sisler and Pie Traynor – is also elusive in pristine condition. Just three PSA 9s exist (no PSA 10s), with one garnering $244.50 on eBay in August 2010.
But Freinberg says that some of the commons in the second series are the most evasive in pristine condition. For example, there has yet to be a Ted Lyons single (#122) that has graded above PSA NM-MT 8.
Freinberg also points out that there's just one PSA 9 example of the Babe Adams (#90) and Jim Bagby (#92) singles. There is also a sole PSA 9 copy of the set's final pasteboard Ross Youngs (#154).
Another aspect of this set that failed to excite kids was its inclusion of executives. Pasteboards of off-the-field pioneers like Ford Frick (#29), Warren Giles (#33), Clark Griffith (#36), Ban Johnson (#48), Judge Landis (#53) and managers like John McGraw (#60) and Connie Mack (#123) are all part of this offering. And while they may not have appealed to kids at the time, these cards, in many cases, now represent the sole pasteboards ever released of these diamond trailblazers.
Poor centering and chipping of the orange/red borders on the top and bottom of the backs are common condition issues, but these cards can be found in flawless form more frequently than cards from Fleer's 1960 and 1963 issues (see chart).
Though this set was not highly coveted upon initial release, its popularity has grown in recent years. And Nuber says that competition for high-grade examples can be fierce.
"Once I got into the high-end cards, I've had to pay some big bucks for some of the [PSA] 9s, especially those low on the Population Report," said Nuber.
But the veteran collector says you can still assemble a set in a respectable grade without breaking the bank.
"You could put this set together in PSA [NM] 7 for a very reasonable price," said Nuber.
Freinberg agrees.
"I believe this set is a sleeper," he said. "It's only 154 cards. For a novice collector, it's attainable and not overwhelming, and I would highly recommend collecting it from a historical perspective."
---
Please feel free to contact Kevin Glew at [email protected] if you have any additional information or comments. Henri Nuber and David Freinberg provided scans to the author for this article. Please note that the Population Report figures quoted and Set Registry rankings reported are those as of July 2012.