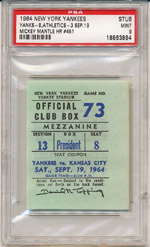 The latest major Clean Sweep Auction closes on Wednesday July 25 and Thursday, July 26. Initial bids must be placed by 6 PM EST for each day. This is our unique, affordable autograph and memorabilia-only auction. This auction consists almost entirely of items with a retail value of $500 or less, with very low matching minimum bids to allow for maximum bidder participation.
Day 1 Wednesday July 25: Lots 1 - 685
The auction opens with a huge selection of signed Burke photos. You will not find Babe Ruth or Lou Gehrig here, but you will find hundreds of collectible Burkes, with some HOFers and many very scarce signatures. These are all from a single consignor and represent one of the largest collections of signed Burke photos that we have ever seen.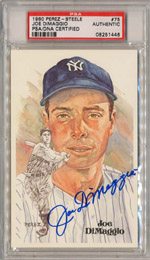 The auction continues with autographed cards; there is a superb signed 1960 Topps Roger Maris, and many quality group lots. Perez Steele collectors will see a good run, including spotless examples of the tough Coveleski and Hoyt postcards that hardly ever come to market. There is a great run of signed documents from 1964 that are signed by each player for their contribution to the Major League Baseball Players Association, all signed at the time, with some truly superb signatures.
The auction continues with a collection of 1920s New York Yankee payroll checks, including some very scarce autographs, and also stars Mark Koenig and George Pipgras. Collectors of 3x5s, GPCs and cuts will see a quality selection of HOFers and many, many extremely scarce autographs that do not come to market very often. Collectors of 8x10s will see many higher quality HOF signed images and many quality group lots and collections, as well as several fine multi-signed images, including a great Maris/Bauer 8x10. A solid run of signed Yellow HOF Plaques and some interesting signed programs conclude day one of the auction.
Day 2 Thursday July 26: Lots 686 – 1280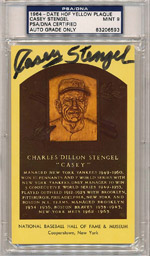 Day two begins with basketball. Many earlier basketball programs are offered. Boxing collectors will some better vintage autographs, as well as three Ali signed items. For football collectors, we have some 1930s Notre Dame programs, some nice signed footballs, including a 1956 Washington Redskins, and many better signed flats and related items.
Baseball memorabilia begins with a great run of 1930 Chicago Evening American pins, including all of the HOFers. We also have many better press pins from the 1950s and 1960s. We have a big ticket collection offered over many lots, including many World Series tickets, including some full tickets, milestone games and playoff games. There are several better group lots in this section as well. For collectors of baseball publications, we have many new World Series Programs and yearbooks, and also a run of 1950s All Star Game programs.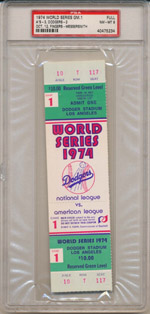 Signed baseballs conclude the auction. We have a large offering of single signed balls, including deceased singles of Jack Buck, Harry Caray, Babe Dahlgren, Curt Flood, Darrell Porter and Dan Quisenberry. Our HOF section is is particularly deep, with every basic HOFer seemingly included, and many smaller lots as well. We do have a decent selection of current players and retired stars as well. 50 different multi-signed and team balls bookend the auction, with some better content.
Now is a great time to place any initial bids. Please note that people who bid on 10 or more items FOR EACH DAY of the auction, can bid on any item on the auction night.
We cannot answer questions on the final day of the auction, so please email or call us with any questions as soon as you can.
Auction is now open for bidding and closes May 30, 2012.
Be sure to visit www.cleansweepauctions.com
The catalogs can also be viewed as a PDF file on our home page:
www.csauctions.com/pdf/july2012aucpt1.pdf
www.csauctions.com/pdf/july2012aucpt2.pdf
The auction can also be accessed at our custom mobile site:mobile.csauctions.com Happy Bidding!
PO Box 215 Carle Place, New York 11514 516 338 8557 Fax 516 338 8559