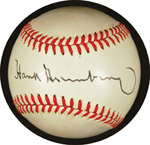 A single signed, Hank Greenberg baseball, autographs of Sonny Liston and Muhammad Ali, Tommy John's 1982-83 New York Yankees contract signed three times by George Steinbrenner and more than 100 lots of sports and non-sport cards are open for bidding in Collectible Classics' CCA31 "Auction for Collectors" at www.auctionscc.com. The 298-lot auction closes June 28.
The Pittsburgh area auction company specializes in what it calls "collector-sized lots," with most selling for several hundred dollars or less. The Greenberg autograph, on the sweet spot of an ONL Feeney baseball, is an exception. Among more than 60 lots of baseball autographs are official baseballs signed by Willie Mays, Reggie Jackson and Nolan Ryan and graded Gem Mint 10 by PSA/DNA. A Mint 9 ball has a Gem Mint 10 Cal Ripken Jr. signature.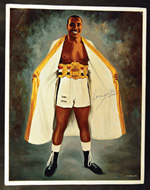 Other signed baseball lots include a Perez-Steele Great Moments set with 38 autographs and various items autographed by such stars as Roberto Clemente, Joe DiMaggio, Whitey Ford, Luke Easter, Al Kaline, Sandy Koufax, Mickey Mantle, Roger Maris, Satchel Paige and Billy Southworth. Collectible Classics frequently auctions quality boxing autographs. CCA31 has an 11" x 14" photo by Paul Abdoo signed by Sonny Liston, a "Sports Illustrated" autographed by Muhammad Ali and Joe Frazier and two other publications with photos autographed by Ali, including on presenting him as a 12-year-old boxer.
As usual, this auction features an extensive selection of baseball cards - more than 80 lots ranging from the 19th century to the 21st, singles to sets, graded and raw. There are more than 20 sets, including 1956, 1969, 1970, 1973-75, 1977-79 and 1980s from Topps and Donruss. A 1983 Topps set has the three key rookies graded PSA MINT 9. Topps partial and starter sets are being offered from 1953-56, 1958, 1962, 1965 and 1971, and Bowman, from 1950 and 1952. PSA-graded cards include a 1909 E90-1 American Caramel card of Joe Tinker, T206s of Jack Chesbro and Tinker, a 1950 Bowman Ted Williams, 1952 Topps cards of Bob Feller and Spec Shea and 1953 Bowman Color cards of Feller and Whitey Ford.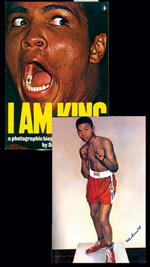 Type collectors will find unusual Honus Wagner postcards, Eastern Exhibits and a Williams Caramel card of Sam Crawford. For 19th century collectors, the auction has an American Eagle Tobacco "Chew National League Fine Cut" trade card, unscored scorecards, an Old Judge metamorphic trade card that promotes Old Judge cabinet cards and two photos from the Vermont Find.
For 19th century memorabilia collectors, this auction has a rare 1883 scorecard with pre-printed lineups for the National League New York Gothams vs. Providence Grays, including Old Hoss Radbourne and Arthur Irwin for Providence and Buck Ewing, Roger Connor, Mickey Welch and Monte Ward for New York.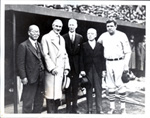 Collectible Classics continues sell items related to the impressive career of Tommy John. Nine of his major league contracts are up for bid in CCA31, including one signed three times by both him and Steinbrenner. A helmet autographed by Dr. Frank Jobe, the originator of "Tommy John surgery, letters signed by Gene Autry and Eddie Stanky and memorabilia from John's career are also being offered.
Highlights from sports other than baseball or boxing include a 1990 Swell Football Greats set signed by 97 of 100 possible Hall of Fame members, a Pittsburgh Steelers "Immaculate Reception" program, a "Time" magazine signed Glenn Davis and Doc Blanchard, an Arnold Palmer autographed "Sports Illustrated," a Payne Stewart signed photo, a Penguins jersey signed by Mario Lemieux and Sidney Crosby and basketball, football and hockey card sets or partial sets.
Non-sport lots include Red Menace, War News, Cowboy Series, Types of Nations, Lighthouse Series, Antique Autos, Frontier Days and Jets, Rockets and Spacemen sets or partial sets. There also is a "Life" magazine signed by five of the original seven astronauts, an autographed Ramones poster and a James Cagney signed photo authenticated by PSA/DNA. For the first time, Collectible Classics has an excellent selection of 19th century non-sport photography, including Gen. Custer, Wild Bill Cody and Mathew Brady CDVs of Civil War figures and James A. Garfield before he became President. There also is an unusual Tom Thumb mini photo album.
To view entire auction, please visit www.auctionscc.com/auction A free catalog is also available from Collectible Classics at 724-446-3079 or [email protected].