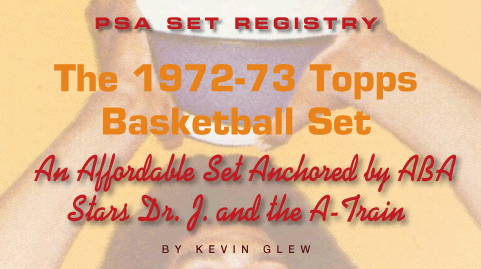 It introduced collectors to Dr. J, the A-Train and the Zen Master.
No, we're not talking about some campy sci-fi flick from the '70s, we're talking about the 1972-73 Topps Basketball set which showcases rookie cards of Julius Erving, Artis Gilmore and Phil Jackson.
The second hoops offering to include both NBA (#1-176) and ABA (#177-264) players in the same set, this issue boasts 264 cards – making it the largest basketball set to that date.
"This set looks a lot like the '71 set. I just like the design. It kind of reminds me of the psychedelic era of the time," explained Joel Tschantz, who owns the No. 9 Current Finest 1972-73 Topps Basketball set on the PSA Set Registry.
Rick Friesen, who has assembled the registry's No. 11 Current Finest set, agrees.
"This set has some neat pictures and great color," he added.
The white-bordered player cards are standard size and feature a photo against a color background. The team nickname is showcased in thick, stylish all-caps letters that rise in size from left to right. The player's name and position can be found below the team name.
On the backs, a small rectangular blue block at the top highlights the card number, player name and position, while a larger orange block contains the player's particulars (height, weight, etc.) and biographical details. A cartoon, statistics and copyright data round out the information on the backs. These cards were distributed in 10-cent wax packs without any inserts, as well as in vending boxes.
As with the previous three Topps issues, some NBA players appear to be wearing their jerseys backwards. Though it hasn't been confirmed, the popular belief is that if the jersey displayed the team's nickname or logo, then the player would forfeit their fee from the card company to the team. This scenario, however, did not apply to ABA players. Many of them are photographed in jerseys exhibiting their team nicknames.
On top of its quintessential '70s design, this offering also boasts cards of a large number of Hall of Famers.
"It has three Hall of Fame rookie cards in it," noted Mark Miller, who owns the registry's No. 7 Current Finest set.
The aforementioned Phil Jackson (#32), Artis Gilmore (#180) and Julius Erving (#195) are the trio of Hall of Famers that debut in this set.
The Dr. J rookie is generally the most coveted. The front of this card lists Erving's position as "Forward," while the back indicates that he's a "Center." Miller notes that this single often flaunts a fisheye print defect close to Dr. J's left elbow and that some hobbyists are willing to pay a premium for cards without this flaw. Of the 1,906 evaluated, there has yet to be a PSA GEM-MT 10 and there are 118 PSA MINT 9s. A PSA 9 sold for $787.77 on eBay in February 2012.
In addition to rookie cards of Randy Smith (#8) and George McGinnis (#183), this set also includes five cards of the legendary Wilt Chamberlain. His regular issue is the set's first card. Of the 552 submitted, there have been four PSA 10s and 61 PSA 9s. A PSA 10 sold for $2,000 on eBay in May 2008.
Other legends included are Pete Maravich (#5), Oscar Robertson (#25), Jerry West (#75), John Havlicek (#110) and Kareem Abdul-Jabbar, who's pictured on six cards. His most difficult single to find in high-grade is his all-star pasteboard (#163). Just three of his all-star cards have been deemed PSA 9s (with nothing grading higher).
"It's a centering issue most of the time with that card," said Friesen.
But it's a group of commons that are the most difficult to track down in flawless form. Despite exhaustive research, an uncut sheet featuring cards of the most elusive commons (described in the following paragraphs) was not uncovered. An educated guess would be that these cards were located in edge positions on the sheet. One of the most unattainable first series cards is the Ken Durrett (#134).
"It seems like his card is always off-center to the left," said Tschantz.
Just 31 Durrett cards have been submitted and there are five PSA 9s (no PSA 10s). One PSA 9 sold for $410 on eBay in December 2006.
Friesen says the Terry Dischinger single (#143) is also "impossible" to find centered.
"It's way off to the left most of the time," said Friesen.
Tschantz paid $150 for his PSA NM-MT 8 Dischinger in February 2012.
Miller says that, like the Dischinger and Durrett cards, the Dave Robisch single (#223) is also almost always "off-center to the left." Just 29 Robisch singles have been submitted to PSA, the lowest number of any card in the set.
Miller points out that the Wendell Ladner single (#226) is also generally off-center to the left. There is one PSA 10 and just two PSA 9s.
Collectors also covet the checklists in this series. The NBA checklist (#160) incorrectly lists Jim King as card #135 rather than John Brisker, while the ABA checklist (#248) showcases John Brisker as card #236 rather than Darnell Hillman.
Subsets include NBA (#154-159) and ABA (#241-247) playoff cards, NBA (#161-170) and ABA (#249-258) all-stars and NBA (#171-176) and ABA (#259-264) leader cards.
These subsets, combined with its large number of Hall of Famers and low population commons, make this an interesting set to pursue.
"I think it's a pretty solid set because it's pretty affordable and attainable," said Tschantz. "Of the first four Topps sets (1969 to 1972), it's the least popular. It would be the two Tall Boy sets and the '71 set, then this one. But from that era, it's going to be the one that everyone collects after they get those other three."
Friesen shares similar thoughts.
"I think the Erving card is going to carry this set," he said. "The other rookies are pretty good, but they're definitely not as popular as Erving. Even so, there's a nice selection of other Hall of Famers. Considering how many Hall of Famers are included, coupled with the fact that it's now 40 years old, it's actually a reasonably priced set. I think it should do pretty well in the future."
---
Please feel free to contact Kevin Glew at [email protected] if you have any additional information or comments. Joel Tschantz provided scans to the author for this article. Please note that the Population Report figures quoted and Set Registry rankings reported are those as of April 2012.