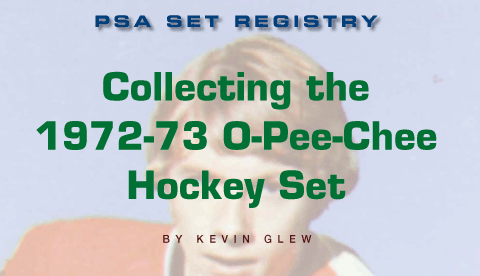 It's a set of firsts.
The 1972-73 O-Pee-Chee Hockey set was the first puck issue to feature "NHL Action" cards and the first (and only) to showcase NHL and WHA pasteboards in the same offering.
It was also the first O-Pee-Chee hockey set to boast more than 300 cards, including the debut singles of players from the New York Islanders and Atlanta Flames.
Ironically, however, it's the set's lack of big-name, first-year cards that has prevented it from becoming more popular.
"There's a long list of rookies in this set, but not that big one," noted Will Elms, who has amassed the No. 6 Current Finest Basic Set on the PSA Set Registry with his brother, Rob.
Bill Baran, owner of the No. 1 set that was named PSA's top modern hockey set in 2010, refers to this issue as the "brown set" due to its beige borders. The 340 singles comprising this offering are standard-sized, with the player cards showcasing a photo against a color background and the team name printed along the left side. The player's name and team logo is highlighted in a banner across the bottom.
The horizontal backs exhibit the card number, player name and position in an orange banner across the top, as well as the player's particulars (height, weight, birth date, etc.), and a cartoon in an orange, rectangular block on the left. The right side offers biographical information in both French and English, statistics and copyright information.
Topps cards from the same year employ a near identical design, but the backs are darker and the card numbering differs. Wes Heppell, who has assembled the registry's No. 2 Current Finest O-Pee-Chee set, says the Topps cards are much easier to find in pristine condition.
"The Topps set is a much smaller series and it's much easier to find the cards in high-grade," he said.
The 1972-73 O-Pee-Chee set was distributed in three series. Featuring 110 cards, the first series was released in 10-cent wax packs that featured eight cards, a slab of gum and one of 22 all-star player crest inserts.
The second series (#111 to #209) boasts 98 cards and was issued in packs similar to the first series. Collectors should note that there is no card #208. Bobby Burrell writes in his book, Vintage Hockey Collector, that this card was originally intended to be the third series checklist.
Rather than a crest, second series packs included one of 28 cards from a Team Canada set that highlights the players that participated in the 1972 Summit Series.
Widely recognized as the most difficult to assemble, the third series (#210 to #341) is comprised of 132 cards, including 52 WHA pasteboards (#290 to #341), and was, again, disseminated in 10-cent wax packs. Along with the eight cards and a slab of gum, these packs housed one of 30 NHL or WHA team logo stickers. Len Pottie, veteran vintage hockey dealer and owner of Platinum Promotions, says the team logos are the most sought-after of the 1972-73 O-Pee-Chee inserts.
Baran agrees.
"The New York Islanders and Atlanta Flames are the hardest logos to find," he said. "The WHA logos are also very valuable."
The NHL/WHA mix that this set offers appeals to collectors.
"It was the only set to have cards from the two different leagues," pointed out Rob Elms.
Heppell also savors that aspect of the set, but he also likes the player selection.
"I like the cast of characters in the set," he said. "There are a lot of Hall of Famers in it."
Topping that list is Bobby Orr who headlines five cards. Of course, his most coveted card is his regular issue single (#129). Of the 208 submitted, there has been one PSA GEM-MT 10 and seven PSA MINT 9s. The sole PSA 10 fetched $4,038 on eBay in May 2007.
Baran notes that one of the most elusive cards featuring Orr is the NHL Assists Leader card (#283). Often hampered by poor centering, no examples of this card – which also features Phil Esposito and Jean Ratelle – have graded higher than PSA NM-MT 8.
Two cards of another legendary "Bobby" are also part of this set. Bobby Hull is highlighted on an all-star card as a member of the Chicago Blackhawks (#228) and on his regular card as a member of the WHA's Winnipeg Jets (#336). A PSA 9 copy of his WHA card garnered $600 in an eBay auction in July 2011.
This set also boasts the second-year cards of legends Marcel Dionne (#8), Guy Lafleur (#59) and Ken Dryden (#145). And Will Elms says the all-star cards (first-team all-stars (#226 to #230) and second-team all-stars (#247 to #250)) are generally difficult to find in pristine condition. With just one PSA 9 copy (and no PSA 10s), the Phil Esposito all-star single (#230) is particularly evasive in flawless form. The sole PSA 9 Esposito sold for $300 on eBay in August 2011.
Johnny Bucyk, one of Esposito's Bruins teammates, is the set's first card and is difficult to find in pristine shape.
"The Bucyk card is one of the tougher cards to get," said Rob Elms. "The Bruins in the set are in demand because the Bruins are coming off a Stanley Cup victory."
The sole PSA 10 Bucyk fetched $307.87 on eBay in June 2008.
Rob Elms also points out that Gerry Pinder (#341), the set's last card, is also tough to track down in top grade. Just one PSA 10 and one PSA 9 have surfaced.
And while it may not offer big-name rookies, this set does boast the cardboard debuts of a long list of notable players. Rene Robert (#2), Jim Rutherford (#15), Gilles Meloche (#112), Dan Bouchard (#203), Jim Schoenfeld (#220), Steve Vickers (#254), Don Lever (#259) and Rick Kehoe (#277) are among the rookies featured.
Rob and Will Elms say that two of the toughest rookies to uncover in top form are Ron Low (#258) and Craig Ramsay (#262). Of the 45 Low cards submitted, there have been just two PSA 9s (with nothing grading higher). The Ramsay is one of just seven cards in this set to have been submitted less than 20 times to PSA. The Low and Ramsay cards are part of a block of third series pasteboards (#210 to #289) that seem to be difficult to find in top condition.
"I actually found cards #210 to #289 harder to find than the WHA series (#290 to #341)," said Heppell.
The checklists are also key cards in this set. The #19 checklist is the exact same card as the #190 checklist, and there are two different versions of checklist #334. The error version lists cards #335 to #341 as "More W.H.A. Hockey Stars," while the corrected version includes the specific player names. The error version usually lists for a premium.
Speaking of errors, one version of card #48 Jean Ratelle Digs For the Puck (NHL Action) incorrectly lists his position as "Defense," while the corrected version indicates his position as "Centre." Similarly, one incarnation of the Brad Park Checks Opposing Forward (NHL Action) single (#85) mistakenly presents his position as "Centre," while the corrected version lists his position as "Defense." In both cases, the error version generally sells for more.
The Master Set on the PSA Set Registry requires collectors to track down the 340 cards in the Basic Set, as well as these three error cards.
With its many idiosyncrasies and its rare combination of NHL and WHA cards, the 1972-73 O-Pee-Chee Hockey set is a fascinating and relatively affordable puck issue.
"In my mind, this is the last of five consecutive vintage hockey sets (from 1968 to 1973) that are quite desirable," said Pottie. "Having done this for 24 years, in my opinion, this is the last of the truly desirable vintage hockey sets."
---
Please feel free to contact Kevin Glew at [email protected] if you have any additional information or comments. Wes Heppell and Rob and Will Elms provided scans to the author for this article. Please note that the Population Report figures quoted and Set Registry rankings reported are those as of March 2012.