A quick review of the current PSA population report from the 1970s through 1980s football sets reveals a startling revelation. One set quickly rises to the surface as the most difficult set to collect from these two decades at a high grade level: The 1971 Topps football set!
In addition to the difficulty of obtaining high grade cards, this set boasts an amazing array of HOF Rookie cards, including Terry Bradshaw (#156), and "Mean" Joe Green (#245), two of the key members from the Steelers' 1970's dynasty. Other key HOF rookie cards from this set include Ken Houston (#113), Willie Lanier (#114), Roger Wehrli (#188) and Charlie Sanders (#210). As if the names above are not enough, this set is also packed with key HOF player cards of Johnny Unitas (#1), Dick Butkus (#25), Gale Sayers (#150), Bart Starr (#200), Joe Namath (#250), and O.J. Simpson (#260), just to name a few.
The 1971 Topps football set consists of 263 player cards and was released in two series. Series one cards are numbered 1-131 and series two cards are numbered 132-263. The cards were printed on sheets that had twelve rows and eleven columns. You could purchase 1971 football cards several ways; wax packs had 8 picture cards, 1 game card, 1 poster and a stick of gum all for only 10 cents, or by cello packs, and vending packs.
In 1970, the AFL and NFL merged together in what we know today as the AFC/NFC conferences. To commemorate the change, Topps decided to feature a few exciting new changes with their 1971 football card release. Brilliant blue and red colored borders were used to distinguish AFC players (red borders) from NFC players (blue borders). In addition, All Star cards had their top half border blue and their bottom half border red. The new card colors were bright, sharp, and vivid and were well received by the football collecting market.
The front of the cards featured the player's helmetless photo in portrait and action shots. Four cards from the set have live game photos of the players, cards #145, #211, #235 and O.J Simpson (#260). The player's name is in bold print across the entire top of the card and the name of their team, along with their position, is on the bottom of the card. The back of the cards have the player's statistics, biographical information, facts about the player and card number. Due to the rarity and solid player selection lineup in this set, today's market will bear high prices for unopened packs and boxes. In 2011, an unsearched 1971 football series one vending box with 500 cards sold for $3,310 at auction. Wax packs sell for $300-$400 when they can be found.
Kevin Roberson (Elitecards) has the current #1 1971 Topps football set on the PSA registry, 100% complete with a weighted GPA of 8.74. When asked what makes this set so special, Kevin stated, "The set is loaded with HOF rookie cards and key player cards. When a set has rookie cards of Bradshaw, Green, Houston, Sanders and many others, then you add in the key HOF players like Unitas, Butkus, Blanda, Csonka, Tarkenton, Sayers, Starr, Namath and O.J. Simpson, how can you ever get a better set than that? The set also has outstanding eye appeal and a fresh new design compared to the sets of the 1960s. It also is the most difficult set of the 1970s and 1980s to assemble in PSA Mint 9 and PSA GEM-MT 10 grades. I currently own PSA registry football sets from 1971-1986 and the 1971 set is my favorite. In my opinion, it's the best football set of the two decades!"
HOF Player Terry Bradshaw Rookie Card (#156), the Key Card of the 1971 Set
Terry Bradshaw's rookie card (#156) is the standout card of this 1971 Topps football set. Not only is this Bradshaw card the highlight of the set, this card is also the most expensive card listed in the SMR of all football cards 1967 through today. SMR lists the Bradshaw rookie card to be valued at $4,000 in PSA 9. A 1971 Bradshaw rookie card in PSA 9 grade sold for $6,485 in late 2009. Terry Bradshaw and his Pittsburgh Steelers dominated the 1970's decade by winning four Super Bowl titles in a six year stretch: 1974, 1975, 1978 and 1979.
The Ultra Rare "26" 1971 PSA 10s
One number stands out on the 1970-1989 PSA population chart above all the others, only 26 PSA 10's have been issued out of the 31,087 submitted from the 1971 football set. Very few sets of the 60's, 70's or 80's from any of the main four sports can boast such a low number of PSA 10's to be graded. Three of the 26 PSA 10's that exist from this set also happen to be the flagship card from the 1971 set, HOF player Terry Bradshaw's rookie card (#156). 1,750 Terry Bradshaw rookie cards have been submitted to PSA for grading and only three have received the coveted PSA 10 grade.
In May of 2006, a 1971 Bradshaw Rookie #156 PSA 10 sold for $19,056. One other 1971 HOF rookie card has been graded PSA 10, Charlie Sander's (#210), and it was last sold in 2011 for $3,643. Other notable PSA 10's from the set would include the rookie card of Mercury Morris (#91), Mark Moseley (#257), Bob Anderson (#212) and Bob Brown (#16). A 1971 Mercury Morris PSA 9 (POP 1) sold on Ebay 12/12/2010 for an amazing $2,850. The other 18 PSA 10s that exist from the set include HOF player Fran Tarkenton's card (#120), HOF player Sonny Jurgensen (#50), Bubba Smith (#53), and commons cards #4, 30, 49, 62, 57, 78, 83, 90, 105, 119, 152, 174, 179, 185, and 202.
The Elusive PSA 10 for Johnny Unitas, Joe Green and Joe Namath
These three 1971 Topps cards are proving to be the most difficult cards in the set to obtain at the PSA 10 level. Card #1 from the set, Johnny Unitas, has had 773 cards submitted to PSA with no PSA 10s ever given. HOF superstar Mean Joe Green's rookie card (#245) has also had 773 cards sent in to PSA with no PSA 10's to date. The POP report shows only 9 Green rookie cards have ever been graded PSA 9 and they sell for $3,000. Can you imagine what a PSA 10 Joe Green Rookie would sell for? Arguably, one of the toughest cards in the set to obtain in a high grade is card #250 of legendary HOF player Joe Namath. 531 Namath cards have been sent to PSA and not one has received a PSA 10 grade. In fact, of the 531 submitted, only one has received a grade of PSA 9, and only two others have received an 8.5 NM-MT+ grade. In December of 2011, the one and only Joe Namath PSA 9 sold at auction for an astonishing $5,310.
What Makes this Set so Tough in High Grade?
There are several reasons that contribute to the 1971 Topps football set being so difficult to find in 9 and 10 grades. The number one reason would be the bright red and blue colored borders. The slightest chip, nick or corner ding on these cards stands out to the naked eye, dropping most cards down to the PSA 6-8 level. Topps also had a quality issue with rough cuts during the 60's and 70's. Topps would wait to change their cutting blades until the blade would physically not cut through the sheets of cards anymore. This resulted in a large percentage of the cards having the common rough cut edge. Unfortunately, 1971 football fell prey to this production flaw and many of the cards you see today have the rough cut edge. Another common issue with the cards is their poor centering. A good majority of 1971 football cards are severely off centered, 70/30 or even worse. It's not uncommon to open a 1971 Topps football pack and have most of the cards in the pack with the rough cut edge and/or drastically off centered. If you are fortunate enough to find a 1971 football card with a clean cut and centered, then you have to deal with the condition sensitive colored edges and corners. Overall, it is one of the most difficult football sets to find in high grade as can be seen from the POP report numbers. Of the 263 cards in this set, only 24 different cards have ever been issued the PSA 10 grade. In addition, 12% or 31 cards from the 263 card set have never received a 9 or 10 grades. With all of the production and condition sensitive issues, it is no wonder that the current 1971 football set registry shows the finest possible set rating that can be built for this set would be 9.04%.
The Football Set to Own from the Two Decades
Outstanding card design with spectacular eye appeal, loaded with rookie and HOF players, combine all of this with the set's rarity in high grade, and you have what makes this the set to own of the 1970s and 1980s.
Toughest set of the 1970s and 1980s to find in PSA 9 Mint and PSA 10 GEM-MT
In reviewing the current PSA POP report, it's very apparent what Kevin is speaking about in regards to the difficulty of finding Mint 9 and GEM-MT 10 examples. Other football sets from the 1970s and 1980s also have low POPs reported in high grade, however, nothing comes close to the 1971 set. Of the 31,087 1971 football cards submitted to PSA, only 26 of them have been awarded the prestigious PSA 10 grade. That means only one PSA 10 has been graded for every 1,200 cards submitted or .08%. Here are the current POP figures (Dec 2011) for the 1970-1989 Topps football sets.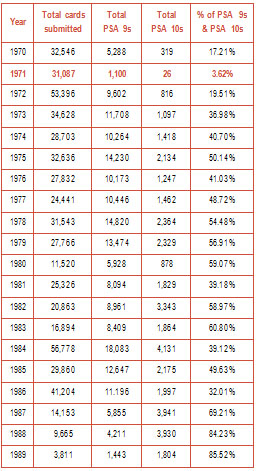 Of the 31,087 1971 football cards submitted to PSA, only 26 of them have been awarded the prestigious PSA 10 grade.