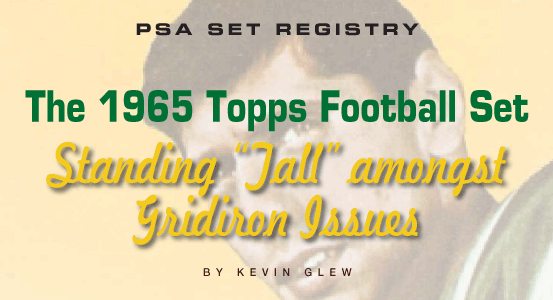 Joe Namath is definitely not your average "Joe."
No, Broadway Joe is a former Pro Bowl quarterback who became known as much for his flamboyance off the field as he was for his tremendous arm on it.
Sure, he guaranteed and then authored the biggest upset in Super Bowl history in 1969, but it was his movie star looks, love of the nightlife and work as a product pitchman that helped transform him into a pop culture icon. This persona as a free spirit, combined with his Hall of Fame career, explains why his 1965 Topps rookie (#122) is one of the most coveted pasteboards ever issued.
"The Namath rookie is one of the most treasured cards in all of sports," said Steve Crane, who owns the No. 2 All-Time Finest 1965 Topps Football Set on the PSA Set Registry. "Joe Namath is just such a larger-than-life figure. I think his rookie will always be one of the most popular cards."
Levi Bleam, who assembled a 1965 Topps Football set that was inducted into the PSA Set Registry Hall of Fame in 2004, expresses similar sentiments.
"If you pick the top five or top 10 football rookies of all-time, the Namath rookie is definitely in the top 10 and probably in the top five," he said.
Namath's inaugural pasteboard is also a short print and is difficult to find properly centered. Of the 805 submitted, there has yet to be a PSA GEM-MT 10 and there are just four PSA MINT 9s. A PSA NM-MT 8 sold for $4,050 on eBay in August 2011.
A variation of the Namath rookie showcasing a "butterfly" design on his left hand also exists. This version appears to be tougher to track down than the regular card, but it generally doesn't command a premium.
"To me, that's just a print mark (on Namath's hand) and it should be worth less than the regular card," said Mike Thomas, who owns the No. 11 All-Time Finest 1965 Topps Football set.
The Namath single is the highlight of the 1965 Topps Football set, which was the New York-based manufacturer's first pigskin offering to feature a tall boy design. Restricted to producing AFL cards and facing stiff competition from the Philadelphia Gum Co., whose product included NFL stars like Jim Brown, Johnny Unitas and Bart Starr, Topps opted to make their cards bigger (2-1/2" by 4-11/16") and bolder.
"I like the fact that they are much larger than the average cards," said Crane. "It makes the set visually much more appealing."
The white-bordered card fronts exhibit a large player photo against a vibrant, colorful background. The team's city was highlighted in large letters at the top, while the player's name and position was in smaller letters along the bottom.
The horizontal backs boast black text on salmon colored and off-white backgrounds. The left side showcases the players' statistics and biographical information, while a cartoon illustrating a highlight from the player's career is on the right.
The cards are sequenced in alphabetical order, first by the team's city and then by the player's last name within each team.
The cards were distributed in five-cent wax packs and cello packs. Similar to the 1964 Topps wax packs, the wrappers advertise "Pro Football" cards and don't specifically indicate that there are only AFL cards inside. A stick of gum and one of 36 Magic Rub-Off stickers were included in each pack. The sticker set is comprised of eight AFL teams and 28 college team stickers that could be applied to a surface by rubbing on them with a coin.
In Collecting Sports Legends, PSA pack authenticator Steve Hart lists unopened wax packs from this 176-card offering as the ninth most desirable in the hobby.
This issue boasts an incredible 132 short print cards. Thomas, webmaster of www.vintagefootballcardgallery.com, has not seen a 1965 Topps Football sheet, but he believes that the cards were printed on sheets similar to the 1969-70 Topps Basketball sheet, which had nine rows of 11 cards.
Namath isn't the only Hall of Fame rookie card that's a short print in this set. This series also boasts the short-printed debuts of Willie Brown (#46) and Fred Biletnikoff (#133).
"The Willie Brown card seems to be a little harder to find centered," said Thomas.
Of the 190 Brown cards submitted, there has yet to be a PSA 10 and there are just four PSA 9s. A PSA 9 sold for $715 on eBay in August 2011.
Other prominent rookies that are part of this offering are Pete Gogolak (#30), Winston Hill (#116), John Huarte (#117) and Ben Davidson (#137).
On top of Namath, Brown and Biletnikoff, there are several other Hall of Famers in this set, including Nick Buoniconti (#3), George Blanda (#69), Bobby Bell (#91), Buck Buchanan (#94), Len Dawson (#99), Don Maynard (#121), Jim Otto (#145), Lance Alworth (#155) and Ron Mix (#168).
Hobbyists point out that the checklists (#87, #176) are two of the set's most valuable cards. One of the two PSA 9 copies of the first checklist sold for $1,485.20 in a Mile High Card Company auction in March 2009, while a PSA 9 example of the final checklist garnered $1,422 in a Legendary Auctions sale in May 2010.
According to the PSA Population Report, the Jerry Hopkins single (#54) has been submitted just 57 times, the fewest number of any card in the set. Crane says that this card is difficult to find centered. With 60 and 62 submissions respectively, the Stew Barber (#23) and Jim Colclough (#6) are the second and third lowest population cards respectively.
Paul Lemm, owner of the registry's No. 7 Current Finest set, says that the Houston Antwine (#2) and Dick Westmoreland (#174) cards are also difficult to track down in top condition.
"Somebody just put a #2 Houston Antwine card on eBay in a (PSA) 9 – it's the only one – and the asking price is $2,500," said Lemm. "The Dick Westmoreland card is very hard to find centered."
No unqualified examples of the Westmoreland single have graded above PSA 8.
Three uncorrected error cards have been documented in this set. On the Sherrill Headrick single (#101), his name is misspelled "Sherill" on the front, while Dee Mackey's college is listed as WVU rather than East Texas State on his pasteboard (#120). The biggest blunder, however, was reserved for the Art Powell card (#146) which actually showcases a photo of Clem Daniels.
Due to their size and the lack of protective holders for them for an extended period, these cards are often uncovered with creases and corner wear.
"A lot of these appear to have dings on them from just being shoved into shoeboxes," said Crane.
The narrow white borders on the card fronts also make it difficult to find centered copies.
"The centering is awful," said Thomas. "But I think that's because they are so tall that there's not very much tolerance for the cards being off-center or being miscut at all. It doesn't take much of a tilt to narrow the borders on one end or the other."
These condition woes make this set a "tall" order to complete in high grade, but collectors don't seem to mind. Its revolutionary design and the rookie card of Broadway Joe have made it one of the most desirable football sets ever released.
"I would have to say that the 1965 Topps set is the top football set of the 1960s," said Thomas. "I can't think of another set that would be close."
Crane agrees.
"I think it will always be one of the elite football sets just because of the uniqueness of its appearance," he said. "It seems like it will be a cornerstone set in the hobby for years to come."
---
Please feel free to contact Kevin Glew at [email protected] if you have any additional information or comments. Mike Thomas provided scans to the author for this article. Please note that the Population Report figures quoted and Set Registry rankings reported are those as of February 2012.