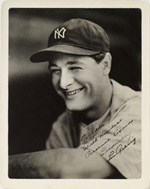 Welcome to Goodwin & Company's www.goodwinandco.com Masterpieces and Uncommon Commons XXXVIII auction. This is the first of six auctions planned for 2012. The current auction is in progress and ends on January 25, 2012. Leading off our auction are two of the finest consignments that we have ever offered. One of the finest Babe Ruth Rookie cards in the hobby is offered in lot one. The "Sultan of Swat" card is a well-centered PSA 7, near-mint blank back card that just misses the next grade. Lot number two is a fabulous Lou Gehrig photo that is graded 10 by PSA DNA. This photo is in the top echelon of any Lou Gehrig photo you'll ever set eyes on.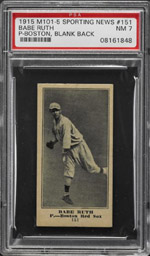 You can't find a better autographed photo of the "Iron Horse". T-206 collectors will find plenty of tough backs, both hall of famers and commons. Candy card collectors will find over 200 lots of E-93, E-94, E-95, E-96, E-102, and E-106 cards all professionally graded. Leaf, Topps, and Bowman collectors will not be disappointed with the many high-grade and single prints from the post-war era. In addition, we have some premium rookie cards for the hockey and football collector. In short, we feel that there is something for every collector in this auction.
Auction closes Wednesday, January 25. Visit www.goodwinandco.com to bid today.