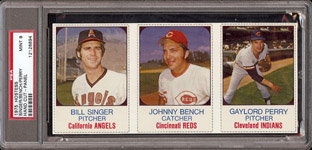 The 1975 Hostess Baseball set is not a "piece of cake" to complete.
Distributed in three-card panels on the bottom of family-size, snack cake boxes, the 1975 Hostess singles are difficult to uncover in pristine condition.
Short prints also make finishing the 150-card regular series challenging, while its sister set, the 60-card Twinkies issue, is even tougher to assemble in top grade.
On the PSA Set Registry, collectors can pursue the regular series cards (153 cards, including three corrected error cards) or the 50 three-card panels. They can also amass the 60-card Twinkies issue.
1975 Hostess Baseball Regular Series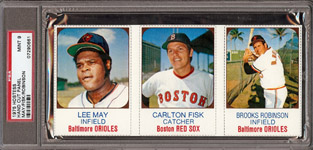 These 2-1/4" by 3-1/4" singles – if cut properly – represented the company's first foray into baseball cards. The fronts of these cards showcase the player's photo, name, position and team, while the backs flaunt statistical information.
While relatively common, panels and full boxes generally generate a premium.
"To me, collecting the panels is much more special (than the individual cards)," said Michael Wachs, who owns the No. 3 All-Time Finest set of 1975 Hostess panels on the PSA Set Registry.
This being the company's first stab at baseball cards explains why there are so many errors in the series. Among the names misspelled are Graig Nettles (#23, name misspelled "Craig"), Jim Sundberg (#100, "Mike" on card) and George Hendrick (#140, misspelled "Hendricks"). Also, the Milt May single (#35) boasts a photo of Lee May.
And while the aforementioned errors weren't corrected, Hostess did feel compelled to correct the misspellings on the Burt Hooton (#11, originally "Hooten") and Doug Rader (#89, originally "Radar") cards. The Bill Madlock card (#125), which initially listed him as a pitcher, was also updated. Rich Noonan, who owns the registry's No. 2, 1975 Hostess Hand Cut individual cards set, says that the corrected versions of Hooton and Rader cards are extremely rare.
Twenty-six cards (#79 to #99, #118 to #120 and #130 to #132) are commonly identified as short prints. Noonan, however, questions this designation; he says that some of these cards aren't that difficult to find.
"You have some players that were only issued on the less popular products and they're more scarce today for that reason," said Phil Hollinden, who owns the registry's top panels set.
Several Hall of Famers – including Robin Yount (#80), Johnny Bench (#83), Gaylord Perry (#84), Reggie Jackson (#88), Phil Niekro (#99), Bob Gibson (#119) and Hank Aaron (#119) – are among the cards often designated as short prints.
"The panel that has Johnny Bench and Gaylord Perry on it is tough," noted Hollinden.
Just six of the Bench/Perry panels (that also include Bill Singer (#82)) have been submitted to PSA. One PSA NM-MT 8 panel fetched $43.59 on eBay in January 2009. Fifteen individual Bench cards have been evaluated and there are three PSA GEM-MT 10s. One PSA 10 garnered $100 on eBay in September 2010.
Hobbyists seem to agree that the panel with Bob Gibson (#120) on it is the most elusive in pristine condition. Hollinden says that this panel, which also includes Billy Champion (#118) and Bill Freehan (#120), was only printed on Ho Hos boxes that were smaller than the boxes employed for the other treats. As a result, the cards were almost too big for the box bottoms.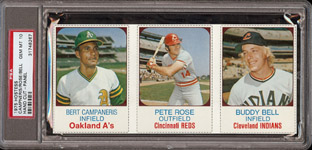 "That panel has a factory crease running across the bottom of it," said Noonan. "The Bob Gibson panel is by far the hardest one."
The two Gibson panels submitted to PSA have been graded PSA EX 5 and PSA AUTHENTIC respectively.
The Hank Aaron panel (#130) (also featuring Rennie Stennett (#131) and Rico Petrocelli (#132)) is also evasive in flawless form.
"The Aaron panel is fairly tough because those are generally found on Ho Hos – although I've seen some of those issued on other packages (as well)," noted Hollinden.
Sixteen panels with Aaron on them have been evaluated and a PSA NM-MT 8 panel sold for $74.54 on eBay in May 2010. Of the 38 individual Aaron singles evaluated, there has been one PSA 10 and eight PSA MINT 9s. A PSA MINT 9 fetched $38.15 on eBay in April 2011.
Nolan Ryan (#58) is another coveted Hall of Famer in this set, but his panel (that also showcases Reggie Smith (#59) and Joe Coleman (#60)) is readily available. Eighty-seven have been submitted to PSA and there are 34 PSA 10s. There are also 36 PSA 10 Ryan singles, one of which garnered $220 on eBay in October 2010.
Wachs notes that the Yount in this set is more difficult to track down than the Hall of Fame Brewer's Topps rookie. Hollinden sees a lot of the Yount panels (#80) (that also showcases Andy Messermith (#79) and Al Oliver (#81)) and he believes it has been mistakenly designated as a short print.
What is Robin Yount's toughest 1975 card to track down in high grade?
Card
Total No. of
PSA Submissions
Total Submissions
in PSA 9 or Better
% of Submissions
in PSA 9 or Better
1975 Topps #223
4,225
154
3.6%
1975 Topps Mini #223
1,283
72
5.6%
1975 Hostess Regular #80
284
247
87.0%
1975 Hostess Twinkies #80
10
4
40.0%
*PSA Population Report numbers as of September 2011
Located on the bottom of boxes, cards are often found with scratches.
"The cards were printed on box bottoms which were subject to more abuse over the years," said Hollinden. "Collectors had different approaches on how to cut them out, so they wouldn't necessarily use the dotted lines or cut them as panels. And that's one reason why they're not necessarily scarce, but scarce in top condition."
Kids would often cut inside the dashed black line surrounding the photos on these cards. As a result, the original dashed border is absent on many of these cards. PSA will not assign a number grade to the cards unless virtually all of the dashed border is visible. Cards devoid of the border (provided that they meet PSA's minimum size requirements) are labeled as "Authentic".
Hollinden says the best way to cut these cards is with a high quality paper cutter.
"When you cut, you have to make sure that all the (dashed black) lines are there and in uniform order all the way around," he said. "I use a guillotine-style (paper cutter) with the swing arm going down on it. That's worked great for me. But you have to have a steady hand."
1975 Hostess Twinkies Set
Reportedly distributed one per package in select West Coast markets, singles in the 60-card Twinkies offering boast the same front design as the regular cards, with the exception of the absence of the dashed border on the left side.
"Somehow the color was off more on the cards that came from the Twinkies packages than it was on the cards on the backs of the boxes," said Noonan. "The cards that came on the boxes just look better."
Small black bars at the top and bottom of the backs of the Twinkies singles distinguish them from cards in the regular series. The first 36 cards in the Twinkies set are the same as those in the regular issue. The final 24 were skip-numbered (ranging in numbers from 40 to 136) and featured players predominantly from West Coast clubs.
These cards are difficult to track down in pristine condition because they were distributed inside packages with the Twinkies. As a result, many of them showcase brown stains. Noonan points out that some unblemished cards have surfaced on the market that came directly from the factory.
The Yount Twinkies issue (#80) is his rarest rookie (See chart). Just 10 have been submitted to PSA and there has been one PSA 10 and three PSA 9s. One PSA 9 sold for $150 on eBay in February 2011.
"The Hostess Twinkies card is very difficult," said Noonan. "For every Robin Yount I'll see from regular Hostess series, I'll only see one of his Twinkies cards."
Other superstars in the Twinkies set include Pete Rose (#29), Nolan Ryan (#58) and Hank Aaron (#130).
The Twinkies set and the regular series are full of stars that are not a "piece of cake" to track down in high grade. But, all things considered, the cards remain relatively affordable.
"They should command much greater prices," said Wachs.
Scarcity of 1975 Hostess Twinkies in PSA GEM-MT 10 vs. Regular 1975 Hostess Cards
Set Name
Total PSA
Submissions
Total
PSA 10s
% of Submissions
in PSA 10
1975 Hostess Regular
3,086
788
25.5%
1975 Hostess Twinkies
334
21
6.3%
*Based on PSA Population statistics as of September 2011
Please feel free to contact Kevin Glew at [email protected] if you have any additional information or comments. Phil Hollinden and Rich Noonan provided pictures for this article. Please note that the Population Report figures quoted and Set Registry rankings reported are those as of press time.