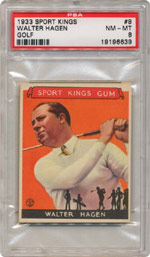 This auction is a perfect illustration of the unique position Clean Sweep occupies in the auction world. In the current market, there are many lower-end internet-only auctions and of course eBay, and now, we are seeing the return of telephone book size catalogs that are really only truly focused on the $10,000 and higher value items, leaving many lots as an afterthought buried in a large book. Clean Sweep offers an ideal medium for the auction and sale of quality cards, autographs and memorabilia. The current auction features two very extensive collections that go back decades, organized neatly into manageable lots to maximize revenue. Please review this catalog if you are thinking about potentially consigning your advanced collection to see the remarkable level of work, detail and quality that Clean Sweep will put into your prized collection.
The baseball section of this auction is the best we have ever had, with a remarkable diversity of cards over a 100-year span. We have many rare pre-war sets, extremely high grade Topps sets and a world of regional issues. Remarkably, there are 79 lots of just complete and near-complete sets, and then another 80 lots of great partial sets, group lots and collections that run the gamut and cover a great majority of popular card issues. Particular highlights include complete sets of T205, C46, T200, W502, 1933 DeLong, 1933 Goudey, 1933 R337 Eclipse Import, 1935 Schutter Johnson and 1941 Goudey.
A superb 50-year collection assembled by a father and son is spread all throughout the auction, particularly concentrated in the group lots immediately following complete sets. Issues of note in this section include 1950 Drakes, 1951 Fischer's Bread Labels, 1953 Briggs Meats, 1953 Glendale Meats, 1954 Wilson Weiners, the popular 1950s small statue issues, 1956 Topps Pins, 1956 Yellow Basepath pins and outstanding group lots of Bowman and Topps cards loaded with stars. A value-oriented collector and/or dealer will have a field day going through this section.
Graded and single cards come next, and this is another very strong offering. Notable offerings include many quality 19th century cards, an L1 Leather of Walter Johnson, a very fine T207 set broken into lots with both Lewis variations, a PSA 5 Lowdermilk and many pop 1/1 highest graded scarcities. We continue with a T222 Fatima run broken into lots, a fine E121 Babe Ruth and a clean Sport King set, including PSA 8s, broken into lots as well. For the Topps collector, there is a Clemente Rookie in a PSA 7.5 holder and some fabulous condition cards from 1967 to 1970 that just came back from PSA.
A very solid group of Baseball autographs comes next. We have a run of contracts, including Cap Anson and Home Run Baker, superb early 1950s signed exhibit cards of Roy Campanella and Willie Mays, a fine Perez Steele Lloyd Waner signed postcard, terrific Babe Ruth and Lou Gehrig framed autographs and a fresh to the hobby collection of GPCs, all signed in either 1948 or 1949, with Campanella, Cobb, Lajoie, Ott, Wagner and Young.
Other notable autographs include a superb 1927 Tony Lazzeri Yankee payroll check, single signed balls of Ken Boyer, Roy Campanella, Roberto Clemente, Bill Clinton, Harry Hooper, a vintage Mickey Mantle, a real Thurman Munson and Satchel Paige. Team balls include a 1927 Yankee, and higher grade 1951 and 1952 Yankee balls.
For collectors of basketball and football items, you'll find many great card sets and collections that span a 30-year period. There are some quality signed football items as well.
Baseball memorabilia includes many fresh items, a 1926 World Series Program, a 1941 All Star Game Program, quality press pins from the 1940s through the 1960s, some fine Hartlands, Maris 60 and 61 home run tickets and a superb Hank Aaron game used and signed hat from 1965.
Non-sport items conclude the auction. There is a fine John Hancock signed document, some interesting Presidential and historical signed items, fun entertainment items including a terrific vintage Frank Sinatra signed program and much more.
Be sure to visit our site, www.cleansweepauctions.com Happy Bidding!
PO Box 215 Carle Place, New York 11514 516 338 8557 Fax 516 338 8559
www.cleansweepauctions.com