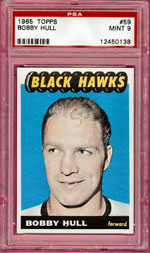 During his childhood, vintage hockey card dealer, Len Pottie, marveled over Bobby Hull's blazing speed and goal-scoring prowess.
"You'd see him winding up and he didn't wind up at center, he'd go behind his own net and wind up," recalled Pottie. "I remember being at home and standing up and watching him on TV, because once he wound up, he was going to be at the other end of the ice pretty fast and something was going to happen."
Renowned for his quickness and a booming slap shot that was once timed at 118.3 mph, Hull had goalies cowering in their creases.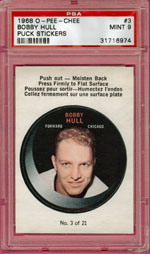 "I'd rank him in the top five or top 10 players of all-time," said Rene Doucet, who owns the No. 2 Hull Master Set on the PSA Set Registry. "He was the first player to score more than 50 goals in a season (1965-66)."
The man nicknamed The Golden Jet would score at least 50 goals in five NHL seasons and notch 610 goals during a 16-year NHL career.
Born in Point Anne, Ont., Hull got his first pair of skates as a Christmas present when he was three years old, and by the time he was 12, he was being watched by NHL scouts. But it was the Chicago Blackhawks who would secure his NHL rights and, when the promising youngster was just 14, he moved away to begin his pursuit of a professional hockey career.
After making his NHL debut in 1957-58 at the tender age of 18, Hull would blossom into a full blown star by this third NHL season (1959-60), when he topped the league in scoring. The following year he led the Blackhawks to their first Stanley Cup victory since 1938.
In his 15 seasons with the Hawks, the imposing left-winger won three scoring titles, two Hart trophies (as league MVP) and was a first-team all-star 10 times.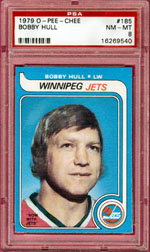 "He may be the strongest person that has ever played hockey," said Pottie.
The strong-willed superstar also often clashed with Hawks' management about his contract, eventually leading him to sign with the Winnipeg Jets of the upstart WHA in 1972, when the owners pooled their money to offer him pro hockey's first million-dollar contract.
During his seven seasons in the WHA, he notched four more 50-goal seasons, was named the league MVP twice and was part of three championship-winning teams. When the league folded in 1979, Hull split his final season between the Jets (who had joined the NHL) and the Hartford Whalers.
For his efforts, Hull was elected the Hockey Hall of Fame in 1983 and his No. 9 was retired by both the Blackhawks and Jets.
The Blackhawks legend remains one of the most popular players from his era amongst hockey card collectors. Two Hull sets – Basic (26 cards) and Master (77 cards) – have been created on the PSA Set Registry.
The Golden Jet's most coveted pasteboard is his 1958-59 Topps rookie (#66).
"It's not hard to get the rookie card, but to get it well-centered is really, really difficult," explained Pottie. "Also, the fact that it's the last card of the set makes it difficult to find in high grade. People used to put rubber bands around the first and last card of each set."
Vintage hockey collector, Joe Henninger, says that the Hull rookie is more elusive in top condition than the vaunted 1966-67 Topps Orr rookie.
"The Hull rookie is often found off-center," he said. "Another problem with the rookie – and the other 1958 Topps cards – is that because of the paper stock, there seems to be a problem with the surface on these cards. There's a funny kind of scratchy look to them. It's hard to find really clean, centered examples."
Of the 215 Hull rookies submitted, there has yet to be a PSA GEM-MT 10 and there are just two PSA MINT 9s. A PSA NM-MT 8 fetched $13,009.20 in 2007.
Hull's 1959-60 Topps card (#47) is also evasive in pristine condition. Centering woes and chipping on the red borders on the back hamper this card. There are just three PSA 9 examples of this single (no PSA 10s). A PSA 8 sold for $849.99 on eBay in October 2009.
But the most elusive mainstream Hull single in flawless form is his 1964-65 Topps issue (#20). These cards measure 2-1/2" by 4-11/16" and are often referred to as "tall boys."
"The Hull is actually a short print card," said Henninger. "It was short-printed in the first series. I came across an old-time collector who had seen an uncut, first-series, 1964 sheet and that was one of the cards that was single-printed on the sheet."
Pottie also points out that there weren't holders for cards this size when they were initially released.
"It would be hard to keep the corners nice on a card that big," said Pottie. "Also, that card is often off-center."
There are no PSA 10s or PSA 9s of this card, and a PSA 8 garnered $709.99 on eBay in August 2009.
Hull's 1966-67 Topps card (#112) is also almost impossible to uncover in top grade.
"Those cards can be really tough with the brown borders," said Pottie. "Getting these cards with nice corners where the white isn't showing is difficult."
Of the 136 submissions, there have been two PSA 9s and 25 PSA 8s. A PSA 8 sold for $390 on eBay in November 2010.
Doucet points out that a rare 66-card, U.S. test version of the 1966-67 Topps set also exists. Reports indicate that only 100 of these sets were produced and that they were introduced in California. The design mirrors that of the regular 1966-67 Topps set, with the only differences being that the borders on the U.S. test cards are a lighter shade and the information on the back is in English only.
Just 26 copies of the U.S. test Hull card have been evaluated and there are just two PSA 8s (no cards have graded higher). One of the PSA 8s sold for $2,901.07 in a Mile High Card Company auction in June 2010.
Another tough-to-find item required for the Master Set is the 1963-64 Hull Toronto Star "Stars in Action" photo. This 4-3/4" by 6-3/4" color picture was part of a 42-photo set released by the newspaper. The photo is unnumbered and showcases a brief biographical paragraph on the back. Doucet says that the thin stock these photos were printed on makes them condition sensitive. Their size has also made them difficult to store.
"I just bought a PSA (EX-MT) 6," said Doucet. "There are only four PSA 6s and one PSA 8."
Even though Hull has been retired for more than 30 years, it's clear that the demand for his cards remains steady.
"Orr, Howe and Hull, by a great distance, are the most popular and biggest selling hockey cards of the '50s and '60s," noted Pottie.
Hull is now an ambassador for the Blackhawks and makes dozens of appearances each year.
"As far as being a great hockey player, Hull is one of the all-time greats," said Pottie. "As far as an ambassador for the sport, they're aren't many ambassadors better for the game than Bobby Hull."
Please feel free to contact Kevin Glew at [email protected] if you have any additional information or comments. Mile High Card Company, Rene Doucet and Joe Henninger provided pictures for this article. Please note that the Population Report figures quoted and Set Registry rankings reported are those as of June 2011.
Toughest Basic Set Bobby Hull cards to find in PSA MINT 9 or better
Card
Total No. of Submissions
Total No. of Submissions in PSA 9 or Better
% of Submissions in PSA 9 or Better
1964-65 Topps #20
129
0
0.0%
1958-59 Topps #66
215
2
0.9%
1966-67 Topps #112
136
2
1.5%
1959-60 Topps #47
167
3
1.8%
1968-69 O-Pee-Chee #16
91
2
2.2%
*PSA Population Report statistics as of June 2011