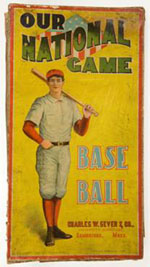 DALLAS, TX - The finest collection of vintage baseball-themed board and arcade games ever assembled, The Dr. Mark W. Cooper Collection, is currently being offered in its entirety via Private Treaty sale from Heritage Auctions.
"The best-known documentation of baseball's rich history comes in the form of the rare early cardboard that bears the faces of great players," said Chris Ivy, Director of Vintage Sports Memorabilia at Heritage. "The purest expression of diamond worship, however, may well be the board games that have echoed all the eras and great players, and nowhere is this made more evident than in Dr. Cooper's amazing collection."
Besides being the finest collection of its kind, the Cooper Collection has the added distinction of having been one of just 21 collections featured in Stephen Wong's celebrated hardcover Smithsonian Baseball: Inside the World's Finest Private Collections.
"The Dr. Mark W. Cooper Collection represents one of the most significant offerings of sports collectibles ever made available for private sale," said Ivy. "For one of the thousands of collectors who have dreamed of owning memorabilia on display at Cooperstown, that dream can now be a reality."
Born of a childhood love of the National Pastime, and the rainy days of his youth, Cooper's collection swelled with sterling examples over several decades. It includes the finest - and in some cases the only - known examples of effectively every home version of the sport of baseball, beginning with the New Parlor Game of Base Ball, issued by N.B. Sumner in 1869 and recognized as the oldest baseball board game known to exist.
The stunning graphics of the game boxes and playing boards track the evolution of the game, with several 19th century examples picturing gloveless fielders and underhanded pitchers. Various card games feature examples far more scarce than their tobacco and candy counterparts, picturing legends from Cap Anson and Buck Ewing to Ty Cobb and Babe Ruth.
As the game developed, so did technology, and through the decades the complexity of the collection expands to include various mechanical coin operated versions from the penny arcades of yesteryear.
"While the vast majority of our sales utilize the auction process, we certainly understand and respect Dr. Cooper's wish that the collection remain intact," said Ivy. "To that end we are offering it as a group and looking for that collector who understands the importance of keeping it together."
Highlights can be viewed at HA.com/Cooper.
Heritage Auctions, headed by Steve Ivy, Jim Halperin and Greg Rohan, is the world's third largest auction house, with annual sales more than $800 million, and 600,000+ online bidder members. For more information about Heritage Auctions, and to join and gain access to a complete record of prices realized, along with full-color, enlargeable photos of each lot, please visit HA.com.
Want to get the up-to-the-minute updates and breaking news stories about Heritage Auctions? Get them as they happen at: www.Twitter.com/HeritageAuction; Facebook: www.HA.com/Facebook.To view a complete archive of Heritage press releases go to: HA.com/PR. To link to this press release on your blog or Website: HA.com/PR-2148.