How can you not be intrigued by a set that showcases autographed cards of Big Papi, a yo-yo champion and Billy the Marlin?
And those are just a few of the eclectic personalities featured in the rare 2009 Topps Allen & Ginter Red Ink Autographs set.
"There's something in this set for everyone," said George Calfas, who owns three of these sets on the PSA Set Registry. "A lot of people scoff about having a mascot like Billy the Marlin in the set, but that card commanded really strong money out of the gate and it still does."
This set consists of 70 cards, but contrary to the checklist included in most hobby publications, Calfas says there is no Alex Rios card, but there is one of female softball pitcher Cat Osterman. A devoted collector of this issue since its release, Calfas just recently purchased the only Osterman card that he has ever seen. Until this card surfaced in February 2011, it was widely believed that the Osterman single had not been produced.
Just 10 of each card in this issue was signed in red ink, and they're hand-numbered to 10 on the card fronts. The card design and set composition were inspired by the original Allen & Ginter N28 and N29 offerings – the first tobacco cards ever issued – unveiled in 1887 and 1888 respectively. The N28 and N29 sets boasted 50 cards of "World Champions" from several sports.
Topps resurrected the Allen & Ginter brand in 2006, and the new cards have become very popular. The Red Ink autographs were inserted into packs of the regular 2009 Allen & Ginter product. Each box of 24 packs contained three "hits" – which could be autograph cards, relic cards, rip cards or printing plates. More abundant autograph cards signed in blue ink were also available in packs.
The Red Ink autographs are on mini, 1-1/2" by 2-3/4" pasteboards that can be found with or without frames.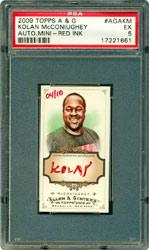 "The David Ortiz Red Ink autograph is only available without a frame, and all 10 of his cards are inserted in rip cards, whereas Ryan Howard has a framed autograph card and all 10 of those are inserted in the packs," noted Calfas.
Calfas points out that Red Ink autographs without frames came exclusively inside rip cards. Randomly inserted at a rate of one in every 257 packs, rip cards had perforated backs that could be torn open, but because unopened rip cards can command lofty sums, collectors tend to leave them intact. As a result, some Red Ink autographs – already limited to just 10 of each – have become even more elusive.
"A total of 3,671 rip cards were made," noted Calfas.
The savvy collector, who has conducted extensive research on this set, says that 16 players signed Red Ink minis.
"That would mean that a total of 160 (16 players with 10 cards each = 160) Red Ink minis were inserted in the 3,671 rip cards," explained Calfas. "So the odds of pulling a Red Ink autograph from a rip card are approximately one in 23 cases."
Five redemption cards were also included in packs, but the Alex Rios redemptions were never fulfilled and it appears that the vast majority of Cat Osterman redemptions weren't fulfilled either. Calfas has a letter from Topps confirming that Rios didn't sign cards for this issue.
The other three redemption cards are Miguel Cabrera, Ryan Braun and Olympic speed skater Shani Davis. Calfas notes that while several Cabrera and Davis Red Ink autographs have surfaced, just one Braun has ever been listed on eBay.
"The Shani Davis redemption card shipped right around the time of the Winter Olympics," noted Calfas, "and during that time, a couple of copies sold in the $300 to $500 range."
Prices can vary wildly for these cards. Calfas paid $145 for his first Ortiz card, but only $60 for his second. He says that cards of the Negro League players generally command around $100 each, while other baseball commons tend to fetch between $40 and $50.
"All other cards are highly volatile due to collectability," he said. "Some people pay $75 to $150 for Negro League figures, Olympians, etc. The highest I paid for a card is $450 for Cat Osterman."
With only 10 Red Ink autographs of each player available and no more than three of any card from this issue graded by PSA, every card in this set is rare, but Calfas says that the pasteboards of card stacker Bryan Berg and Marlins ace Josh Johnson are particularly elusive.
List of 16 Red Ink
Autograph Minis in Rip Cards
Card No.
Player Name
AGA-CM
Cameron Maybin
AGA-DO
David Ortiz
AGA-EL
Evan Longoria
AGA-HR
Hanley Ramirez
AGA-JB
Jay Bruce
AGA-JC
Joba Chamberlain
AGA-JJ
Josh Johnson
AGA-JP
Jonathan Papelbon
AGA-KM
Kolan McConiughey
AGA-MM
Mike Metzger
AGA-SO
Scott Olsen
AGA-SW
Steve Wiebe
AGA-TT
Troy Tulowitzki
AGA-BBE
Bryan Berg
AGA-MLO
Mike Lowell
AGA-RMA
Robbie Maddison
"The only copy that I've seen of Josh Johnson is the one that I have, and I would care to venture that the other nine may be sitting in low-numbered rip cards," said Calfas. "I made a deal with a player collector that collects nothing but Josh Johnson and I paid him twice what he paid for the card and promised to purchase him another, if one ever surfaces."
The last card that Calfas needed to complete his set was the David Wright.
"Actually, another collector bought the David Wright card to essentially force me into a trade to help him out with another of his sets," said Calfas. "He knew that the Wright was the last card I needed and he paid far over market value to force my hand into a trade. Still to this day, that's the only David Wright that I've ever seen."
Of the non-baseball players in this set, the cards of guitar prodigy Yuto Miyazawa, Australian daredevil Robbie Maddison and high jump pioneer Richard Fosbury are the most difficult to track down, says Calfas.
"There was a collector buying all the Yutos," said Calfas. "The only reason I was able to get the one that I have is because I found it as a 'Buy It Now' on eBay and I snatched up it quickly."
Securing the Fosbury single also wasn't easy.
"I lost three Fosbury cards (in auctions) before I got mine," he said. "I would place a very strong bid on them and I'd just lose them in the last 10 seconds of the auction, I was lucky enough to trade for a copy and have since purchased another for a ridiculous amount."
On top of just 10 of these cards being available, some of these singles are difficult to obtain in high grade. Calfas notes that the minis that come out of rip cards tend to be damaged.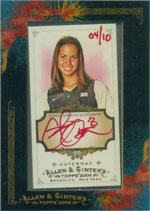 "The Red Ink autographs inserted into the rip cards are condition sensitive. The corners are commonly dinged on them," he said.
Competition can also get pretty heated for these limited edition singles.
"Set collectors are always clashing heads with player collectors," said Calfas. "So, when there are only 10 cards out there and you have to fight the Ryan Howard faction of player collectors, the cards dry up extremely fast. These cards tend to get locked up in those player collections and you never see them again."
Despite the scarcity of these cards, a determined Calfas was able to complete his set in 18 months.
"There are several Red Ink autograph cards where I own the only copy I've ever seen," he said. "You have to strike fast and just go all out, because you may only have one chance to get some of these cards."
Calfas is also glad that he decided to have his cards graded by PSA.
"Having a card in a PSA holder is a wonderful way to display any collectible," he said. "And what better way is there to display an entire set with such a limited production run?"
Please feel free to contact Kevin Glew at [email protected] if you have any additional information or comments. George Calfas provided pictures for this article. Please note that the Population Report figures quoted are those as of press time.