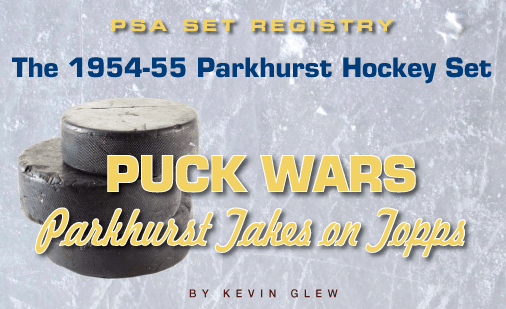 Competition can spur innovation and desperation.
And it may have elicited a little bit of both from Parkhurst in 1954, when Topps entered the hockey card market.
For the first time, Parkhurst had to battle another major manufacturer for hockey card supremacy, and the Toronto company responded by enhancing its card design, introducing action cards and offering more gifts that collectors could send away for.
Distributed in four-card, nickel packs with gum, the 100 cards comprising the 1954-55 Parkhurst set each measured 2-1/2" by 3-5/8". Paul Sacco, owner of the No. 9 Current Finest Basic Set on the PSA Set Registry, says the colors on these cards were brighter than those on previous Parkhurst releases.
Similar to the 1953-54 Parkhurst issue, the 1954-55 card fronts boast a player picture, a facsimile autograph and white borders. Unlike the 1953-54 cards, however, the card number is highlighted on the front of the 1954-55 cards.
The regular card backs display the previous season's statistics and biographical information in French and English. Details on how collectors could send away for an album to store their cards are also disclosed.
By mailing 25 cents to a Toronto address, collectors would receive an album similar to the albums Parkhurst created in previous years. The 1954-55 incarnation, however, doesn't include the date on the album cover.
Select cards in this set can also be found with "Lucky Premium Card" backs. Bobby Burrell, author of Vintage Hockey Collector, says that three different "Lucky Premium Card" backs have been uncovered. One back provides details on how collectors can obtain a pair of hockey gloves, while another offers collectors a chance to acquire a camera. The third back could be filled out and mailed to a Toronto address to receive a gift list.
There has been considerable debate as to how many of the 1954-55 Parkhurst cards boast a second version with a "Lucky Premium Card" back. Bert Caverson, who has assembled the registry's top 1954-55 Parkhurst Basic and Master sets, owns the 57 different cards that are known to have "Lucky Premium Card" backs. The 1954-55 Parkhurst Master Set on the PSA Set Registry consists of 157 cards, but it's considered a work in progress.
"If another card with a Lucky Premium back shows up, they (PSA) will add it on," said Caverson, who's doubtful that there are any more "Lucky Premium Card" backs.
Because collectors were required to ship the cards with "Lucky Premium Card" backs to a Toronto address to receive their gloves, camera or gift list, these singles are tougher to find than cards with the regular backs. But despite their scarcity, these cards generally don't sell for more than cards with regular backs.
Cards in the 1954-55 set are sequenced by team: Canadiens (#1 to #15), Maple Leafs (#16 to #32), Red Wings (#33 to #48), Bruins (#49 to #64), Rangers (#65 to #76) and Blackhawks (#77 to #88).
Burrell says boxes of these cards are "incredibly rare." But the hobby expert owns a rare, original ad sheet for this set. This advertisement invites retailers to order packs for this series and a set that features movie stars. One option was to order 100 packs, which, when you consider that a standard Parkhurst box contained 48 packs, seems like an odd number. Just how did Parkhurst ship 100 packs to retailers? Perhaps they were not sent in customized 1954-55 Parkhurst boxes? Burrell says this may help explain the dearth of surviving boxes.
The ad sheet also mentions that "millions of packages" of the hockey and movie star cards were "sold in stores from coast to coast." So it's safe to say that this product was not manufactured in limited quantities.
Topps entered the hockey card market in 1954-55 with a beautifully designed set. To many, this offering still represents the best hockey issue that Topps has ever produced.
"The color is probably a little more eye appealing on the Topps set," said Tim Williams, who owns 1954-55 Topps and Parkhurst sets on the PSA Set Registry.
The PSA Population Report reveals that almost twice as many 1954-55 Topps cards have been submitted as Parkhurst cards. One drawback of the Topps set is that it only showcases players from the four U.S. teams. As a result, the player selection wasn't as strong.
Rocket Richard (#7), Tim Horton (#31), Terry Sawchuk (#33), Gordie Howe (#41) and Jean Beliveau (#3) are among the ice immortals included in the Parkhurst set. The second-year Beliveau card is particularly elusive in top condition. Of the 123 submitted, there has been just one PSA MINT 9 and nine PSA NM-MT 8s. A PSA 8 sold for $1,625 on eBay in September 2009.
The most coveted rookie in the set is Johnny Bower (#65). The Hall of Fame goalie's last name is misspelled "Bowers" on the back of his card. The 27 PSA 8 Bower rookies represent the highest graded examples. One of them sold for $749 on eBay in October 2009.
Another key rookie in this set is Fred Sasakamoose (#82). Sasakamoose is the first Aborigine to play in the NHL and this is his only card.
"He has a huge following in the native community," said Sacco. "That card is actually quite difficult to find in high-grade."
Of the 67 evaluated, there have been 15 PSA 8 Sasakamoose cards with one PSA MINT 9. One PSA 8 sold for $410.99 on eBay in June 2008.
Other rookies in this set include Earl Balfour (#25), Bob Bailey (#28), Doug Mohns (#57), Bob Chrystal (#69), Camille Henry (#73), Dean Prentice (#74), Ron Murphy (#76), Lou Jankowski (#79) and Ike Hildebrand (#83).
The set's first card, Gerry McNeil, is also extremely difficult to track down in top condition.
"The first and the last cards are two of the more expensive cards because as kids we used to put a rubber band around them. Those two are more difficult to find and get up there in price," said Caverson, whose uncle is Doug Mohns, one of the rookies in the set.
Of the 40 McNeil cards submitted, there have been just six PSA 8s (with nothing grading higher). A PSA 8 sold for $1,276 on eBay in May 2008.
The last card, Sawchuk Stops Boom Boom (#100), is also evasive in pristine form. There are just seven PSA 8s, one of which fetched $1,035 on eBay in September 2010.
The Sawchuk is the last in a series of action cards (#89 to #100) that Parkhurst introduced in this issue. Williams says that the card showcasing Jacques Plante (Plante Protects Against Slippery Sloan #98) is particularly coveted.
"That card was released before his rookie card (Plante's rookie is in 1955-56 Parkhurst)," said Williams. "So it's his first appearance on a card."
Compared to the previous Parkhurst issues, the centering on these cards is relatively good. But as with prior Parkhurst issues, these cards were often damaged when they were inserted into albums.
"I've noticed a lot of people have taped them in books, so there are a lot of examples with tape on the backs," said Williams.
With Topps unveiling its debut issue in1954-55, Parkhurst was clearly spurred to innovation. With an enhanced design, the introduction of action cards, more mail-in offers and a solid player selection, Parkhurst provided a quality product. And though it's often overshadowed by its Topps counterpart today, the 1954-55 Parkhurst issue served as a statement that the Toronto company was not prepared to concede the lucrative hockey card market to their new, larger rival.
---
Please contact Kevin Glew at [email protected] if you have any additional information or comments. Mile High Card Company, Legendary Auctions and Paul Sacco provided pictures for this article. Please note that the Population Report figures quoted and Set Registry rankings reported are those as of press time.