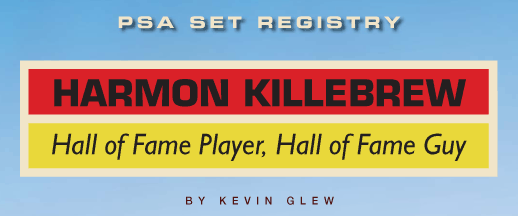 There's a statue of him outside Target Field and a plaque honoring him in Cooperstown, but Harmon Killebrew's most enduring legacy will be the permanent place he established in the hearts of those who knew him.
It's hard to think of an athlete more universally beloved than the legendary Twins infielder. That's why when he lost his battle with esophageal cancer this past May, the entire baseball world mourned.
"Harmon Killebrew was a gem. I can never thank him enough for all I learned from him," said former teammate Rod Carew following Killebrew's death. "He was a consummate professional who treated everyone from the brashest of rookies, to the groundskeepers, to the ushers in the stadium with the utmost of respect. I would not be the person I am today if it weren't for Harmon Killebrew. He was a Hall of Famer in every sense of the word."
Until Alex Rodriguez passed him in 2009, Killebrew's 573 home runs – many of them the majestic, tape-measure variety – were the most by a right-handed hitter in American League history.
Born in Idaho in 1936, Killebrew was signed by the Washington Senators in 1953 after scout Ossie Bluege saw him wallop a 435-foot home run as a 17-year-old.
But the power-hitting prospect was far from an instant success in the pro ranks. It wasn't until 1959 when he belted 42 homers that he claimed a regular spot in the Senators batting order. The soft-spoken infielder transitioned with the Senators to Minnesota and evolved into one of the top home run hitters of his era. In his 22-year big league career, he belted 40 or more homers in a season eight times, earning at least a share of the American League home run lead in six of those campaigns.
"I remember his power and his home runs," said Mike Vanderwerf, who has been a Twins fan since their inaugural season and owns the No. 8 Current Finest Killebrew Master set.
The 13-time all-star would propel the Twins to their first World Series in 1965 and was named the American League MVP in 1969, when he clubbed 49 homers and knocked in 140 runs – both still franchise records. He spent his final big league season with the Kansas City Royals in 1975.
For his efforts, his No. 3 was retired by the Twins in 1975 and he was elected to the National Baseball Hall of Fame in 1984. Following his retirement, the Twins legend served as an ambassador with the club and mentored many future Twins. He was also one of the most popular autograph guests on the card show circuit.
"He would always talk to the people that came through the lines (at autograph shows)," said Bob Couser, owner of the registry's top Killebrew Basic and Master Sets, who met the Twins legend several times. "Some guys sign and don't even look at you. He would slow things down because he would have a conversation with you. He was just a pleasant guy and a true gentleman."
Mark Kretschmer, who owns the registry's No. 5 Current Finest Basic Set, was similarly impressed when he met Killebrew at an event in Des Moines, Iowa.
"There were literally hundreds of people there and the line was slow. And I remember thinking we were never going to get a chance to meet him because the line was so slow. But he would literally talk to every person in that line," said Kretschmer. "At the time, my son was 12 or 13 and he asked him about his team and where he played his ball. He was just a regular guy."
Vanderwerf still cherishes the evening that he sat with Killebrew at a fundraising dinner in Redding, Calif., in 2002.
"I got lucky and picked the right guy to idolize," he said. "He was one of the nicest guys you would ever want to know. He was a total gentleman in every sense of the word. I can't speak any more highly of Harmon. He was like an uncle to me after about an hour."
The kinship Killebrew developed with his fans explains why so many hobbyists are pursuing his five PSA Set Registry sets: Basic (20 items), Basic & Collectors Issues (92 items), Master (194 items), Basic Topps (20 items) and Master Topps (108 items).
Killebrew's rookie is his most renowned card. Part of the vaunted 1955 Topps set that also includes the Sandy Koufax and Roberto Clemente rookies, Killebrew's inaugural single (#124) boasts a horizontal design.
"There have been a lot of issues with print on the rookie card," said Kretschmer, who points out that the yellow in the background on this card often varies in shade.
Dmitri Young owns the sole PSA GEM-MT 10 Killebrew rookie, but there are 19 PSA MINT 9s. One PSA 9 sold for $8,500 on eBay in August 2010.
Couser says he had a more difficult time tracking down Killebrew's second-year card than the rookie. Frequently found with poor centering, the 1956 Topps card (#164) was printed with a gray back and an extremely rare white back. There has yet to be a PSA 10 example of either version and the highest grade recorded for the white back has been PSA EX 5.
The 1959 Topps single (#515) is also tough to find in flawless form. On top of centering issues, this high number card is also difficult to uncover with a solid red background. Of the 848 submitted, there has yet to be a PSA 10 and there are nine PSA 9s. A PSA 9 sold for $2,516.85 in a Memory Lane auction in December 2009.
Killebrew's short-printed 1963 card (#500) is also highly coveted by collectors.
"That card is not horribly difficult to find," explained Kretschmer. "But there is red and white on that card and the red bleeds through onto the white. That card is also a little more difficult to find centered."
There is also sometimes chipping along the red border at the bottom of this card. Of the 674 submitted, there have been 12 PSA 9s (with nothing grading higher). A PSA 9 garnered $1,413.88 on eBay in November 2008.
Vanderwerf says that one of the most difficult Master Set cards to track down in high grade is Killebrew's 1955 Topps Double Headers card (#111) (that he shares with Johnny Podres #112). When unfolded, these cards measure 2-1/16" by 4-7/8" and showcase player pictures against colorful stadium backgrounds. A second player is featured when the cards are folded the other way. The players share the same lower legs and feet. The player's name, team and position are indicated on the front, while card backs boast biographical information, statistics and card numbers. When placed side-by-side in reverse numerical order, the backgrounds on these cards form a continuous stadium scene.
Originally distributed in one-card, penny packs with gum, these cards were manufactured in much smaller quantities than the regular 1955 Topps singles. Couser points out that there has yet to be a Killebrew/Podres card that has graded above a PSA NM-MT 8. A PSA 8 sold for $1,783.65 in a Memory Lane auction in April 2009.
Killebrew's 1961 Peters Meats Twins Hand-Cut issue (#18) is also one of the most elusive Master Set singles. These oversized cards measure 4-5/8" by 3-1/2" and were printed on thick, heavily waxed cardboard. They're difficult to uncover in flawless form because they were used as packaging. The fronts showcase full color player photos along with the team and company logos and biographical information, while the backs are blank. Cards that still feature the original surrounding cardboard packaging panel generally command a premium, but the cards are most often found with the surrounding panel removed. Just eight have been graded and there's one PSA 9 and two PSA 8s. A PSA VG-EX 4 sold for $313.88 on eBay in April 2009.
Another tough Master Set card is Killebrew's 1967 Topps Punch-Outs issue. This was part of a 91-card test issue that was reportedly distributed in Maryland in cello packs. Measuring 2-1/2" by 4-2/3", these unnumbered cards are printed in black, white and red. The backs flaunt instructions on how to play a baseball game and encourage players to punch out squares on the card. The "Team Captain" is the only player pictured on the card and each captain can found on more than one card. Just three Killebrew cards have been evaluated and they have received PSA 8, PSA 7 and PSA VG-EX 4 grades respectively.
Some hobbyists feel that despite his Hall of Fame career, Killebrew has been overshadowed in the hobby by other stars from his era, but Kretschmer says this is changing.
"Certainly within the past five years or so, his cards have gone up in value," he said.
And that seems fitting for a man who was not only a Hall of Fame player but a Hall of Fame guy.
"You feel fortunate when the guy you picked to be your idol turns out to be as nice a guy as Harmon was," said Vanderwerf. "He'll be missed."
---
Please feel free to contact Kevin Glew at [email protected] if you have any additional information or comments. Bob Couser and Mark Kretschmer provided pictures for this article. Please note that the Population Report figures quoted and Set Registry rankings reported are those as of October 2011.