An ultra-rare 1911-14 Butter Krust card of Honus Wagner graded EX 5 by PSA, a Thurman Munson game-used bat authenticated by PSA/DNA and Tommy John's 1978 World Series jersey headline Collectible Classics' CCA30 auction, which closes Thursday, Dec. 15.
Numerous other cards graded by PSA and bats authenticated by PSA/DNA are being offered by the licensed Pennsylvania auction company, which specializes in "collector-sized" affordable lots. Online at www.auctionscc.com, CCA30 presents 503 lots of sports and non-sports collectibles.
Butter Krust is the rarest of five backs issued by the General Baking Co. of Buffalo. The example being presented by Collectible Classics is the only Wagner in the PSA Population Report, and one of only 25 Butter Krust cards.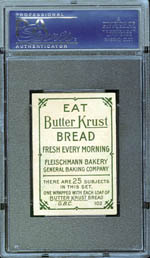 Fifteen other Wagner lots are being offered. Among them is the only know original copy of Wagner's 1916 wedding photo, a vintage fountain pen autograph and a rare 1915 "Baseball Magazine" with a premium of Wagner inside. Other PSA-graded Wagner cards are an NM 7 1906 WG3 Fan Craze, an EX 5 1910 E93 Standard Caramel and an EX-MT 6 1916 M101-5 Sporting News blank-back.
CCA30 features 121 lots from Part 2 of Tommy John's Collection, including three game-used jerseys and the Munson bat. PSA/DNA authenticated the Hillerich & Bradsby S44 bat as game-used. Ten other bats reviewed by PSA/DNA are open for bidding; John obtained these bats directly from the players during 1978-83: A 1950 Tom Henrich Hillerich & Bradsby D29 bat graded GU 8; game-used models representing Johnny Bench, Joe Morgan, Frank Robinson and Willie Stargell; game-ready bats from Hank Aaron, Reggie Jackson and Carl Yastrzemski; and professional model bats from George Brett and Lou Brock.
A home jersey John wore while representing the Los Angeles Dodgers in the 1978 World Series is one of three being offered from his collection. The jersey bears the No. 19 patch the Dodgers wore in honor of Jim Gilliam, who died two days before the series began. The two other game-used jerseys are from the 1969 Chicago White Sox (home) and the 1985 Oakland Athletics (road).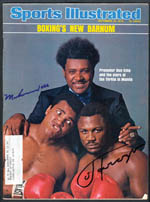 The auction is loaded with other important and interesting collectibles from John's career, which continues to have significant potential to land him in the Hall of Fame. A baseball is autographed by John and twice by Dr. Frank Jobe, who performed the breakthrough surgery that saved the pitcher's career. Orel Hersheiser, another Jobe patient, also signed.
In 1977, pitching for Los Angeles, John made a strong case for Cy Young honors, but finished second in voting by the Baseball Writers Association of America (BBWAA) to Steve Carlton. He settled for the BBWAA "Dodgers Pitcher of the Year" Trophy, which is up for bid.
Several autographed boxing lots in the auction are noteworthy. Muhammad Ali and Joe Frazier autographs are on the cover of a 1975 "Sports Illustrated" issue. Ali also autographed a copy of the 1975 original comic "Superman vs. Muhammad Ali" and an offbeat vintage record album, "The Adventures of Ali and His Gang vs. Mr. Tooth Decay!"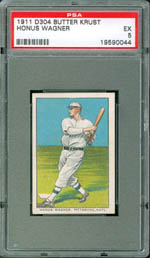 Cards are always a Collectible Classics staple. CCA 30 has 42 lots of graded cards, 13 from the 19th century and 20 more for the pre-war era; and more than 75 lots of "raw" cards ranging from an 1865 Frank Leslie's woodcut print focusing on Jim Creighton and an 1889 Goodwin round album page of Monte Ward to an unopened 1992 Bowman box of 36 baseball packs.
Among the PSA-graded cards are an 1888 WG1 Game Card of Hall of Fame pitcher Pud Galvin graded EX-MT 6; only two Gavlin cards have received this grade, and none is graded higher. Galvin is also the subject of an 1887 N172 Old Judge card, which is graded VG + 3.5. A 1906 WG3 Fan Craze card of Fred Clarke received a graded of MINT 9. These cards are also in the auction: 1895 N300 Mayo's Cut Plug Tom Kinslow, GOOD 2; 1895 N566 Newsboy Cabinet #587 John M Ward, Authentic; 1906 WG3 Fran Craze Victor Willis, NM-MT 8, and 1909-11 T206s of Fred Clarke (Portrait) VG-EX 4, Clarke (Holding Bat) EX 5 and Vic Willis, with a rare Hindu back, GOOD 2. The population report contains no other Willis cards with a Hindu back.
Other PSA-graded cards include 1910 D322 cards of Paddy O'Connor and Ed Abbaticchio, each graded VG-EX ; a 1911 M116 Sporting Life Card of Fred Clarke, with the back printed in blue, NM 7; a 1911 T205 Gold Border card of Clarke, EX-MT 6; a 1913 Voskamp's Coffee card of Solly Hoffman, PR-FR 1; a 1915 Cracker Jack card of Clarke, EX-MT + 6.5; a near set of 31 New York Giants 1955 Golden Stamps, EX 5 to MINT 9 (OC); and 1967 Mickey Mantle and Willie Mays cards, each NM 7. For collectors of more recent cards, the auction has the Babe Ruth 2002 Topps Tribute Milestone Materials card graded MINT 9 and the Mickey Mantle 2007 Topps Sterling Stardom Quad Relic card, #7 of only 10 produced, NM 7.
Besides PSA-graded baseball cards, the auction is offering a 1976 Topps Walter Payton rookie, EX-MT + 6.5, and the 1980 Topps Scoring Leaders card with rookies Larry Bird and Magic Johnson, MINT 9 (OC).
PSA/DNA authenticated the autographs of three of Notre Dame's Four Horsemen of the 1920s: Don Miller, Elmer Layden and Jim Crowley; Red Grange's coach at Illinois, Hall of Famer Robert Zuppke; and Whitey Ford and Willie Mays, Mint 9 signatures, each on official Mint baseballs.
Additional collectibles from the Tommy John Collection are worth noting. The auction presents several mementoes for John's early days in baseball: A 1953 team-signed Little League ball; a team-signed ball from his first pro team, the 1961 Dubuque Packers, and a game-used ball from a 1962 shutout with Jacksonville. Game-used or commemorative baseballs from his major league career are also being offered, including his first win and first shutout with the New York Yankees and his 21st victory in 1979.
Other highlights include his 1977 World Series bat, his 1979 All-Star Game ring, a 1966 Gibson F25 Folksinger acoustic guitar, a 1970s warm-up jacket from Jim Gilliam, a bar and two custom-made bar stools from his home, a game-used Dodgers batting helmet, his 1986 New York Yankees spring training home and road jerseys, and bats commemorating league championships and All-Star Games.
Other items of special interest in the auction include an autographed photo of Judy Resnik, one of the crew members who perished in the 1986 Space Shuttle Challenger disaster; three items autographed by Roberto Clemente; a Forbes Field box seat; two 1910 Orange Borders cards, including one uncataloged; a 1939 New York Yankees vs. Cincinnati Reds World Series pennant; a 1940 Reds "World Champs" pennant; a rare copy of the 1925 sheet music "The Peppy Pirates"; a Pitt Stadium plaque autographed by Tony Dorsett; a Red Grange collection; a Rogers Hornsby signed photo; items autographed by Secretariat owner Penny Tweedy; a vintage Arnold Palmer signed photo; a 1903 Hamilton King Girls near set of "Flag Girls"; a rare magazine with Marilyn Monroe on the cover, a photo autographed by President Lyndon and Lady Bird Johnson, and another signed by President Richard and Pat Nixon.
For a free color catalog, call Collectible Classics at 724-446-3079, or go to www.auctionscc.com, where the auction is online.