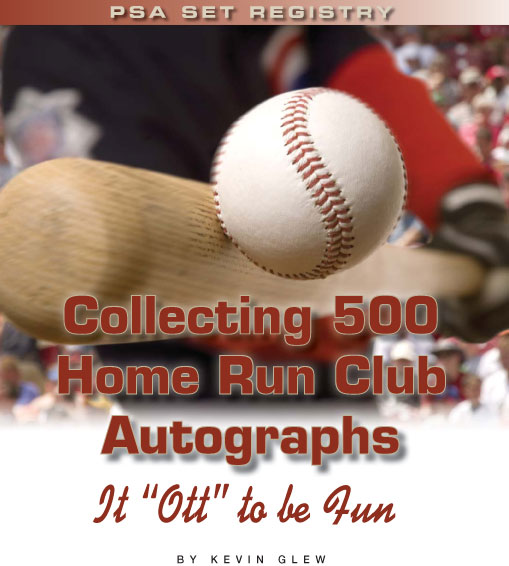 Collectors still dig the long ball.
Yes, despite the steroid allegations swirling around modern sluggers, a devoted group of hobbyists continues to celebrate the Sultans of Swat.
"I think people still like to have autographs of the 500 home run club members," said Ken Harrington, who owns the PSA/DNA Set Registry's fifth-ranked collection of single-signed 500 home run club balls.
The lead PSA/DNA authenticator agrees.
The 500 home run fraternity has grown at a suspiciously high rate in recent years. After boasting just 15 members in baseball's first 120 years, 10 power hitters have taken up membership in the past 11 years. Unfortunately, steroid allegations or admissions of steroid use accompany seven of them (Barry Bonds, Mark McGwire, Sammy Sosa, Rafael Palmeiro, Gary Sheffield, Alex Rodriguez and Manny Ramirez). It's a trend that has soured some collectors.
"With Barry Bonds and McGwire and the steroid allegations, I'm not eager to go and purchase autographed balls of them at this point in time," said Eric Sanders, who owns the PSA registry's No. 9 Current Finest set of single-signed 500 home run club balls.
A large number of collectors seem to agree with Lobbe; the 500 home run club sets on the PSA/DNA Autographs Set Registry continue to be popular. One registry set requires hobbyists to track down a single-signed ball of each of the 25, 500 home run hitters, while another encourages hobbyists to track down an autograph in any medium.
"If you're collecting 500 home run club autographs in any medium, then you're not going to have much of a problem," said a PSA/DNA expert. "Some of the autographs aren't easy, but you can find them, they're just going to cost you."
Generally, the higher the PSA grade of the autograph, the more the signature will sell for.
The Holy Grail 500 home run club autograph is, of course, Babe Ruth. Sure, The Bambino signed thousands of items, but demand for his autograph is unparalleled. In fact, in 2005, a PSA Mint+ 9.5 signed Ruth ball fetched a record $150,000 in a deal brokered by Memory Lane, Inc.
"I don't know whether I'll ever actually own a Babe Ruth autograph, that's a pretty high-ticket item. But you know what? You never know," said Neil Downey, a respected PSA/DNA autograph collector.
Sanders, who owns a PSA GOOD + 2.5 signed Ruth ball, says that Mel Ott and Jimmie Foxx autographed balls are harder to track down than balls signed by The Babe.
PSA/DNA notes that Ott died in 1958 before autograph collecting really took off as a hobby.
"When Mel Ott played in the late 1920s and all throughout his career, the practice of getting a guy like him to sign a ball on the sweet spot wasn't something that was really thought of," he said.
The simplicity and brevity of Ott's autograph also makes it one of the easiest to forge.
"Ott is heavily forged. Most of the stuff I've seen on him is bad," said a PSA/DNA expert.
In August 2002, a single-signed Ott ball sold for $35,186.
PSA/DNA says that Foxx autographs are a little less difficult to find than Ott.
"Foxx tended to sign more on the sweet spot. I see a lot of those from the 1950s and 1960s, because he lived until 1967," said the PSA/DNA authenticator.
A PSA EX-MT+ 6.5 Foxx autographed ball (signed on the sweet spot) from the George S. Hipp collection sold for $30,000 in an Antique Helper sale in October 2005.
Compared to Foxx and Ott, the autographs of modern sluggers are readily available. Once considered a tough autograph, Barry Bonds has signed a lot of items in recent years.
"I believe that at least half of true baseball fans and collectible fans believe Bonds is a total sham, and subsequently don't get his autograph. This lowers the amount that are going to be out on the market," noted Downey. "It's the whole steroid era thing that I think is going to not only tarnish his legacy, but it's going to cause somewhat of a shortage in the autograph market, just due to the fact that many people don't like him."
And despite steroid allegations, the value of PSA-graded, autographed items of 500 home run hitters remains relatively high – proof that collectors do, indeed, still dig the long ball.