Hobbyists can hardly get enough of Joe Jackson pieces
Although Shoeless Joe Jackson may never get enshrined into the National Baseball Hall of Fame, he is a unanimous first ballot choice for many hobbyists in the mythical Cooperstown of Sports Collectibles.
"Jackson is amongst the Top Five most popular players in the hobby," said Donald E. Spence, the collector atop the PSA Master Set Registry for cards of the famous slugger. "His cards are some of the rarest and his mystique all contribute to his immense popularity."
Part of the interest with Shoeless Joe stems from his sensational numbers: he hit .408 in his first full season (1911) and .382 in his final campaign (1920), compiling a .356 career average, the third highest ever. Ty Cobb, with the top lifetime big league average at .366, who played for years against Jackson, called him "the finest hitter in the history of the game." Babe Ruth modeled his swing after Shoeless Joe's, since he thought it was the best.
Things get complicated with the 1919 Black Sox scandal where eight Chicago White Sox, including Jackson, reportedly conspired to throw that year's World Series against the Cincinnati Reds, or at least knew about the scheme and did not report it. The Sox lost that matchup.
When persistent "fix" rumors of the 1919 Series fueled a grand jury investigation about the matter, White Sox owner Charles Comiskey suspended the Black Sox players near the end of the 1920 regular season. Even when the athletes were acquitted in 1921, Judge Kenesaw Mountain Landis, the first Commissioner in Major League Baseball history, permanently banned all eight Black Sox members from the big leagues—just to show he was serious about deterring gambling.
True, Jackson had the highest 1919 Series average (.375) of anyone with several at-bats and he hit the only homer in that Fall Classic, but supposedly his defensive play in the outfield, at times, in the series was in question and he admitted to accepting $5,000 in the scheme.
"I am attracted to players who have tragic stories: Josh Gibson, Ray Chapman, Joe Jackson... ," said Steven Greenes, #4 on the Master Set Registry for Shoeless Joe collectors. "Jackson was on top of the world and didn't play it right. He was not highly educated and got caught up with the wrong crowd," said Greenes. "He still took the Black Sox money, but I am fascinated with his mystique."
"There is something that pulls on your heartstrings more than others with Jackson," said Benjamin Milch, of the vintage sports card site WhereTheyAint.com. "With a Jackson card, someone feels connected to the player, connected to the story," said Milch.
Starting Off
An early Jackson comes from the 1909-11 American Caramel E90-1 issue. Spence has one of the two PSA 8 NM-MT E90-1s, with none graded higher. The next solid grade this Jackson card shows up at the PSA EX 5 level, with only three. Of the nearly 60 Jacksons from this issue in PSA holders, about 90% are VG+ at best.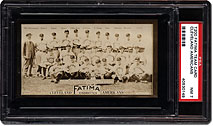 Many consider the American Caramel E90-1 of Jackson to be his only rookie card, but Greenes suggested another possibility. "I have a Greenville Boy postcard of Jackson on the Greenville Spinners from 1908," said Greenes. "He came up in 1908 for a few games with the Philadelphia Athletics, so this just might be the earliest Jackson card."
At the bottom of the image, it does say "now with Philadelphia." The hitter did play a handful of games for Connie Mack's Athletics starting in 1908 and he did the same in 1909, with minor league action also a part of the scenario both times. But Philadelphia did not seem to be a good fit for Jackson, so Mack traded him to Cleveland in 1910. Maybe it's safer to call the Greenville Boy postcard "circa 1908" to bring it more into the rookie card discussion.
"That's an interesting card," said Rob Lifson, owner of Robert Edward Auctions, of the E90-1 for the South Carolina native. "It's incredibly rare and since it was not issued with a product, it is a postcard, some dismiss it as not being a regular card," said Lifson. "I consider it a rookie card."
In REA's Spring 2011 auction, a rare PSA VG+ 3.5 1910 T210 Old Mill Jackson, with him on a New Orleans minor league team, sold for $199,750 with the buyer's premium. "That's a record price for the card," said Lifson. "It's one of the all-time great cards and now it's taking its place among the top cards."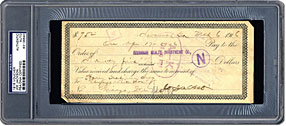 In that same auction, an autographed Jackson piece also attracted much interest. The 1916 document, slabbed PSA/DNA Certified Authentic, was a mortgage payment voucher made by the White Sox for Jackson, realized a price of $64,625. "That was an exciting piece to have," said Lifson.
While virtually every Jackson card is hard to find, his 1913 pasteboards from the National Game as well as the Tom Barker Game issues might be a hobbyist's best chance at getting a collectible of the superstar in nice condition. "Those are both great sets, basically interchangeable, high quality, good photos and relatively affordable," said Lifson. PSA NM 7s of these "Game" cards often sell for around $1,500 to $2,000.
The 1913 Fatima T-200 team card of Jackson with Cleveland is the key to this issue. "It sells for a premium because it has Joe Jackson on the card, not a fortune, like a stand-alone Jackson," said Lifson, "but still for a premium." The SMR PSA 7 price: $6,500.
Root, Root, Root For the Home Team
In 1914, the well-known baseball song "Take Me Out to the Ball Game," was only a few years old, but one of its famous lines "Buy me some peanuts and Cracker Jack" took on an extra special meaning for sports card hobbyists since some Cracker Jack boxes, containing popcorn and peanuts coated with caramel, included baseball cards that were tossed in "raw." And, although Crack Jack had been around since the 1890s, only in 1912 did they first include prizes in boxes of the sticky goodness.
Presently, less than two dozen 1914 Jacksons from the set have been slabbed by PSA, with single samples in PSA EX-MT 6, 7 and 8 as the highest grades "The 1914s were only available in boxes of Cracker Jack," said Spence.
Dr. Steven Soloway, #2 on the Jackson Set Registry, gravitated toward the 1914 Cracker Jack collection for several reasons. "It's the era, it's the set, how the cards were obtained," said Soloway. "It's such a significant supply and demand issue."
Samples from the next Cracker Jack collection are easier to come by since you could order them as a set. Still, less than 100 Jacksons via the issue are in PSA holders. Some 1915 Cracker Jack Shoeless Joes, of which there are no GEM-MT 10s, break down as such: a pair of Mint 9s, nineteen 8s and about a dozen each of 7s and 6s. In 2006, a PSA 8 1915 of Jackson from the snack set sold for some $51,500.
"The Cracker Jack cards of Jackson are always going to be popular," said Lifson. Apparently, Cleveland lost some affection for the outfielder in 1915 as they traded him to the White Sox that August.
A few additional Jackson cards appeared on occasion in the era, (1912 Colgan's Chips Tin Tops; 1916 Globe Clothing Store; 1916 Sporting News, among others), but some of his final pasteboards of the period include the W514 "strip" cards from 1919-1921 and the 1921 Holsum Bread issue, with just one encapsulated by PSA at this time.
Jackson also showed up in the black-and-white 1940 Play Ball issue. That action shot, of him taking a cut at a pitch (#225), has landed in PSA holders about 250 times, only behind the set-starter Joe DiMaggio and the Ted Williams card in the offering's Pop Report.
Jackson was one of just a handful of big-name prior generation greats that nicely accented the 1940 Play Ball issue, along with Napoleon Lajoie, Christy Mathewson and Honus Wagner, among a few more stars.
The highest graded 1940 Play Ball Jackson is a PSA 8 with 15 at that level. SMR lists PSA 8s of the slugger from that set at $7,000; PSA 7s are about twice as plentiful and half the price.
Steve Falletti has owned a PSA VG-EX 4 1940 Play Ball Jackson for a few years and the enthusiast said, "I just had to have that card." Falletti has several Black Sox items and said he likes them for "their substance, they are quite the cast of characters."
The Hall May Say No, But Collectors Say "It's So" To Joe
Should the slugger be in the Hall of Fame? Wherever a hobbyist and/or baseball historian falls on the Jackson/Black Sox involvement/HOF eligibility issues, one thing rings true: the sky appeared to be the limit on Shoeless Joe's ability and, in the coming years, the same can be said for his cards and other memorabilia of the player who some say received his nickname after playing a minor league game in his socks because some new cleats gave him blisters.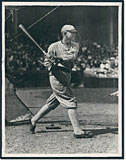 "Ten years from now, the Jackson cards will be immensely popular," said Spence. "The ones purchased in the last couple of years are worth a lot more than when they were purchased ten years before."
Like a Shoeless Joe jolt in the gap, Soloway crisply summed up the legendary player's pasteboards this way: "Collecting Joe Jackson cards is collecting immortal history, at a discounted price."
"Yer Outta Here !"
Joining Jackson on the Black Sox roster, some might say lineup, as in police lineup, is a more appropriate term: pitchers Eddie Cicotte and Claude "Lefty" Williams, first baseman Chick Gandil, shortstop Swede Risberg, third baseman Buck Weaver, outfielder Happy Felsch and utility infielder Fred McMullin.
Those are the "Eight Men Out" that many fans have heard of, but another little-known big leaguer at the time, St. Louis Browns second baseman Joe Gedeon, is sometimes referred to as "The 9th member of the Black Sox."
Gedeon, who learned about the scheme to throw the 1919 World Series from his friend Black Sox shortstop Risberg, bet on the Reds in the series and, in 1921, was also banned from the bigs by Judge Landis for his knowledge of the scandal.