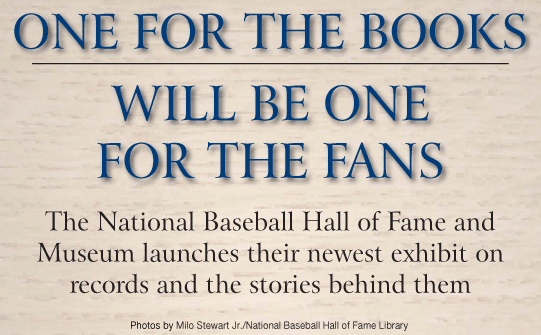 While numbers, statistics and records are intriguing elements in every sport, when it comes to baseball, they take on a far greater meaning. They carry with them an almost mythical aura that commands awe, reverence and respect. They have sparked never-ending arguments, conjured up questions and wonderments that can never be answered or solved, and served as inspiration for those who have set out to challenge them. They are milestones that don't just document the accomplishments of a player or a team, but also serve as numeric monuments that memorialize those moments for those who bore witness to greatness. They are the tangible measure of our heroes – the chronicling of treasured times that lovers of the game passionately hold in their hearts, and delight in passing on as stories to their children and grandchildren.
It is that passion for the records of Major League Baseball that served as the impetus for the National Baseball of Hall Fame and Museum in Cooperstown, NY to establish their newest exhibit: One for the Books: Baseball Records and the Stories Behind Them, that will officially open to the public on Memorial Day weekend.
This highly interactive $1.25 million exhibit, which will replace the Gallery of Records, will join the Chasing the Dream exhibit in the Hank Aaron Gallery, and be the most technologically advanced permanent exhibit in the museum's 71 year history.
Presented in 1,537-square feet of exhibit space, One for the Books: Baseball Records and the Stories Behind Them will include multi-media sections focusing on batting, pitching, fielding, base running and team records. In addition, to over 200 historical artifacts that will relate to various records, the exhibit will also include in-case motion picture presentations, interactive trivia stations and the Digital Top 10 Tower – a presentation of every imaginable baseball record ever posted.
"Records hold an extremely important place in the hearts and minds of baseball fans," said Brad Horn who serves as the hall's senior director for communications and education. "Cy Young's 511 wins, Joe DiMaggio's 56-game hitting streak, Nolan Ryan's seven no-hitters, Rickey Henderson's 1,406 career stolen bases – One for the Books will explore the stories behind those and so many other records."
Among the magnificent artifacts that will be presented in this extraordinary exhibit will be the batting helmet worn by Cal Ripken, Jr. on September 6, 1995 when he broke Lou Gehrig's mark of 2,130 straight games played; the seven caps Nolan Ryan wore during his perfect games, and the bat Ken Griffey, Jr. used in 1993 during his eight-game home run streak.
As the final touches were being put on the One for the Books exhibit, "Sports Market Report" caught up with Brad Horn at his Cooperstown office to get a better understanding of how the exhibit was conceptualized and brought to fruition.
Horn, a native of Houston, Texas grew up as a passionate lover of the game of baseball. A fan of both the Astros and the Texas Rangers, Horn's first job was as an intern in the Rangers ticket office. Parlaying that internship into a fulltime position, he served as the team's assistant public relations director for three years. Stepping out of baseball to work in auto racing for a brief time, 2002 saw Horn reunited with his first love as he was brought on board with the National Baseball Hall of Fame and Museum as their director of public relations, a position he held until 2008, when he took on his current title in which he heads up the hall's outreach and educational efforts.
We began our conversation with Horn by asking why he believes records are so revered by baseball fans?
Brad Horn (BH): I believe it has a lot to do with the fact that the game is so intergenerational. Records mean many different things to different fans depending on their age. Records also hold a special place in the heart's of fans because of what part of the country they grew up in, the teams they followed and the players they loved. "The One for the Books" exhibit will take visitors inside those numbers to show what they mean – what point of reference they have from generation to generation – and the stories behind the records. It will show why these numbers are so important, and what impact they have had on the game and its storied history. Those records will also come alive through great artifacts that will document the legendary records baseball fans are all familiar with, as well as the ones that are more obscure.
Sports Market Report (SMR): Will the exhibit be a comprehensive look at the game's records, from the beginning?
BH: We will go back to look at a wide variety of records, from every era. Visitors will have a look at players such as Cap Anson, who was the very first member of the 3,000 Hit Club. He played in the 1880s and his hit total remained unsurpassed until 1914. At the opposite end of the spectrum, we'll take a look at a player like Ichiro Suzuki and describe his 2004 season, when he collected a record 262 hits. Our curators will show how it compares to George Sisler's mark of 257 hits from 1920, a record that stood for 84 years before it fell. We'll of course look at Babe Ruth and Hank Aaron and their multitude of records that everyone is familiar with, on to achievements such as Maury Wills playing 165 games in a season. That will be one of those oddities of the game that people will look at and scratch their heads and wonder how in the world that happened. Visitors will learn who has the record for the most runs batted in a game. That is a record even most diehard baseball aficionados would be hard pressed to come up with the answer to. So, we will go from the records that everyone knows – Cy Young's 511 wins, Joe DiMaggio's
56-game hitting streak, the New York Yankees 27 World Championships – on through to the obscure records that will be both fun and educational for fans to interpret and experience.
SMR: Brad, can you share with our readers how a new exhibit like this comes about?
BH: Every exhibit we do is unique, and the process to bringing a new exhibit to fruition is the result of many years of thought and planning. What transpires within the museum's curatorial staff in conceptualizing a new exhibit really stems from opportunities of stories that could be enhanced from their current presentation or what major voids exist in the presentation of baseball history. We have a finite amount of space, so our museum staff constantly analyzes artifacts and what exhibits can be created within the existing construct on the building to enhance certain topics and further delve into material that will be of interest to baseball fans of every generation. That is how the baseball record concept first came on the map.
SMR: You mentioned that many years of planning go into an exhibit. How long has One for the Books been in the works?
BH: For this specific exhibit, discussions began about six years ago. Once the exhibit plan is decided, an 18-month turnaround process ensues, from budget to design concept to creation and construction, to the selection of items, installation and opening.
SMR: Pulling something like this together has to be a daunting task being as that you are dealing with thousands upon thousands of records and stats.
BH: This was a huge undertaking being as so many records are covered through about 200 objects. It is also important for fans to know that, for us, the exhibit has never been about just presenting records and numbers. It's about getting inside the meanings of those records and helping fans to better understand what they mean, and why numbers are celebrated in baseball more so than in any other sport. The numbers in baseball truly matter in terms of the reverence fans have for them – 511, .406 or 755. Those numbers have immediate meaning to true baseball fans who as soon as they hear those numbers think – Cy Young, Ted Williams and Hank Aaron.
SMR: You mentioned that along with the records every fan knows, you will also be highlighting some obscure records. Can you give us an example of some of those?
BH: This exhibit is not just about home runs, or wins, or strikeouts – it has been thoughtfully designed to give visitors a comprehensive look at many different numbers that have played into the history of the game.
SMR: Baseball fans really do have an emotional tie to numbers and records don't they.
BH: Yes, more so than any other fans. Numbers are an obsession with baseball fans. We all know fans that study and dissect and argue the stats and numbers, and of course, fans make comparisons, by era, by ballparks, you name it. It is that magnitude of emotion that records have on the psyche of baseball fans has been what has driven this exhibit – what it has been built on. It will prove to be an extremely important component of the knowledgeable fan's experience, as well as being an educational experience for new fans – providing them with the opportunity to learn more about the history of baseball. With the presentation of this exhibit, we are looking to both educate new fans, and facilitate the continuation of the conversation for those who study and dissect and argue records and number. We want fans to leave Cooperstown after experiencing this exhibit with a stronger sense of the greatness associated with the numbers that are such a vital part of the history of the game.
SMR: It's clear that the historic preservation and educational component has been the passion that has fueled this exhibit.
BH: Absolutely. The reason why baseball history is so celebrated is that it is handed down from generation to generation. Our focus, everyday, is to educate people either on site or through our outreach channels about the Hall of Fame and baseball history. I believe this exhibit does that for the younger generation, for those who didn't grow up in the golden era of baseball, or with baseball cards as a part of their daily routine. This exhibit will introduce them to numbers that will have a profound impact in aiding their understanding of the game and its history. They will learn about some of the sacred records – like Joe DiMaggio's 56 game hitting streak. There are some great life lessons to be learned in that number – what it means in terms of being that focused and consistent, and that successful at the plate, day after day. It also shines a light on how eras of the game have been very different, and provokes us to ask questions and seek answers about those different eras. Was Roy Halladay as good as Cy Young? What does 511 wins really mean? When you think about that number, you have to think it would be impossible to imagine someone ever attaining that number again because of the way the game is played today. It asks the question: Was Cy Young that much better than a 300 game winner like Greg Maddux? Who knows? This exhibit will explore comparisons like that and, as I mentioned before, serve as an impetus to continue the dialog and conversation about what baseball statics and numbers and records show us.
SMR: Can you shed some light on how the various artifacts that will be displayed were chosen.
BH: We have the benefit of having a great collection that features more than 38,000 three-dimensional items. So our collection's breadth and depth is really splendid. There are very few baseball records that have been achieved that we would not have some sort of physical, three-dimensional item of representation. So, it was never about going out and looking for these treasures, it was looking within – looking for objects that would help us tell a story that spotlights the most important records, and to bring to light some records that may not be known. We feel it is an exhibit that will attract fans who have visited us in the past to come back to Cooperstown, as well as to bring in visitors who have never been here before. We think fans will enjoy the artifacts and the interactive features that will be a part of this exhibit.
SMR: Can you tell us more about the interactive components?
BH: The exhibit will include a "Top Ten Tower," which will be our new digital presentation of what used to be a static list of posted numbers. It will be one of our most important elements of the exhibit. For many years visitors to the Hall of Fame had the opportunity to see a static one-dimensional list that displayed player's career numbers and active player's current statistics. Those current numbers were manually updated every week so that visitors could view active and career leaders in various categories – doubles, triples, home runs, runs scored, and so forth.
Visitors would find great education in seeing a statistical category aligned to a player's name they did not recognize. Now, by going digital, visitors will be able to see updated numbers, video highlights, interactive elements and more associated with these revered categories.
SMR: There is also another unique way in which fans can interact with this exhibit – by helping it became a reality. Can you explain how fans can really become a part of this new exhibit?
BH: From the onset of "One for the Books," we realized that the subject matter of this exhibit truly resonates with baseball fans. That is why, for the first time, we are allowing fans the opportunity to participate in the exhibit through a capital fundraising campaign. This will allow fans to make a gift on whatever level they are comfortable with that honors someone, or that is made perhaps in honor of their favorite record or player. If a fan has a specific record that stands out in their mind, they may choose to give $10 or $100 or $1,000 dollars in honor of the exhibiting of the artifacts pertaining to that record. Donors of a certain level will be recognized in the exhibit and other materials. Donations of $2,500 or more will be recognized on the exhibit credit panel in the museum. Donations of $50 or more will be listed in the exhibit, and donations of $10 or more will be listed on our website. This gives fans a way to personally connect with the exhibit – for their names to be a part of baseball history. I understand that as a huge fan of the game myself. I made a donation to the exhibit creation in the name of my late grandmother. She was a wonderful fan of the game, and her passion for the game was instrumental in my love for the sport. That sharing of emotion and passing the torch from generation to generation is so much of what this exhibit is about. It is an exhibit that will touch the hearts and the emotions of fans of every age who know that baseball is made up of moments – moments you were there for, or moments that you can't believe happened. It's about where you were in your life in regards to a certain record. Where you there in person? Were you listening on the radio or watching on television? Did you have a father or grandfather who told you about that record unfolding? Baseball time stamps moments in our lives.
SMR: How can fans get involved with this program?
BH: We have a great URL set up – www.1forthebooks.com – or they can go to our Web site –www.baseballhall.org where they will easily find information as to how they can make a gift to the exhibit and all the different levels in which individuals will be recognized.
SMR: Brad, PSA and PSA/DNA is very proud to have established a great working relationship with the National Baseball Hall of Fame and Museum. How has that relationship benefited the hall and those who visit?
BH: The Hall of Fame and PSA and PSA/DNA have similar passions. We also have similar audiences – those who value the preservation of baseball history and the objects and artifacts that are associated with that history. We see the fans that collect cards and who have their own memorabilia collections come to Cooperstown with a tremendous respect for the preservation component of what we do. They have a passion and a love for the items they have collected, and for the priceless artifacts that are in our collection. I think what it comes down to is that it is all about the inner child in all of us who have a passion for baseball. It doesn't matter our age, or what our financial ability is to participate as collectors. It is about our collective connection to loving the game and its history. Our relationship with PSA and PSA/DNA has helped us give the fans the opportunity to connect with that love and passion. There is a great synergy between those who visit the Hall of Fame and those who collect and use the services of PSA and PSA/DNA. I think we serve a common audience very well.
---
The National Baseball Hall of Fame and Museum is open seven days a week year round, with the exception of Thanksgiving, Christmas and New Year's Day. The Museum observes regular hours of 9 a.m. until 5 p.m. EST from Labor Day until Memorial Day Weekend. From Memorial Day through the day before Labor Day, the Museum is open from 9 a.m. until 9 p.m. EST seven days a week. Ticket prices are $19.50 for adults (13 and over), $12 for seniors (65 and over) and for those holding current memberships in the VFW, Disabled American Veterans, American Legion and other recognized veterans organizations, and $7 for juniors (ages seven to12). Members are always admitted free of charge and there is no charge for children six years of age or younger. For more information, visit the Hall of Fame's official Web site at www.baseballhall.org or call (888) 425-5633 or (607) 547-7200.