Completing a high-grade, 1958 Topps Football set is kind of like trying to tackle Jim Brown. It requires grit, determination and being in the right place at the right time.
This 132-card issue, which features the legendary running back's rookie card, has proven to be a challenge for collectors to assemble in pristine condition.
"The biggest challenge is not to find the stars, but to find the commons," noted Paul Lemm, owner of the No. 7 Current Finest set on the PSA Set Registry.
Just 18,482, 1958 Topps Football cards have been submitted to PSA, a low number compared to the 31,761 and 30,027 sent in for the 1957 and 1959 Topps pigskin offerings respectively.
Similar to the 1959 Topps Baseball cards, the fronts of these pasteboards boast a player photo inside an oval surrounded by a color background. The player's name, position and team can be found along the bottom. The distinctive red card backs flaunt the card number, statistics, biographical information and a scratch-off "Football Fun" question.
These cards were distributed in one-cent packs, five-cent packs and cello packs. A January 30, 2006 Antiques Roadshow episode featured a woman that salvaged 312, cello packs from her father's grocery store. In October 2007, Heritage Auction Galleries sold a lot of 60 PSA-graded cello packs from this find for $14,340. Later, in April 2009, Heritage sold another 47 PSA-graded packs for $22,705.
But despite this influx of 1958 Topps Football cards hitting the market, the collectors interviewed for this article haven't noticed a spike in the number of high-grade examples.
"You can have a brand new pack of 1958 Topps football and you can pull out PSA 6s," noted Lemm.
The 132 cards in this issue were printed on a sheet that boasted 12 rows of 11 cards. An uncut sheet sold for $4,443.75 at auction in November 2009. You can also view a sheet on Mike Thomas's Vintage Football Card Gallery website www.footballgallery.com
One card in the registry set that doesn't appear on the sheet is a mail-in felt initial card. Randomly inserted in 1958 Topps Football packs, this card showcases a drawing of a boy with an "L" on his red shirt, beside a girl with an "A" on her blue shirt. Kids were encouraged to send the card in, along with three wrappers and a self-addressed stamped envelope, to receive a four-inch felt initial of their choice. Like most promotional cards, however, collectors that didn't redeem these singles often threw them out.
Low Pop Commons
Card
No. of Submissions PSA 8 or better*
Position on Sheet
#39 Dick Stanfel
17
11th row, first card on left
#75 John Henry Johnson
20
4th row, last card on right
#99 Larry Strickland
21
6th row, last card on right
#100 Matt Hazeltine
21
6th row, first card on left
"It's like the 1955 Bowman Baseball set, when you're a kid and you collected that set, if you got an umpire, you threw it away," explained Craig Froehlich, who owns the registry's No. 3 Current Finest set. "The same holds true for the initial cards. Kids either sent the cards in or threw them away."
Mick Daly, who has assembled the registry's No. 6 Current Finest set, expresses similar sentiments.
"I've been able to get every single card in PSA NM-MT 8 or higher, except the felt card," he said. "I have a PSA NM 7 of that card."
It's not surprising then that the felt initial card is the registry set's most elusive single in PSA 8 grade or higher. Of the 80 submitted, there have been just six PSA 8s and one PSA NM-MT+ 8.5. The sole PSA 8.5 fetched $1,131.53 in a Mile High Card Co. auction in June 2010.
But the set's most coveted card is, of course, the Jim Brown rookie (#62).
"The Jim Brown is a hard card to find with nice focus," noted Froehlich.
Poor centering and chipping on the red borders on the card back also often hamper the Brown card. Of the 1,643 submitted, there have been five PSA MINT 9s and 175 PSA 8s. A PSA 8 fetched $2,050.55 on eBay in November 2010.
Sonny Jurgensen (#90) is another Hall of Famer whose rookie card is in this set. Of the 613 Jurgensen singles evaluated, there have been eight PSA 9s and 118 PSA 8s. A PSA 9 sold for $2,973.93 in a Memory Lane auction in April 2009.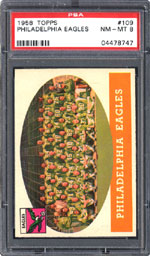 Other rookies in this set include Gene Filipski (#1), Milt Plum (#5), Jon Arnett (#20) and Willie Galimore (#114). A number of Hall of Famers are also part of this offering, including Bobby Layne (#2), Bart Starr (#66) and Johnny Unitas (#22). The 1958 season ended with what's become known as the "Greatest Game Ever Played" when Unitas led the Baltimore Colts to a thrilling sudden death overtime victory versus the New York Giants.
"The Unitas is a very tough card to find centered," said Lemm.
Of the 536 Unitas singles submitted, there have been five PSA 9s and 47 PSA 8s. A PSA 9 fetched $6,600 in a Legendary Auctions sale in May 2009.
But as Lemm pointed out earlier, some of the common cards in this set are the most difficult to track down in flawless form. It's interesting to note that the six cards (outside of the felt initial card) most elusive in PSA 8 or better grade are all located on the outer edges of the 1958 Topps Football sheet. The outside edge positions generally make cards vulnerable to miscuts and various other condition woes (See accompanying chart).
With just 72 submissions, the Dick Stanfel (#39) card is the lowest population card in the set. A PSA 8 example sold for $282 on eBay in July 2010.
"It's a centering issue with that card," offered Lemm.
The John Henry Johnson single (#75) has the second lowest number of examples deemed PSA 8 or better.
"The photo on the John Henry Johnson card is out of focus," noted Lemm.
The Ted Marchibroda card (#44) – also one of the most difficult singles to uncover in PSA 8 or better – was the last card that Daly needed to complete his set. He has been on eBay since 1997 and had scoured card shows for this single without any luck until this past summer.
"I had a saved search on eBay for the Marchibroda and it came through one afternoon. I think the guy had as a Buy It Now for $195. There was no question I was going to buy it. I grabbed it instantly," said Daly of the PSA 8 Marchibroda he now owns.
Both Lemm and Froehlich say the Philadelphia Eagles card (#109) is the toughest team card to find in flawless form. The PSA Population Report reveals that this card, which also located on the outer edge of the sheet (fifth row, first card on the left), has been submitted the fewest number of times of any team card. Of the 81 sent in, there have been two PSA 9s and 25 PSA 8s. A PSA 8 sold for $150.50 on eBay in May 2010.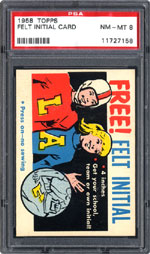 On his website, www.footballcardgallery.com, Thomas notes that two cards in this set showcase photos of the wrong player. The R.C. Owens card (#64) pictures Don Owens, while the Jim Podoley card (#121) features a photo of Volney Peters.
Print defects also often plague the 1958 Topps Football cards.
"One of the common condition issues is the presence of fisheyes and the photos being out of focus," said Froehlich.
The scratch-off area and red borders on the card backs can also be problematic.
"The red borders can chip pretty easily," said Lemm.
The relative dearth of high-grade examples, combined with its solid player selection, could make the 1958 Topps Football set a solid investment for collectors.
"My guess is that in the near future, you'll see the 1958 set rise in value because most people want high quality sets and there are not a lot of high quality sets to go around," said Froehlich. "Sooner or later, the values of vintage football sets are definitely going to increase."
Daly agrees.
"I really do think this set is a solid investment," he said.
---
Please contact Kevin Glew at [email protected] if you have any additional information or comments. Craig Froehlich, Mick Daly and Legendary Auctions provided pictures for this article. Please note that the Population Report figures quoted and Set Registry rankings reported are those as of press time.