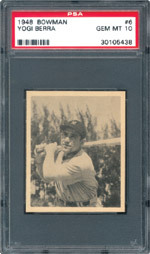 As Yogi Berra once said, "You can observe a lot just by watching."
And if you've monitored bidding on vintage cards, you'll notice that 1948 Bowman singles generally fetch less than their 1948-49 Leaf counterparts.
Steve Kesterson, owner of the registry's No. 12, 1948 Bowman set, says hobbyists prefer the color on the Leaf cards to the black and white Bowman pasteboards. Scarcity and player selection are also factors.
"The fact that the Bowman set doesn't have Joe DiMaggio and Ted Williams hurts it," noted Kesterson.
The 1948-49 Leaf offering also boasts highly coveted short prints of Satchel Paige and Bob Feller and sought-after singles of Jackie Robinson and Larry Doby. But several Hall of Famers – including Stan Musial, Warren Spahn, Phil Rizzuto and Ralph Kiner – are in both sets. The Bowman set also contains the only Berra rookie.
And if you're looking for a small, less expensive alternative to the skip-numbered Leaf series, the Bowman set might be just what you're looking for.
"The Leaf is more popular because of the color," noted Levi Bleam, owner of 707 Sportscards in Plumsteadville, Pa., "but I don't think the 1948 Bowman set is unpopular by any stretch of the imagination. It's very attainable and that makes it very popular."
J.P. Cohen, owner of Memory Lane Inc. in Tustin, Calif., agrees.
"First of all, you've got a tremendous amount of rookies in the '48 Bowman set," he said. "Secondly, if you're a guy who wants something that's relatively easy to complete, it's not a 200, 300 or 400-card set."
The first major post-war release, the 1948 Bowman offering was also the Philadelphia-based company's first foray into baseball cards.
"The set always intrigued me because it kicked off the modern era of card collecting," said Kesterson.
Measuring 2-1/16" by 2-1/2", the 48 cards in the 1948 Bowman set are smaller than today's standard-sized singles. The fronts showcase black and white player photos, while the backs exhibit the player's name, card number and biographical information.
"There was good information on the back of the cards. It gave a nice narrative, and if they had a nickname, they would put that in there," said Ron Hobbs, who owns the registry's No. 9 Current Finest set.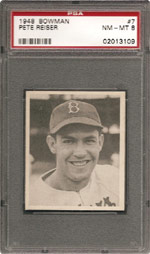 An advertisement for "Blony Bubble Gum" is also included on the backs. According to Mark Murphy's The World's Best Unopened Pack, Wrapper & Display Box Guide, these cards were issued in one-card, one-cent packs. There are reports that gum didn't appear in Bowman baseball packs until 1949, but the pack specialists contacted for this article couldn't confirm this.
The 1948 Bowman pasteboards were printed on two, 36-card sheets. The first sheet contained cards #1 to 36, while the second boasted 24 of the same cards, but replaced 12 cards with the high-number series singles (#37 to 48). The 12 cards removed from the second sheet – Pete Reiser (#7), Phil Rizzuto (#8), Willard Marshall (#13), Jack Lohrke (#16), Buddy Kerr (#20), Floyd Bevens (#22), Dutch Leonard (#24), Frank Shea (#26), Emil Verban (#28), Joe Page (#29), Whitey Lockman (#30) and Sheldon Jones (#34) – have been deemed short prints. These cards generally fetch more than the regular cards.
The high-number cards (#37 to 48) also tend to fetch a premium, says Kesterson. In his experience, some of the high-number cards are tougher to track down than the short prints.
"I'm really surprised that the entire high-number series isn't listed as short prints," he said.
Of the set's 48 cards, 24 are players from the New York Giants or New York Yankees. Curiously, six teams – the Boston Red Sox, Detroit Tigers, St. Louis Browns, Washington Senators, Chicago White Sox and Chicago Cubs – are not represented at all.
The Musial rookie (#36) is arguably the top card in the set. Bob Schrum Jr., a Stan the Man collector, says the 1948 Bowman Musial is more popular than the Leaf rookie.
"I think the Bowman is more popular because it is more available in grades that the average collector can find," explained Schrum Jr.
The veteran collector adds that, due to centering issues and discoloration, the Musial can be elusive in top grade. An uncut 1948 Bowman sheet reveals that the Musial is on the right edge of the sheet, a position that leaves it vulnerable to miscuts and excess wear.
Of the 882 submitted, there has been one PSA GEM-MT 10 and 15 PSA MINT 9s. A PSA MINT 9 sold for $13,364.50 at auction in December 2007.
The Berra rookie (#6) is also highly coveted. The only PSA 10 GEM MT example fetched $33,582.60 at auction in August 2006.
"The Berra is definitely a centerpiece of this set," said Cohen.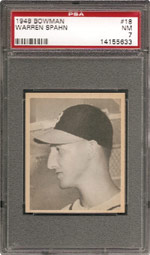 Bleam concurs.
"Nowadays, I think Berra has passed Musial in popularity," he said..
Another coveted card is the Warren Spahn rookie (#18).
"I see a lot of Spahn rookies that have really nice edges, really nice corners, but the centering just doesn't seem to be there," said Kesterson.
Cohen has noticed the same condition woes.
"Spahn is tough. The centering is usually off left-to-right," he said.
Like Musial, the Spahn is located on the far right edge of the sheet, making it susceptible to miscuts and wear. Of the 585 evaluated, there have been seven PSA MINT 9s – one sold for $5,810.95 in an auction in August 2006.
Red Schoendienst (#38) is arguably the most difficult rookie to find in flawless form. A tough high-number, this card also suffers from centering woes, says Hobbs.
"One rookie that it seems is getting tougher and tougher is the Schoendienst (#38). I passed on a couple of PSA 8s early on when I started putting this set together and they went in the $600 to $700 range. All of a sudden, now PSA 7s go in the $400 range. And the last time I saw a PSA 8 go, it went for $1,100 and something. That card has really taken off," added Kesterson.
Bleam has witnessed the same trend.
"The Schoendienst is tough to find in high-grade and it's popular in low-grade and collector grade," he said.
Just three Schoendiensts have been deemed PSA MINT 9s, with no examples grading higher. One of the PSA 9s fetched $6,852.57 in a Mile High Card Company auction in June 2006.
As is generally the case with vintage sets, the first (Bob Elliott) and last card (Dave Koslo) are elusive in top condition. There are just six and eight PSA MINT 9 examples of each respectively.
"The first and last cards always have a premium because of the rubber band marks," noted Hobbs.
Mark Haviland, who owns the registry's No. 13 set, says that Clint Hartung (#37) was also difficult to track down. A few years ago, when he was looking for a PSA NM-MT 8 copy, hobbyists were paying as much as $2,500 for this card. He waited it out and ended up picking up one for between $500 and $600. Just four Hartung singles have graded PSA MINT 9 or higher.
With just three PSA MINT 9 examples, the Bobby Thomson rookie (#47) is also highly coveted. A PSA 9 copy sold for $2,187.30 in a Memory Lane auction in August 2005.
"Thomson has always been a tough card," said Cohen. "That's a high number. That was the last card that most of the set builders would need to finish their sets."
With just two copies grading PSA MINT 9 or higher, Walker Cooper (#9) and Jack Lohrke (#16) boast the lowest number of high-grade examples.
"Centering is usually a major condition issue with cards from this set. I usually find a lot of cards off-center, and sharp corners on a '48 Bowman card are really hard to find," said Cohen.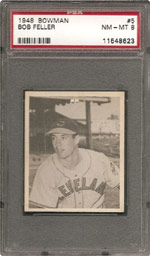 Aside from poor centering, discoloration is another common condition flaw. Kesterson says these cards tend to develop a yellow tint over time.
"A lot of the cards are kind of hard to find with that nice white color to them," he said.
Because these were issued in one-card packs, wax stains are also prevalent.
With all of this information in mind, you could call this set – to paraphrase Berra – one with "deep depth." But are these cards underpriced compared to the 1948-49 Leaf set? Kesterson believes so.
"I think most of the rookies in the set are really undervalued," he said.
Haviland says competition for these cards has increased substantially since he started building his set.
"The number of complete sets on the registry has tripled," he said.
Please feel free to contact Kevin Glew at [email protected] if you have any additional information or comments. Steve Kesterson, Ron Hobbs and Memory Lane Inc. provided pictures for this article. Please note that the Population Report figures quoted and Set Registry rankings reported are those as of press time.
1948 Bowman cards with fewest number of PSA 9 examples or higher
Card
PSA 9 or higher examples
#9 Walker Cooper
2
#16 Jack Lohrke
2
#10 Buddy Rosar
3
#21 Ferris Fain
3
#26 Frank Shea
3
#28 Emil Verban
3
#38 Red Schoendienst
3
#45 Hank Sauer
3
#47 Bobby Thomson
3
PSA Population Report statistics as of December 22, 2010