You have to admit, Babe Ruth had style. Whether it was from his thinner days as a successful young pitcher turned slugger or his huskier time in the twilight of his career when the homers came a bit less frequently, The Sultan of Swat lived large.
By the summer of 1933, a little less than two years away from Ruth playing in his last big league contest, he still ended up the biggest headline of the inaugural Major League All-Star game by blasting the first ever homer in the Mid-Summer Classic. Pure Babe.
That same year, Ruth took part in another all-star team of sorts, this one on cardboard: the 1933 Goudey Sport Kings set, showcasing several of the Depression-era sports elite. No doubt, the inclusion of the Yankee slugger in the issue excited collectors of the day when it hit the stores and the Ruth card, the second overall pasteboard in the set, attracts ample attention today as the key to the collection.
"There is something majestic about that Ruth card," said Robert Lifson, president of Robert Edward Auctions. "It is a beautiful set that gives people something special to collect from the era, they are all-time classics," said Lifson.
"I always thought they were eye-catching with an unusual format," said Charlie Merkel, owner of one of the finest Sports Kings collections on the PSA Set Registry. Merkel places the Ruth card among his favorites in the issue.
Marshall Fogel, another hobbyist with a highly-ranked sample of the set on the registry, said key attractions for him in the 48-card offering included the overall stylish and innovative artwork and the wide variety of sports represented.
Fogel added that high-condition samples of the cards, among the first to be issued with bubblegum in the packs, are understandably rare. "The corners are not often sharp and the colorization is not printed as well as others," he said. Even so, Fogel noted, some mid-grade or so examples from the set can be a solid addition to one's collection. "Ty Cobb (the set-starter) is hard to find with a sharp yellow background, but if the color is nice, it's a nice card to own—even in a PSA EX-MT 6," he emphasized.
Thin white borders often contribute to some centering problems and remnants of ink "bleeding" from one card to another (from when many card sheets were first printed and placed "wet" one on top of another to dry) frequently crops up in virtually all but the highest grades.
While Cobb and Ruth begin the classic set, Carl Hubbell represents the only other seasoned baseball player in the lot, and it's a high number (#42).
Jim Thorpe (#6) did play in some 300 big league baseball games over six seasons, but the multi-sport athlete, who also won some Olympic gold medals, dons a football uniform in this collection. Halfback Red Grange (#4) and college football coaching legend Knute Rockne (#35) fill out the gridiron roster in this "party mix" of pasteboards.
A trio of golfers, Walter Hagen (#8), Gene Sarazen (#22) and Bobby Jones (#38), represent the sport well and are among the most popular/pricey cards in the set. In PSA NM-MT 8, for example, the highly-sought-after Jones card lands on the green to oohs and ahhs from the gallery at $8,500 in SMR.
"Babe" Didrickson (#45) was one of the greatest female athletes of the 20th century and one of her strengths was golf. Even so, in 1933 she was just getting into the activity to any degree and, in this Goudey issue, "Babe" is featured for her Olympic medal winning ways in track and field at the 1932 Games. One of the most high-demand cards by far in the Sport Kings group, the Didrickson, or Didrikson as it was more commonly spelled, crosses the SMR finish line in PSA 8 at $3,500.
The only other female in the lot is swimmer Helene Madison (#37). Meanwhile, two additional swimmers make an appearance in this athletic gene pool: Duke Kahanamoku (#20), who also happens to be considered a founding member of "modern" day surfing, and Johnny Weissmuller (#21) who won several Olympic medals but is best known for starring as the lead in several Tarzan movies, beginning in 1932.
Four basketball players turn up including Ed Wachter and three who played for the Original Celtics: Nat Holman, Joe Lopchick (sic) and Eddie Burke. "The Holman card (#3) is very difficult to come by in high grade," said Merkel. The Holman in PSA 8, its top grade thus far, has sold for $20,000, on occasion, in recent years.
Other foursomes in the set include those who liked to mix it up in the ring, led by punishing puncher Jack Dempsey (#17) and those who preferred to mix it up in the rink—with Eddie Shore (#19) headlining the icemen.
Cycling, tennis, billiards, aviation and wrestling stars make up the bulk of the rest of the collection. The only thing missing with the set are some of the topflight African-American athletes of the period, with likely candidates including established Negro League baseball players Cool Papa Bell and Josh Gibson.
High Interest and Low Availability
With the first half of the set, each card has been slabbed via PSA at least 133 times, while many of the high numbers (#25 to #48) have Population Report numbers of around 100-110. Yet, the "easiest-to-find" cards from the high series all hover around 200 samples: Rockne, Jones and Hubbell. The toughest Sport King to find population-wise is aviator Jimmy Doolittle (#28), who has only flown onto the PSA radar about 80 times.
Of those in PSA slabs, the most prevalent from the set are all from the first series: Cobb (384), Ruth (339) and Grange (268).
In comparison, of the four different Ruth cards that came in the regular 1933 Goudey baseball set, at least around 600 samples of any of those have landed in PSA cases. All of the 1933 Goudey "Big League" Ruth cards bring big prices ranging from about $17,000 to $40,000 in PSA 8. A Sport King of Ruth in PSA 8, with 21 in the Pop report, lists in SMR for $26,500.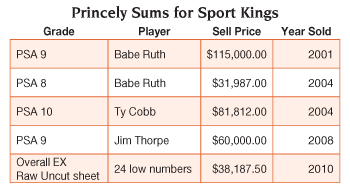 In 2004, a highly-graded Sport Kings set, featuring PSA 8s and 9s, changed owners for a then record-reaching sum for a complete slabbed issue sold at once: $360,000.
Memory Lane, Inc. brokered the sale of that set and MLI's J.P. Cohen said that particular collection has been upgraded over time and now boasts three of the four known PSA GEM-MT 10s, including the Cobb. "The fact that one of those cards in that set, the Cobb, is a PSA 10 and starts the issue, is amazing," said Cohen. "If that set were to come on the market, it could, in my opinion, come close to reaching seven figures."
Cohen noted that the future of the Goudey offering in general remains bright, whether the cards are in high-grade or low. "It has always been a popular set and there are always new collectors trying to find certain cards and put it together," said Cohen. "And, with only 48 cards, a collector can see the light at the end of the tunnel at completing it."
Back and Forth
Researching the 1933 Goudey Sport Kings issue, it is easy to get caught up in the card front design and the legendary status that, to many sports fans/history buffs, still deservedly shadows several of the spotlighted individuals.
But, there is a little more that is involved with this issue than many dealers and collectors, this author included, ever knew about – until now.
By chance, I happened to come across one of the set's high numbers, hockey great Ace Bailey (#29) at a show, and reading the text on the back made me think this collection was issued over two years. What? This is exclusively a 1933 set, right? Well, Bailey's card tells of him suffering a severe injury on December 12, 1933. So, it seemed, unless Goudey rushed that card out the door right after the injury happened, and that's unlikely, then some of the cards must have come out the following year. But, that was just one card, so I kept an open mind.
Checking every Sport Kings card back was now my mission and the card of aviator James Wedell (#26) did not disappoint. In Wedell's case, his pasteboard info features a flight he made in December 1933, partly in a driving snowstorm and blizzard, to transport a sick baby from Texas to Baltimore so the child could get a life-saving operation. Okay, two cards with late-1933 references, now I started to wonder even more about this being a dual-year offering.
A short time later, I stumbled upon the card of jockey Jack Westrope (#39), who had a fantastic season in 1933 by winning 302 races. Westrope's card states that in the last week of January of 1934, he lost his apprentice rating. Was that a typo? 1934?
A call to Allan Carter, a historian with the ultimate winner's circle for many things horses, The National Museum of Racing and Hall of Fame, confirmed that Westrope did lose his apprentice rating in late January 1934. So, unless Goudey anticipated Westrope's "graduation" and printed the cards weeks before the jockey's transition took place, and that also seems highly improbable, this even more strongly tilts the argument that the Sport Kings set is indeed a 1933-34 issue.
Something Different to the End
Rounding out this eclectic set is dog-sled racing champ Leonhard Seppala (#48). This sledder's card back bio starts out routinely enough. But, in the second sentence, it begins to reveal that Seppala played a major role in delivering some medicine for a diptheria outbreak in Nome, Alaska (in the 1920s). The athlete and his dogs braved 30 degree below zero temperatures, racing over a dangerous ice floe and a few days of sledding, one day around 90 miles worth, to help relay the serum that saved many lives.
Now that's an all-star athletic feat on a whole different level! Seppala's endeavor had a certain style that Ruth and several others likely appreciated at the time and it still holds up today, much like the quirky and classic Goudey Sport Kings issue.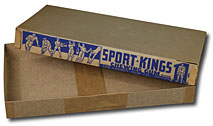 An Offer to Work With
Unopened Sport Kings packs are certainly rare, usually selling for thousands of dollars each, but the wrappers pop up often enough through online auctions that, in excellent shape, they regularly change hands for $50-$75 apiece.
Collectors of the day likely looked at the Sport Kings wrapper redemption offer as a bit of a challenge: "Cut off every number EXCEPT the one showing the number of the picture you want; then slit the ends of an ordinary envelope—roll fifty wrappers in it--mark the envelope third-class mail... "
Wow! Talk about a task to get one of eight possible photos of an athlete who appeared in the Sport Kings set: Dempsey, Ruth, Sarazen, Grange, Weissmuller, Bill Tilden (tennis), Jim Londos (wrestling) and Howie Morenz (hockey).
---
Editor's note: Pricing and Pop Report numbers are accurate as of press time. If you would like to comment on this article, please email Doug Koztoski at [email protected] Uncut sheet image courtesy of Huggins & Scott Auctions.