It's the Gene Woodling of vintage sets.
A .285 hitter in six seasons with the Yankees, Woodling was a key contributor to five World Series championships. Unfortunately, when your fellow outfielders are DiMaggio and Mantle, it's easy to fly under the radar.
The 1952 Bowman set – sandwiched between two hobby legends (1951 and 1953 Bowman) and facing off against the vaunted 1952 Topps set – has suffered a similar fate. So much so, in fact, that some hobbyists have deemed it the forgotten set.
"The 1952 Bowman set definitely gets overlooked," said Dick Weigle, who owns the No. 10 set on the PSA Set Registry.
Competing with Topps for the first time, this little-talked about issue fashioned a design similar to the company's 1951 product. Measuring 2-1/16" by 3-1/8", card fronts feature artistic reproductions of player photos and facsimile autographs. The backs boast personal data, biographical information, the card number and details on a mail-in offer.
"I still think the 1952 Bowman set is one of the most attractive card sets ever produced," said Matt Conroy, whose set ranked 27th on the PSA Set Registry before he sold it.
Mike Ryan, who owns the registry's No. 19 Current Finest set, agrees.
"The set is very well produced," he said, also lauding its "great color."
Released in seven, 36-card series, the 1952 Bowman set showcases 252 cards, down from 324 pasteboards in the 1951 issue. Cards from the first two series (#1 to 72) can be uncovered with clean white borders and clear pictures or with brownish borders and dull-looking pictures. Also, some versions of the Bill Werle (#248) single are missing the "W" in his signature. Cards from the final series (#217 to 252) are generally more difficult to track down than those from the earlier series.
Savvy collector, Pete D'Luhosch, has uncovered that the first 16 cards in each series generally followed a specific team sequence. The initial series (#1 to 36), for example, begins with players from the two 1951 World Series teams: the Yankees (Yogi Berra #1) and the Giants (Bobby Thomson #2). Representatives from the remaining 14 teams followed in this order: Tigers, Phillies, White Sox, Reds, Indians, Dodgers, Red Sox, Athletics, Pirates, Braves, Browns, Cardinals, Senators and Cubs. In some cases, trades consummated just prior to press time disrupted the team sequence. D'Luhosch notes that similar sequencing was employed in the 1951 Bowman set.
By examining information on the card backs, D'Luhosch has also been able to establish when some of the series were released. On the Jackie Jensen (#161), for example, the text indicates that he was traded to the Senators "at press time." This trade took place on May 3, 1952, so it's safe to assume that fifth series cards (#145 to180) were printed after May 3. Similarly, D'Luhosch notes that the Tommy Brown single (#236) showcases him in a Phillies uniform on the card front, but indicates that he's a member of the Chicago Cubs on the reverse. The Cubs purchased him on June 15, 1952, so the seventh series was printed after this date.
The 1952 Bowman cards were distributed in one-cent, one-card packs and five-cent, six-card packs. Both packs included gum.
"I wasn't going to go near the 1952 Topps set, because I just knew there was no way I could afford to collect that set, with any kind of quality," said Conroy, when asked about the appeal of the 1952 Bowman set to him.
Weigle shares similar sentiments.
"You've got to be quite wealthy to get a high grade set of 1952 Topps. Otherwise forget it," he said. "People have ignored the '51 and '52 Bowman sets, which, in my opinion, are just as nice or better than some of the Topps cards."
Though bereft of Hall of Famer rookies and singles of Ted Williams, Jackie Robinson, Whitey Ford and Eddie Mathews, this set does boast the first Bowman cards of Minnie Minoso (#5), Gil McDougald (#33), Joe Collins (#181), Bob Friend (#191), Roy McMillan (#238), Billy Loes (#240) and Lew Burdette (#244).
And unlike its Topps counterpart, this set offers singles of Ralph Kiner (#11), Casey Stengel (#217) and Stan Musial (#196). One of the most sought-after cards in the hobby, this is Stan the Man's first full color issue. Of the 941 submitted, there has yet to be a PSA GEM-MT 10. One of the 33 PSA MINT 9s sold for $1,944.62 in a Mile High Card Co. auction in March 2009.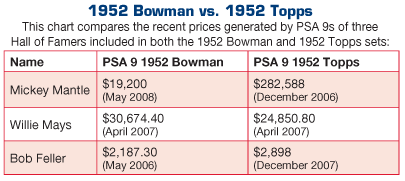 Hobbyists, however, consider Mickey Mantle (#101) and Willie Mays (#218) to be the key cards in this set.
"Mantle's '52 Bowman card is the best-looking Mantle card I've ever seen," said Weigle. "The card shows him sitting there with his hands crossed. It's a beautiful card. It's a beautiful shot of him."
Conroy concurs.
'The Mantle card is one of the really iconic Mantle cards," he said.
There are two PSA 10 Mantles and 11 PSA 9s. A PSA 10 commanded $69,000 in October 2008.
Centering issues, coupled with being a tough high number, make the Mays single (#218) difficult to track down in pristine condition.
"There were a lot of Mays cards that were not cut properly," said Conroy.
Of the 843 Mays submitted, there has yet to be a PSA 10 and there are just three PSA 9s. A PSA 9 sold for $30,674.40 in a Mastro Auctions sale in April 2007.
As the set's first card, the Yogi Berra single was subjected to additional wear. It's also hampered by poor centering. Just six copies have received the coveted PSA 9 grade, with no examples grading higher. One PSA 9 sold for $13,497.60 in a Mile High Card Co. auction in August 2007.
Like the set's first card, the last card, Frank Crosetti (#252), is also subjected to additional wear. Of the 263 submitted, there has yet to be a PSA 10 and there are just three PSA 9s. A PSA 8.5 sold for $987 on eBay in November 2008.
Other Hall of Famers featured in this set are Pee Wee Reese (#8), Bob Feller (#43), Roy Campanella (#44), Duke Snider (#116) and Enos Slaughter (#232).
With just 83 copies evaluated by PSA, Marlin Stuart (#147) is the least submitted card from this issue. The next lowest population cards are Neil Berry (#219) and George Schmees (#245), with 94 and 88 submissions respectively. Vic Raschi (#37), Dale Mitchell (#239) and Jack Lohrke (#251) are the only three cards that have not had an example grade above PSA NM-MT 8.
Staining on the card backs is a common condition issue with these singles. Weigle points out that this is likely because many of these cards came in one-card packs. Discoloration and poor centering also tend to plague these cards.
"The one thing about the cards that's kind of annoying is the amount of cards that were badly cut or are off-center," noted Conroy.
These condition woes make the 1952 Bowman set a challenging issue to complete in flawless form. For now, however, this set – despite its impressive artwork and respectable player selection – continues to be the Gene Woodling of vintage offerings. But the 60, 1952 Bowman sets on the PSA Set Registry are proof that this issue, while overshadowed, has not been forgotten.
---
Please feel free to contact Kevin Glew at [email protected] if you have any additional information or comments. Mile High Card Co., Goodwin & Co. and Don Spence provided pictures for this article. Please note that the Population Report figures quoted and Set Registry rankings reported are those as of press time.