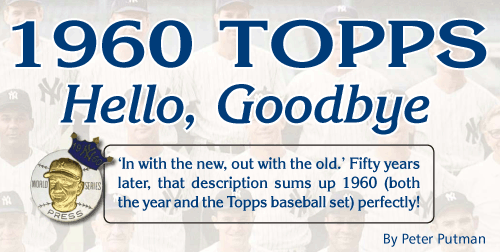 When baseball fans get together, talk inevitably turns to the all-time great teams and players. In a sport obsessed with numbers, you can add 'all-time years' to that list, such as the 1919 (the Black Sox scandal), 1927 (the New York Yankee's Murderer's Row), 1931 (the great Philadelphia A's dynasty), 1946 (Enos Slaughter's mad dash home in the World Series), and 1955 (the Brooklyn Dodger's only Series win).
While there are plenty of other candidates for that list, one year that bears closer examination is 1960, and not just because of its baseball-related anecdotes. In fact, a case can be made that 1960 was a turning point for the 20th century... away from the past, and into an exciting but uncertain future.
Consider these happenings: The United States elected its youngest and first Catholic president, John Kennedy, in November. The Soviet Union caught the U.S. military spying on them when they shot down Francis Gary Power's top-secret U2 spy plane on May 1, creating a national embarrassment. Cameroon and the Belgian Congo achieved independence, placing them among the first of many former colonies in Africa to cast off their European ties that year.
In the world of science, the first patent for a laser was issued in March, and a month later, the first weather satellite (TIROS-1) rocketed into space, while the bathyscaphe Trieste descended nearly 36,000 feet to the bottom of the Pacific Ocean. To Kill a Mockingbird was released in July, and Elvis Presley received his honorable discharge from the Army.
Across the ocean, four teenage musicians got together in Liverpool and started a band - The Beatles - that would revolutionize rock and roll forever, and go on to sell hundreds of millions of records. Meanwhile, teenagers were gyrating wildly on the dance floor to Chubby Checker and his recording of 'The Twist,' which was released in July and quickly topped the music charts.
Back in the world of sports, an upstart football league (the AFL) commenced operations that fall, challenging the established NFL and its new commissioner, Pete Rozelle, who eventually merged the two leagues by decade's end. Professional basketball finally came to the west coast when the Minneapolis Lakers relocated their franchise to Los Angeles, while earlier that year, the United States Hockey team captured its first Olympic gold medal in ice hockey at Squaw Valley, upsetting teams from Canada and the Soviet Union.
The Season
Contrasts between the old and new extended to baseball as well. 1960 was the last year of two eight-team leagues; American League expansion franchises would begin play in Minnesota and Los Angeles the next year, joined by National League teams in Houston and New York a year later.
The San Francisco Giants opened shiny new Candlestick Park in April of 1960 and immediately found out just how windy a ballpark can be, while 3,000 miles to the east, demolition crews tore down and carted away the remains of legendary Ebbets Field in Brooklyn.
Visionary owner and promoter Bill Veeck – no stranger to controversy - was the first to put player names on the backs of their jerseys in 1960, eliciting immediate protests from other clubs and a ruling from the commissioner's office that teams could retain the option of using numbers only.
In one of baseball's real oddities, managers Joe Gordon and Jimmy Dykes were traded for each other during the 1960 season, Dykes moving from Detroit to Cleveland and Gordon passing him in the other direction.
Another quirk: The American and National Leagues squared off in two separate All-Star games just two days but a thousand miles apart on July 11 (Kansas City) and July 13 (New York City) – a compressed time sequence that has never been repeated. (The Nationals captured both contests by scores of 5-3 and 6-0.)
And the last remaining player from baseball's pre-war golden age – 40-year-old Ted Williams – capped off a 19-season career (losing almost four more seasons to military duty) by hitting .316 in 113 games with 98 hits, 72 runs batted in, and 29 home runs. Going out with his usual style, Williams clubbed a home run in his last at-bat of the season at Fenway Park, and after circling the bases, refused to come out and acknowledge the crowd.
Of course, most baseball fans remember the 1960 season for the upstart Pittsburgh Pirates and their dramatic win over the heavily-favored Yankees in the World Series. The Bombers, who won the American League pennant by eight games over the Baltimore Orioles with a 97-57 record, figured to pound the ball against the 95-59 Pirates.
But it didn't work out that way. Despite being out-hit and outscored 55-27, the Pirates' pitching staff and relief ace Elroy Face stood fast in Games 1, 4, and 5, wrapping things up with Bill Mazeroski's dramatic ninth-inning home run off pitcher Ralph Terry in Game 7 at Forbes Field – the first time a home run had ended a Series.
That seventh game featured an early 4-0 tally by Pittsburgh batters, along with NL Cy Young Winner Vernon Law's steady pitching. By the eighth inning, the Bronx Bombers had regained the lead at 5-4, thanks to Mickey Mantle, Yogi Berra, and Bill Skowron. Two more runs scored in the top of the eighth to pad that lead to 7-4, and it looked to be over for the Bucs.
That is, until Bill Virdon, Dick Groat, and the great Roberto Clemente came up with a few timely hits and runs of their own, eventually tying the game at 7 and then surging ahead on a two-run shot by Hal Smith. The Yankees clawed their way back into a tie in the top of the ninth after some clutch hitting by Bobby Richardson, Mantle, and Berra, and some heads-up base running by Mantle and Gil McDougald (playing his last game as a Yankee).
But it was all for naught in the bottom of the ninth. Mazeroski sent reliever Terry's second pitch soaring over the left field wall as outfielder Berra could only stand and watch in disbelief. The Pirates rode off into the history books with a dramatic 10-9 win, while the stunned Yanks retreated to their clubhouse to lament what might have been.
The Series loss, coupled with a decision not to start ace Whitey Ford in Game 1, proved costly for manager Casey Stengel, who was 'involuntarily retired" in favor of Ralph Houk. (Stengel later quipped he had been let go for turning 70 and wouldn't make that mistake again.) In keeping with the quirky nature of 1960, it should have surprised no one that Bobby Richardson was named the first-ever World Series Most Valuable Player from a losing team... something that's never happened since.
The Set
For 1960, Topps released a 572-card set of ballplayers that appropriately went against tradition with a horizontal (landscape) card layout – a design that had only been seen previously in the 1955 and 1956 sets, and which would not be repeated again except for selected combo player cards, highlight cards, and World Series cards. In fact, this set remains as Topps' only standard-size horizontal card layout, even five decades later.
The 1960 Topps set is certainly one of the most eclectic in terms of color combinations and the design, which resulted in more than a few cut-off head shots. Each card measures 2 ½" x 3 ½" and features a full-color player photo (usually a head shot), with a black-and-white inset action picture on a solid color background to the left. The team logo sits below the action shot.
Each player's name appears under their color photo in bold, blocky text that alternates light and dark characters. The team name appears in smaller type below the name, along with the player's position to the right of that.
Here's where the 'funkiness' of 1960 Topps stands out: The text and background color combinations sometimes defied logic. You were just as likely to see red and black text on a yellow background as you were to see yellow and white text on a green background. How about black and white text on pink? Or yellow and white text on black? (My personal favorite is yellow and white on red.)
The obverse of each card used a light orange and black text motif for each player's vital statistics, along with career and 1959 stats. A 'Season's Highlights' box featured selected achievements from the '59 season, and a Jack Davis cartoon (he of Mad magazine fame) appeared to the right to illustrate some humorous or unusual anecdote or fact about that player, such as their off-season activities or hobbies.
1960 Topps cards were printed and distributed in six series, with Series 1 (1-110) and 3 (199 – 286) featuring cream-colored backs and Series 2 (111 – 198) sporting gray backs. Series 4 cards (287 – 374) also feature cream-colored backs, while both colors are found on Series 5 cards (375 – 440. Series 6 cards (440 – 572) have gray backs exclusively.
The set is chock-full of stars and former stars, some whom were winding down their careers in 1960 (Carl Furillo) and some who were just getting started (Willie McCovey). There are plenty of Hall of Famers from Willie Mays and Brooks Robinson to Mickey Mantle; Stan Musial, Nellie Fox, Duke Snider, Hank Aaron, Roberto Clemente, the ageless Warren Spahn, Sandy Koufax, Whitey Ford, Al Kaline, Luis Aparicio, Harmon Killebrew, Robin Roberts, and Richie Ashburn. (But no Ted Williams, as he was under contract with Fleer.)
Team cards with checklists, multi-player player combo cards, and All-Star cards were retained from previous years. Topps really 'rang in the new' with a re-designed Sport Magazine Rookie Star sub-set (117 through 145), not to be confused with a Topps All-Star rookie sub-set (316 through 325). The latter cards were prominently labeled 'Selected by the Youth of America.' (Funny, I don't remember anyone asking me back then for my vote!).
But wait – there's more! Individual manager cards appeared for the first time in their own subset (212 - 224), and Topps decided the 1959 Fall Classic match-up between the 'Go-Go' Chicago White Sox and Los Angeles Dodgers (who still played their home games in a football stadium) deserved its own subset on cards 385 through 391.
The photo selection for this subset was puzzling. Dodgers infielder Charlie Neal, certainly no big crowd draw, headlined two of the cards while a trio of Sox outfielders was seen 'Scrambling After Ball' on card #390. (Maury Wills, who was not in the 1960 set, appears on card #389.) The World Series summary card, #391, shows one of the Dodger coaches getting a champagne shower, not a regular player.
But Topps wasn't done, adding one more subset showing the coaches for each team in alphabetical order (cards #454 - #470). This design employed the popular "disembodied floating head' portrait look from late 1950s and early 1960s publications and advertising. The back end of the set (cards #553 to #572) consisted of the annual Sport Magazine All-Stars, just like the previous two years.
The Players
1960 Topps is a wonderful snapshot of many star players in their prime. Ernie Banks (#10) and Brooks Robinson (#28) appear early on, as do Whitey Ford (#35) and Bob Gibson (#73). Nellie Fox grabbed the coveted #100 card, while Willie Mays is featured on card #200 and Stan Musial on card #250.
But if you were a kid ripping open those nickel packs, the only card series that really mattered was #4. That's where you'd find McCovey's All-Star Rookie (#316), plus Hammerin' Hank (#300), Roberto Clemente (#326), Sandy Koufax (#343), and The Mick (#350). If you were a Yankees fan (like me), you might also get lucky and pull their team card out of this series (#332), not to mention the card of Bill Skowron (#370).
Despite all of the ballyhoo, the players selected by Topps for their Sport Magazine Rookie subset largely went on to have undistinguished careers, with two notable exceptions. Jim Kaat, who appears on card #136, broke in with the Washington Senators as a pitcher in 1959 and went on to play part or all of 25 seasons across four decades, retiring in 1983. In addition to the Senators/Twins, Kaat also twirled for the White Sox, Phillies, Yankees, and Cardinals, retiring with a record of 283-237, an earned run average of 3.45, and 2,461 strikeouts.
The other exception? Why, none other than Boston Red Sox outfielder and Long Island native Carl Yastrzemski, who 'officially' made it to The Show in 1961 after Ted William's retirement and called it quits the same year as Kaat, compiling a .285 batting average with 3,419 hits, 1,184 RBI, and 452 home runs. Yaz was elected to the Hall of Fame, earned seven Gold Gloves, and remains the last player to win the Triple Crown. He accomplished that in 1967 with 121 RBI, 44 home runs, and a .326 average.
Aside from McCovey, there are a few notables in the Topps All-Star Rookies subset. Ron Fairly occupies card #321 and played for 21 seasons in the National League, moving on to announcing afterwards. On card #324 is Indians pitcher Jim Perry, whose younger brother Gaylord was a notorious spitballer. Bob Allison (#320) was the American League Rookie of the Year in 1959 and a three-time All-Star for the Senators/Twins. Finally, card #317 features Pumpsie Green, an average player who is best known for being the first African-American on the last baseball team to integrate – the Boston Red Sox.
Believe it or not, there are only two known mistakes (not corrected) in the set. Card #346 is that of White Sox infielder/outfielder J. C. Martin, but shows Gary Peters' headshot. Accordingly, card # 407, labeled for Peters, shows Martin's headshot. (The inset action photos are correct in both instances.) Topps' proofreaders were really on the ball that year!
The Values
For as long as I can remember, 1960 Topps was a 'Rodney Dangerfield' set: It just didn't get any respect! At card shows in the 1980s, dealers told me 1960 Topps cards were abundant and easy to find in good condition as opposed to another favorite set, 1961 Topps, which commanded much higher prices due to its 'scarcity.' In June of 1985, it was possible to buy a complete 1960 Topps set in EX-MT to NM condition for about $427.50, according to Current Card Prices, while a comparable 1961 Topps collection would set you back $680.50. Two years later, those prices had risen to $1,450 and $1,950, respectively.
That's all changed. Mantle's #350 card now SMRs for $200 more than his 1961 version in NM-MT 8 condition, while Mays' #200 1960 Topps entry fetches $170 more than his 1961 card in PSA 8. The same '60 vs. '61 differential is seen with PSA 8 copies of #250 Stan Musial, #343 Sandy Koufax, #28 Brooks Robinson, and several other Hall of Famers.
Some price differentials are even greater. The '60 Topps (#10) card of Mr. Cub, Ernie Banks, is valued at $240 in a PSA 8 holder, while his 1961 edition tags at just $85! A PSA 8 copy of Fireballer Bob Gibson (#73) is valued at $160 on his '60 Topps card, but just $75 in the '61 set. And Willie McCovey's 1961 Topps card – even though a high number at #519 – doesn't even come close to his rookie card ($85 vs. $375 in PSA 8 condition).
According to SMR, a complete set of 1960 Topps, secured in PSA 8 holders, would appraise at around $22,000. In 2007, the #1 set on the registry (8.77 GPA) gaveled down at $124,609... 291 times the price it would have sold for twenty-five years ago.
In addition to the Mantle card (valued at $1100 in PSA 8), other high-value cards (PSA 8) include #1 Early Wynn ($275), #148 Yastrzemski RC ($375), #200 Mays ($415), #300 Aaron ($415), #326 Clemente ($325), #377 Roger Maris ($225), and #480 Yogi Berra ($195).
Among the All-Stars, Mantle (#563, $425 in PSA 8), Mays (#564, $225), Maris (#565, $200), and Aaron (#566, $225) all fetch strong prices. The Mantle/Boyer Rival All-Stars card (#160) has the highest value of all combo cards at $200 in NM-MT 8, while the Yankees team card is tagged at $110 in the same condition.
1961 Topps wax and cello packs still carry as much as a $275 premium over their 1960 counterparts. Conversely, you'll find a lot more high-grade 1961 commons and stars at shows and online, with most of them coming from vending cases.
1960 Topps are also notorious for being off-center, making high-grade sets a real challenge to complete. Only the top 16 Set Registry entrants for 1960 Topps have a GPA of 8 or higher. In contrast, the top 20 Registry sets for 1961 Topps have at least an 8.02 GPA.
Still, you can often pick up PSA 8 commons and subset cards for reasonable prices. At the Chicago National a few years back, one dealer was selling them in bulk for $12 to $15 apiece!
The Numbers
As of this writing, PSA has graded 160,194 individual 1960 Topps cards, awarding 87 PSA Gem Mint 10s, 4,712 PSA 9s, and 52,909 PSA 8s. Those numbers represent .005%, 2.9%, and 33% respectively of all cards graded.
Not surprisingly, Mickey Mantle's card leads all contenders with 3,766 copies graded, followed by the Yaz rookie with 3,489 slabs, Clemente (2,690), Koufax (2,404), the Mantle/Boyer combo (2,271), Mays (2,103), the McCovey rookie (1,832), Musial (1,737), Maris (1,649), Aaron (1,452), Ford (1,190), and Banks (1,049). In contrast, Bob Grim's #78 has passed across a PSA grader's desk only 105 times, although almost half of those visits have resulted in grades of 8 or better.
1st Series cards are generally harder to find in nice condition, with #19 Felix Mantilla, #21 Dutch Dotterer, #27 Dick Drott, #33 Tom Morgan, and #78 Bob Grim presenting challenges.
Tony Kubek's #83 card commands high prices in a NM-MT holder, even though 52 PSA 8s have been awarded to date, along with three 8.5s and three 9s. A PSA 8 copy recently sold for $145 on eBay, while an 8.5 version fetched $221 at gavel. Dave Philley's #52 card has yet to earn a PSA 9 grade, as have #176 Vada Pinson (although there is one PSA 10), #471 Ned Garver, and #508 Billy Consolo.
Card #102, Kent Hadley, is very hard to find in high grade, and card #116, Jim Rivera, is a toughie. Yet another challenge is presented by #204 Ryne Duren. This card frequently goes for more than $150 at auction in NM-MT condition.
Among the manager cards, #223 Danny Murtaugh is scarce in high grade (34 PSA 8s and three PSA 9s). Card #237 shows Elmer Valo, a journeyman outfielder for the Yankees. This card is tough to find in high grade. – only 45 PSA 8s have been issued, along with one PSA 9. The World Series summary card (#391) also has a reputation for being off center, and high-grade copies fetch strong prices. A PSA 8 copy sold recently on eBay for over $300.
Among the high numbers (507 – 572), finding high-grade versions of cards #516 (Marty Kutyna), #528 (Ben Johnson), #531 (Sandy Amoros), and #539 (Gene Baker) makes for a long day digging through albums at a show. Two of the more expensive team cards are also in the high numbers – the Cubs (#513, $65 in PSA 8) and the Red Sox (#537, also $65 in PSA 8). The 1960 Topps toughest card of all is #451 Curt Simmons, usually found way off-center. Only 30 cards have ever gotten PSA 8 grades and there is exactly one PSA 9 listed in the Pop Report.
The Legend
The story has it that three cards from this set - #9 (Faye Throneberry), #102 (Hadley), and #58 (Gino Cimoli) – were printed with the wrong team logos. These cards have come to be known as the 1960 Topps proofs.
According to a 2008 Sports Collectors Digest article by collector and MSNBC personality Keith Olbermann, a full printed sheet of 1960 Topps discovered two years ago provides most of the answers. On this sheet, Hadley, who is wearing an Athletics cap in his photo, shows up with the A's logo, but is still identified as a member of the Yankees as per the referenced trade on the obverse of the card.
Throneberry, at the time a member of the Senators team, appears on the same printed sheet with the Yankees logo below his action pose, even though he is otherwise identified as being with Washington. The reasonable explanation for this goof-up is that Faye was confused with his brother Marv, who had been a Bomber in 1959, but was traded to the A's in the winter of 1959. (Marv Throneberry's #436 card depicts him wearing a New York cap at Yankee Stadium.)
As for Cimoli - who is shown wearing a Cardinals uniform, but appears as a member of the Pirates on his normal issue card – he appears on a proof card with the St. Louis team logo and name on the front, and no reference to his trade to the Pirates.
One Hadley proof sold at auction for $14,000 in 1999. The other two have yet to surface in any sale or auction, graded or ungraded, but it's safe to assume they would fetch similar prices from collectors looking to build a true Master 1960 Topps set.
The Wrap-Up
It's hard to believe 50 years have passed since we ripped open those lovely bright yellow 5-cent packs with the bright blue "baseball" banner on them. I still remember flipping 1960 Topps against the wall of Mt. Pleasant Elementary School in Livingston, NJ during recess, vainly attempting to win a Mantle, Mays, or Maris – only to have my teacher confiscate everyone's cards when we were late getting back to class.
Fortunately, she never threw them away, and even more fortunately, I managed to recover not only my own cards but everyone else's! On the last day of school, I was late in packing up my things and leaving class. So, I wound up with a shopping bag full of 1960 Topps as my reward.
That original pile got me started years later on finishing the set, along with collecting all sorts of memorabilia from the 1960 season. It was a fascinating year back then, and the passage of time has only made it more so for me.
And yes, I'll admit it: I just can't get enough of those funky pink, black, and yellow cards. (Or was it green, white, and yellow? Hmm, maybe pink, black, and green... )