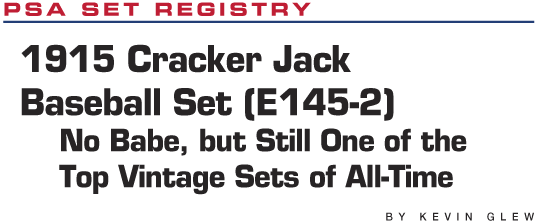 In 1915, a promising pitcher won 18 games for the Boston Red Sox, but that burly young hurler would soon be revered more for his bat than his arm. Though Babe Ruth pitched in four games in 1914, it was in 1915 that he'd become a bonafide big leaguer.
The timing worked well for the Bosox, who always welcomed a good arm and potent bat, but vintage hobbyists can't help but wish that Ruth had starred a year earlier. That way, he would've been included in the 1915 Cracker Jack set.
"Can you imagine what a Ruth Cracker Jack card might be worth?" said Anthony Nex, owner of the No. 7, Current Finest 1915 Cracker Jack set on the PSA Set Registry. "It would blow away the Joe Jackson card (in value)."
Even without Ruth, the 1915 Cracker Jack set is one of the most desirable vintage baseball issues. Similar to the 1914 cards, these cards were distributed in Cracker Jack boxes, but unlike the previous issue, the 1915 Cracker Jack sets were available through a mail-in offer, and, as a result, are now easier to obtain in high-grade. This is one of the reasons that Nex chose to focus on the 1915 set rather than the 1914 offering.
"The 1914 cards are so stained and flawed. In the 1914s, I was picking up (PSA GOOD) 2s or (PSA VG) 3s and I was lucky to find those," he said.
Nex is part of an amiable group of PSA Set Registry enthusiasts who collect the 1915 Cracker Jack set. The lifeblood of an active thread on the PSA Set Registry Message Board, these hobbyists assist each other in their quests.
"The PSA Board has been really helpful," said Rich Rockwood, who owns the Registry's No. 15 Current Finest set.
Andy Montero, proprietor of the 16th ranked Current Finest Registry set, agrees.
"I'm friends with everyone on the board who collects this set," he said.
Ken Harrington, owner of the Registry's No. 12, Current Finest set, enjoys helping his fellow collectors.
"Peter Garcia (a top Cracker Jack collector) helped me out and that's what I try to do with other people," he explained.
At 176 cards, the 1915 set boasts 32 more cards than the initial Cracker Jack issue. With the exception of five cards (Steve O'Neill (#48) replaced Harry Lord, Oscar Dugey (#60) replaced Rollie Zeider, Willie Mitchell (#62) replaced Jay Cashion, Hal Chase (#99) replaced Frank Chance and Herbie Moran (#111) replaced Nixey Callahan), the player selection in the first 144 cards of the 1915 set is the same as the previous year's. Collectors will also notice that the team affiliations have been updated on a number of the 1915 cards.
Measuring 2-1/4" by 3", the fronts of these cards, like the 1914 cards, boast an image on a red background. The player's name, team and league are indicated across the bottom. The backs feature a card number, biographical information and a company ad. The ad on the 1915 singles differs from the 1914 cards. The 1915 ad notes that there are 176 cards rather than 144 and also includes information on how collectors can send away for a factory set and an album. By mailing in 100 coupons or one coupon plus 25 cents, collectors could receive a set of 1915 cards. For 50 coupons or one coupon plus 10 cents, collectors would be sent an album.
The most obvious difference between the backs of the 1914 and 1915 cards is that the backs of the 1915 cards are upside down. One hobby theory suggests that this was done so that when collectors glued the cards into albums, they could simply lift up the card bottom to read the biographical information.
Nex says the albums boast an embossed tan cover with black pages. These albums are not highly coveted, but there is some interest in them.
"There's always a buyer for them, but I have yet to hear of someone relentlessly looking for an album," said Peter Garcia, who collected a high-grade 1915 Registry set before selling it to focus on his 1914 set.
One condition issue specific to the 1915 cards is paper loss from the cards being removed from the albums. The 1914 cards were distributed exclusively in Cracker Jack boxes.
"You do see paper loss. I'm surprised that you don't see it more often, but you definitely do see it," said Rockwood.
Montero agrees.
"You might have glue residue on the back of some cards. They might also have some letters missing from the back," he said.
Though thicker than the 1914 cards, the paper stock of these cards is relatively thin. The red background on the front occasionally bleeds into the lighter colored borders and some 1915 cards were distributed in Cracker Jack boxes, so they, too, can be found with caramel stains.
And while it's true there's no Ruth card, this set does feature singles of players from the short-lived Federal League and baseball immortals like Ty Cobb (#30), Walter Johnson (#57) and Honus Wagner (#68).
"It's loaded with some really high quality figures from the past," said Rockwood.
Christy Mathewson's 1915 card (#88) is less valuable than his 1914 pasteboard. The 1915 single showcases the legendary hurler in a portrait pose, while the 1914 card features him in a horizontal pitching shot. A PSA MINT 9, 1915 Mathewson fetched $37,780.70 in a Goodwin & Co. auction in June 2006. In comparison, a PSA VG-EX 4, 1914 Mathewson was sold for $40,600 by Robert Edward Auctions in April 2006.
The Joe Jackson (#103) is the issue's most valuable card. Of the 86 Jacksons submitted, there have been two PSA 9s and 19 PSA NM-MT 8s. A PSA 8 sold for $52,638.80 in a Mastro Auctions sale in April 2006.
Harrington says the Jack Barry card (#28) has been the toughest single for him to track down in high-grade.
"He's almost always found off-center," he said. "Even getting a (PSA EX-MT) 6 is extremely difficult."
Of the 34 Barry cards evaluated, there have been two PSA 8s (with nothing grading higher).
For years, it has been generally accepted that the high number cards in this set (#144 to 176) are tougher to uncover than the low numbers.
"I've heard that the high numbers are harder to find, but I haven't had that experience," said Rockwood.
Harrington agrees.
"The high number cards really aren't that much tougher to find," he said.
As they did with 1914 Cracker Jack cards, Topps pursued low-grade 1915 cards and inserted them in a select number of packs of their 2004 Cracker Jack product, said Nex. The Topps issue employed the classic Cracker Jack design, but featured predominantly modern players.
"That sort of brought the prices up, and they've just kept going up since then," explained Nex.
But while the 1915 Cracker set continues to be one of the hobby's most popular vintage issues, collectors can't help but wonder how much more valuable it would be if the Bambino had blossomed one year earlier, and was featured on a card in this iconic offering.
---
Please feel free to contact Kevin Glew at [email protected] if you have any additional information or comments. Anthony Nex provided pictures for this article. Please note that the Population Report figures quoted are those as of press time.