By Joe Orlando
Cap Anson Rarity Stuns Hobby with $66,503 Winning Bid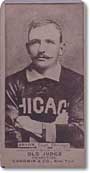 When it comes to rarity, the N172 Old Judge Cap Anson (in uniform) is about as tough as they come. With that in mind, well-known hobbyist Lew Lipset offered one of five known examples. When the bidding ceased, the card closed at $66,503. The last publicly offered example was auctioned off in 1991 at Sotheby's. The Lipset Anson was described as excellent condition. Other highlights include:
Item and Price Realized
1) N172 Old Judge Cap Anson (in uniform) – excellent $66,503
2) T231 Fan Frank Baker #61 – very good condition $11,000
3) H813-2 Boston Garter "Home Run" Baker #9 – excellent condition $5,188
4) N172 Old Judge Ed Delehanty - excellent condition $4,025
5) PSA 7 Near Mint N172 Old Judge King Kelly $3,660
6) PSA 7 Near Mint N172 Old Judge Monte Ward $3,328
7) PSA 6 EX-MT 1934 Goudey Lou Gehrig #37 $3,575
8) PSA 7 T206 White Border Sam Crawford (batting) w/Uzit back $2,357
9) T215 Pirate Sam Crawford/Detroit – near mint $3,677
10) R437 Comics Novelty Candy Corp. Joe Palooka Candy near set $3,575
Vintage Keys Provide Punch for Mile High's Latest Sale
The verdict is in, the market is still strong and Mile High's latest sale proves that point without question. When the bidding stopped, their latest auction recorded $427,577 in total bids making their first auction of 2001 a successful one. With a wide variety of high-end examples dating back to the early 1900's, the auction featured some very impressive prices including a record price ($29,482) for a T206 Christy Mathewson (Dark Cap) in PSA Mint 9 condition. Here is a list of some of the auction highlights:
Card and Price Realized
1) T206 Christy Mathewson (Dark Cap) PSA Mint 9 $29,482
2) 1951 Bowman Willie Mays #305 PSA NM-MT 8 $9,878
3) 1915 Cracker Jack Harry Hooper #35 PSA NM-MT 8 $2,593
4) 1933 Goudey Sport Kings Ty Cobb #1 PSA NM 7 $4,126
5) 1935 Diamond Stars Earl Averill #100 PSA NM-MT 8 $3,790
6) 1939 Play Ball Ted Williams #92 PSA NM 7 $2,852
7) 1951 Bowman Whitey Ford #1 PSA NM-MT 8 $5,990
8) 1952 Topps Bob Cain #349 PSA NM-MT 8$1,285
9) 1953 Bowman Color Bauer, Berra, Mantle PSA NM-MT 8 $2,144
10) 1953 Bowman Bob Feller #114 PSA NM-MT 8 $4,840
11) 1953 Topps Jackie Robinson #1 PSA NM-MT 8 $3,707
12) 1953 Topps Jim Gilliam #263 PSA NM-MT 8 $1,572
13) 1954 Bowman Mickey Mantle #65 PSA NM-MT 8 $5,359
14) 1954 Topps Ernie Banks #94 PSA NM-MT 8 $2,852
15) 1955 Topps Sandy Koufax #123 PSA NM-MT 8 $2,662
16) 1956 Topps Mickey Mantle #135 PSA NM-MT 8 $3,000
17) 1957 Topps Pee Wee Reese #30 PSA Mint 9 $1,987
18) 1957 Topps Warren Spahn #90 PSA Mint 9 $1,557
19) 1957 Topps Enos Slaughter #215 PSA Mint 9 $690
20) 1958 Topps Bob Clemente #52 (Yellow Letters) PSA NM-MT 8 $6,064
21) 1958 Topps Ernie Banks #310 PSA Mint 9 $3,543
22) 1962 Topps AL Home Run Leaders #53 PSA Mint 9 $1,623
23) 1962 Topps Lou Brock #387 PSA Mint 9 $2,038
24) 1962 Topps Willie Mays All-Star #395 PSA Mint 9 $4,429
25) 1963 Topps Pride of the NL (Mays/Musial) #138 PSA Mint 9 $2,144
26) 1964 Topps Pete Rose #125 PSA Mint 9 $6,569
27) 1967 Topps Bob Clemente #400 PSA Mint 9 $2,420
28) 1969 Topps Harmon Killebrew #375 PSA Mint 9 $880
29) 1969 Topps Al Kaline #410 PSA Mint 9 $1,126
30) 1969 Topps Brooks Robinson #500 PSA Gem Mint 10 $1,390
31) 1971 Roberto Clemente #630 PSA Mint 9 $4,073
32) 1972 Topps Willie Mays #49 PSA Mint 9 $1,212
33) 1972 Topps Reggie Jackson #435 PSA Mint 9 $705
34) 1972 Topps Pete Rose #559 PSA Mint 9 $1,514
35) 1948 Bowman George Mikan #69 PSA NM 7 $5,506
36) 1980-81 Topps Scoring Leaders (Bird, Magic, Dr. J) PSA Mint 9 $1,120
37) 1952 Bowman Small Norm Van Brocklin #1 PSA NM-MT 8 $3,575
38) 1955 All-American Sammy Baugh #20 PSA Mint 9 $1,558
39) 1956 Topps George Blanda #11 PSA Gem Mint 10 $1,760
40) 1956 Topps Chicago Cardinals Team #22 PSA Gem Mint 10 $1,956
Brian Drent, president of Mile High Card Co., was happy with the bidding action. "In retrospect, it was a good auction," Drent explained. "I thought the economy had some influence on the big ticket items but cards that were estimated at about $5,000 or below did extremely well. We received a great deal of bidding from new bidders which is a great sign for the market."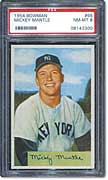 On of the highlights from the sale was a PSA 9 Mint T206 Christy Mathewson (Dark Cap) which brought a strong price of $29,482. Drent was proud to offer this great rarity. "The Mathewson performed well, especially when you consider the makeup of the balance of the sale," said Drent. "Our sale, although filled with high-end material, was not focused on early tobacco cards yet the bidders recognized the quality and rarity of the card. It was great to see."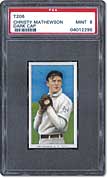 As far as trends were concerned, Drent was quick to point out a few noticeable ones. "Key cards in NM-MT condition performed very well," explained Drent. "Cards like the 1955 Topps Koufax, 1954 Topps Banks, 1953 Topps Robinson and the 1954 Bowman Mantle all received strong bidding. When key cards like these continue to sell at great levels, it's a great sign for the market. The market is strong and the demand continues to outweigh supply on the keys."
There were a couple of other areas that caught Drent's eye as well. "Late 1960's and early 1970's material are both definitely surging right now," said Drent. "In addition, PSA 7's of important cards are very strong right now. Our 1933 Goudey Sport King Cobb, our 1948 Bowman George Mikan and our 1939 Play Ball Ted Williams were all indicators of that. Collectors have the opportunity to acquire a quality card for a more affordable price. There are some great values in key PSA 7's out there."
Mile High Card Co. is planning an October auction in 2001 and they are currently seeking consignments for their next sale. For more information, please contact Brian Drent at (303) 840-2784.
Ron Oser Auction Breaks $2.6 Million Mark with Latest Offering
Ron Oser prides himself on having something for everyone in his auctions and this sale was no exception. From bats to comic books or PSA graded gems to celebrity autographs, Ron Oser satisfies just about every collector with every focus. When the bidding was over, the wide variety of lots produced over $2.6 million of action. Here is a look at some of the auction highlights:
Item and Price Realized
1) Four Horseman signed Notre Dame print $4,710
2) 1960 NBA All-Star Game signed basketball $3,289
3) Michael Jordan signed high school yearbook$3,057
4) 1996 Wayne Gretzky signed/game-used hockey stick $2,839
5) 1964 Clay/Liston fight program $2,163
6) Bobby Jones signed hardcover book $2,195
7) Tiger Woods signed baseball $1,453
8) 1893 N142 Honest (Duke) Wilbert Cabinet card $9,495
9) Ross Youngs signed album page with photo $6,345
10) Walter Johnson handwritten letter $3,537
11) Mickey Mantle Hartland Lamp $4,710
12) 1950's Stan Musial game-used H&B bat$5,426
13) 1955 Ted Williams game-used H&B bat $14,066
14) 1961-67 Hank Aaron game-used Adirondack bat $4,766
15) 1971-79 Mike Schmidt game-used Adirondack bat $2,508
16) 1997 Greg Maddux signed/game-used Louisville Slugger bat $2,195
17) Mark McGwire's 553rd home run baseball from 2000 $13,752
18) 1993 Nolan Ryan game-used Texas Rangers uniform $7,054
19) 1999 Randy Johnson game-used All-Star jersey $3,612
20) 1933 Goudey Babe Ruth #144 PSA NM 7 $6,785
21) 1933 Goudey Roy Johnson #8 PSA NM-MT 8 $6,345
22) 1961 Topps Dice Game Stan Musial PSA NM 7 $6,412
23) 1918 World Series program at Boston $9,934
24) 1929 Wire Photo of Ruth, Lazzeri and Gehrig (unsigned) $4,158
25) 1959 Bobby Shantz Gold Glove Award $5,700
26) 1969 New York Mets team signed baseball $4,495
27) 1980 Philadelphia Phillies team signed baseball $5,032
28) Mark McGwire signed AL baseball $1,428
29) 1989 Mark McGwire signed/game-used Adirondack bat $3,612
30) 1914 Providence Baseball Club photo with Babe/Ruth $16,412

After a strong auction, Oser was pleased to see the great participation from so many bidders and he believed it was the variety of items that made it happen. "That's where we come in," Oser said in regards to the variety in his catalogue. "We have something for everyone. Some auction houses only feature the high-end material but we have the ability to appeal to almost any collector. All but 13 lots, in an auction of approximately 2,200, sold. We use low reserves, which helps us create a fun atmosphere for bidders. Everyone can get involved."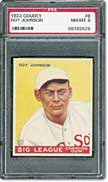 Oser also took notice of a very interesting trend that has emerged over the last year. "While nearly everything performed well, the team signed baseballs did incredibly well," Oser explained. "Baseballs that might sell for $300-$400 in average condition are now selling for $3000-$4000 in high-grade. Collectors are starting to assemble collections of championship teams and the market is competitive for these gems."
Even when it came to non-sports items, Oser felt a surge in interest. "We are seeing a great crossover from sports to non-sports items," Oser said. "We featured some 1930's Indian Gum cards that the PSA crowd gobbled up. The cards were doing well but, when the PSA guys started to bid, the prices skyrocketed because those collectors are looking for quality and a nice value. Some early non-sports material seems really undervalued right now in comparison to sports issues. Whether it's political autographs or Disney art, all Americana is hot right now."
Ron Oser will be holding a pure Americana or non-sports auction some time in October 2001. For more information, please call (215) 947-6575.
Lelands Shoots and Scores with Latest Auction
Armed with an incredible assortment of hockey memorabilia, care of hockey legend Guy Lafleur, Lelands.com was able to present another quality auction to the collecting public. At the end of the sale, total bids amounted to $2.45 million, making it one of the year's most significant auctions. One of the most interesting lots featured a racing helmet used by the late Dale Earnhardt, which sold for $11,205. Let's take a look at some of the other highlights:
The Guy Lafleur highlights include his: Conn Smyth Trophy ($26,423), 1979 Montreal Canadiens Stanley Cup ring ($15,555), last Canadiens jersey ($7,538), 1978-79 Stanley Cup Trophy ($14,791), 1976-77 Hart Trophy ($21,839), game-used WHA hockey stick ($3,579), 1974-75 5Oth Goal Stick ($4,074), 1977 All Star Game ring ($4,600) and 500th goal puck ($11,344). Other hockey highlights include: Wayne Gretzky's WHA game-used rookie hockey stick ($5,357), Bobby Clarke's game-used jersey ($10,102), Bobby Orr's game-used skates ($13,120), Wayne Gretzky's game-used 1851 point stick ($9,860), Patrick Roy's game-used hockey stick ($2,455) and Tony Esposito's game-used hockey stick ($2,812).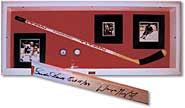 Game-used memorabilia was also very hot, the highlights include: 1970 Johnny Bench game-used jersey ($11,764), 1995 Paul O'Neil All Star jersey ($3,705), 2000 Chipper Jones game-used jersey ($3,611), 2000 Andruw Jones game-used jersey ($2,024), 1993 Greg Maddux game-used jersey ($4,423), Barry Bonds game-used rookie era bat ($1,390), 1986-1989 Nolan Ryan game-used bat ($2,780), Mike Schmidt 400th home run uniform ($6,563), 1986 Nolan Ryan game-used Houston Astros jersey ($9,741) and a 1994 Frank Thomas game-used jersey ($2,780).
Lelands will be holding another high-quality auction sometime in the late summer; SMR will keep you posted on the latest results.