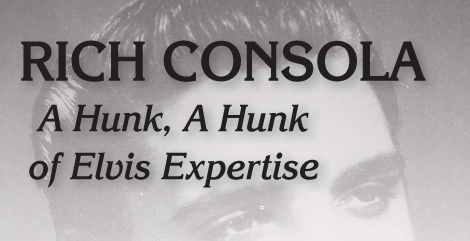 Whether performing on the back of a flatbed truck or on the stage of one of America's largest arenas; whether in a gold lame jacket or a rhinestone-encrusted jumpsuit, Elvis Presley clearly earned the undisputed title of The King of Rock 'N' Roll.
Born to a poor sharecropper and his wife in Tupelo, Mississippi, Presley's talent, swagger and style took him to the pinnacle of the entertainment world. A legendary symbol of American pop culture, even today – more than three-decades after his death – he remains one of the planet's most recognizable icons.
One of the world's foremost
authorities on authenticating
Elvis Presley signed material,
Rich Consola is also one of the
most affable guys in the
collecting hobby.
From the time he first shook, rattled, rocked and rolled the world in the mid-1950s, on to today, few individuals have inspired as many collectibles and collections as Elvis, and with the possible exception of Presley-owned clothing, jewelry or vehicles, the most coveted of his collectibles are those he created himself with the use of a simple pen.
Highly desired by serious music, Americana and pop culture autograph collectors, anything genuinely signed by Presley is tangible proof that a certain form of alchemy actually exists. What once was nothing more than a mere piece of paper and a bit of ink, transforms into a coveted treasure if Presley's hand guided the pen that dispensed the ink on that paper. That transformative alchemy however is predicated on the operative phrase – "genuinely signed."
Sadly, as with any autograph that has become highly desirable, and thus, valuable, the forgerers have reared their ugly pens in force to produce Elvis "signed" letters, album covers and photos.
That is where Rich Consola comes in.
One of the world's foremost authorities on authenticating Elvis Presley signed material, Consola has studied The King's handwriting and signature for close to two decades. A diehard Elvis fan and autograph collector himself, Consola has an impressive Presley collection as well as a unique amassment of items signed by luminaries who have a connection to his home town of Buffalo, N.Y. His Buffalo connection collection includes the signatures of President William McKinley who was shot here, Theodore Roosevelt, who was McKinley's Vice President and was sworn-in as President in Buffalo, and writer Samuel Clemens and architect Frank Lloyd Wright who both did work in Buffalo.
One of the Elvis forgeries
that came out of the
Netherlands and
Germany during the
late-1990s.
Widely considered to be one of the most affable guys in the collecting hobby by those who have had the pleasure of meeting and dealing with him, Consola recently sat down with Sports Market Report to shed light on how he became so fascinated with Presley, and what collectors should be aware of if they are considering adding a Presley signed item to their collection. We began our conversation by asking him when he first became aware of Elvis.
Rich Consola (RC): I remember back when I was a young boy growing up in Buffalo seeing the movie "Blackboard Jungle." That was in 1955, and the opening song of that film was "Rock Around The Clock" by Bill Haley and the Comets. That was really the beginning of what came to be known as rock 'n' roll – although people didn't realize it at the time. Well, right in the middle of the start of rock 'n' roll was when a very young Elvis Presley signed on with RCA. That was in November of 1955. He then recorded "Heartbreak Hotel," which became his first million-seller. Soon after that, he burst on the national scene – and the rest is history. So, I first became aware of Elvis in 1955.
Sports Market Report (SMR): Were you a big rock 'n' roll fan back then?
RC: Yes, I was definitely a rock 'n' roll fan because it was a big part of growing up during that time. I grew up watching "American Bandstand" on television and listening to the music of the great doo-wop groups, Little Richard, Jerry Lee Lewis, Chuck Berry and Elvis. My youth was right out of the show "Happy Days."
| | |
| --- | --- |
| | |
| | A very rare 1958 check written entirely in Elvis' hand. |
SMR: Were you a collector of anything as a kid?
RC: Yes, I had a great record collection. When I say a great collection, I mean it was really great. That was because of what my father did for a living – he was a juke box serviceman. Now while I had a great collection, when I think back, I realize I probably could have put together the greatest record collection of all time. If I had only realized back then that those DJ copies and promo copies would one day become so valuable, I would have had a fortune in records. But of course the reason they are so hugely valuable today is because no one realized what they would be worth in the future.
SMR: So your father would bring records home for you?
RC: Right. They used to have a table, the size of a typical conference room table, on which they would stack copies of records a foot-high that would then go to each juke box. I was a part of the inner circle when it came to the latest releases because of my father's work. All those early records came through his hands, and then became a part of my childhood collection. My brother also collected records. He liked Fats Domino, and he was very protective of his Fats Domino record collection. He would write his initials on every record so no one would take them. A lot of kids did that, which is why so many are defaced. And of course besides writing on them, we also played the hell out of them. As for those promo and DJ copies, I never gave them any thought. They went to the radio stations, got played a lot, and were discarded.
SMR: During this time, I'm guessing school and preparing for a career were also a part of your life.
RC: I started out in public schools and then went on to a school called Hutchinson Central Technical High School. That school prepared kids for engineering college, and engineering was never my interest or forte, but my brother went there and thought it was a good school, so I ended up going there also. I went there for three years and then transferred to a public high school. After I graduated, a friend of mine introduced me to court reporting. I had no idea what court reporting was and, when I questioned him about it, he asked me if I had ever watched "Perry Mason" on TV. He explained it was the person in the courtroom who takes everything down. That sounded interesting to me, so I enrolled in court reporting school and went on to become a court reporter. It is very difficult work and there is a tremendous dropout rate. I recently heard that something like eighty-percent of the people who go into court reporting drop out of it. That means only twenty-percent make it. I started out with 23 kids in my class and only three of us went on to actually work as court reporters. And today, I'm the only one who is still doing it. It's a very demanding job – sitting there for hours on end taking down every word that is said. I have been doing it for 44 years and have worked in all kinds of courts – criminal, employment hearings, National Labor Relations Board hearings and discrimination hearings. I worked in downtown New York, near where the World Trade Center once stood, and I also worked in Washington, D.C.
Consola owns one of only
seven Elvis letters known.
SMR: So, you were a mild-mannered court reporter by day, but a devout rock 'n' roll fan by night.
RC: (Laughing) Oh yeah. Throughout my entire life I have always enjoyed the music of the 1950s and '60s. I also always collected things pertaining to Elvis – records, books, photos – all sorts of things. But about twenty years ago, I started collecting things on the high-end. I had gotten to a point in my life where I could afford to purchase higher-end things and that's when I began collecting Elvis signed items.
SMR: Just out of curiosity, did you ever have the opportunity to meet him?
RC: I never got to meet Elvis, and will always wish I would have had that chance. Over the years I have met so many people who worked for him and knew him, but I never met him. However, I did get to see him perform in concert in 1957. That was a big thrill. I was a month shy of turning 12-years old and I'll never forget it. He was appearing at the Memorial Auditorium in Buffalo on April 1 – it was a Monday. By this time, I had already made a deep connection with him and his music and I begged my mother to take me to see Elvis. One of the greatest things she ever did for me was to get two tickets and take me to see him. What an experience. There were 13,500 screaming teenagers just going crazy. I really feel fortunate that I got to see him because, while there are still many people alive who also had the chance to see him perform live, most people I meet saw him in the 1970s. You just don't find a lot of people who had the opportunity to see him at the beginning, when it was all starting. When I went to see him, he wore the gold lame jacket.
SMR: Did you take any pictures when you went to see him?
Elvis wrote this letter in Germany in
1958 while he was out on maneuvers.
RC: No, but interesting that you bring that up. Today, I own 13 of the original negatives along with the copyright of those photos that were taken at that show. They are in beautiful shape – four-by-five Speed Graphic negatives. They are so big you could make posters out of them. I bought them from the family of the man who took them. (He) had been a big Elvis fan and he passed away in his eighties, ironically, on Elvis' birthday.
SMR: What other types of things do you have in your Elvis collection?
RC: Of all the things I have owned as a part of my collection, the thing that was perhaps my favorite piece was a suit that Elvis wore on stage for a show he did in Las Vegas. I bought it quite a few years ago, and have since sold it – much to my regret. I really wish I still owned it. But really, my forte in colleting Elvis has always been with signed material. I have studied his autograph and handwriting, and I have been fortunate to have owned two Elvis handwritten letters. Now to point out what a big deal that is, to this day there are only seven letters known. Even his cousin, Billy Smith, has stated that if Elvis wrote ten letters in his life that would have been a lot. Almost every letter he did write was during the time he was in the army, in 1958. They were written in Germany and sent back to the U.S. The two letters I owned were written in the same week. He had been out on maneuvers – in the field – and I'm sure he had the time to be more to himself. In the few letters that Elvis did write he always starts by saying that he is doing something he usually never did – write a letter. I sold one of the letters at auction several years ago, and still have the other. I also have a number of signed photos and one of a very few checks that was written out in his hand. The check is from the 1950s and its very rare because 99-percent of the Elvis checks that are known to exist, and there aren't many, were just signed "E.A. Presley." He always signed his checks that way. So to find one where he actually wrote out the entire check is very rare.
SMR: It seems that authentic Presley signed material is rather hard to come by despite the fact that he had a reputation for being an accommodating signer. Why do you think that is?
RC: I think Elvis was an extremely accommodating signer, but it was only in the earlier part of his career that he was accessible. Here's the trend we find with Elvis signed items – when it comes to the items from the early years – 1954 through 1956 – there are not as many forgeries. During those days Elvis was accessible. That was the biggest factor with Elvis from the 1960s till his death in 1977 – he wasn't accessible. I have never heard of him not being accommodating to a request for an autograph. I have never heard of him turning someone down when they asked him to sign. He was kind in that respect. His generosity was legendary. Everyone knows about all the cars he bought for people. The guys who worked for him have said he bought hundreds of cars for people – even strangers. If you ran into him and told him you liked a ring or a piece of jewelry he was wearing, chances are he would take it off and give it to you. But, during his later career and life, he simply wasn't accessible. People couldn't get anywhere near him. His accessibly during the 1960s was extremely limited. This was when he was doing the corny films that he really didn't like doing. The only time people would have had access to him during that time was on the movie sets and when he would come home to Graceland where he would sign for the fans that gathered outside his home. Most people are amazed to learn that Elvis only did two concerts throughout the entire 1960s. There was the Memphis charity show in February of 1961, and then in March, he did a concert at the Block Arena in Hawaii to raise funds for the Pearl Harbor USS Arizona Memorial. That was it. In those days, he did fly on commercial airlines and people may have handed him a plane ticket or slips of paper to sign. Then, during the Vegas days, he would go out into the casino from time to time, with all his guys around him, and he was known to have signed autographs there. But most of the really good, quality Elvis autographs are from the early years – the 1950s. Back then people could just walk up to him and he would sign. I once owned a Sun 78 record that he signed on both sides. I bought it from a school teacher who said she had gone to see him appear on the "Louisiana Hayride" and after the show he was just sitting at a table with a stack of records and he signed one and handed it to her. That was in February of 1955, so he was just a young guy.
According to Consola, Elvis collectors are most
attracted to items signed during the early days
of his career.
SMR: So, he really did go to the gates of Graceland and sign for fans?
RC: Absolutely. He signed at the gates of Graceland and even did it when he lived on Audubon Drive before he bought Graceland. I have seen many pictures of him signing autographs while standing at the gates. I even have photos of him signing for fans at the gate to his California home. Without question he did that.
SMR: What is the status of the Elvis signed material that is available today?
RC: Unfortunately, the amount of bad Elvis material is very prevalent. For the most part, what I see offered on the Internet is a tremendous amount of forged Elvis material. I go on (various auction sites) all the time to see what is out there. I'm going to say 98% of what I see is not real. I have studied Elvis' handwriting for a long time, and some of the stuff I see being offered is nothing more than laughable it's so bad. I was involved in breaking up a big forgery ring back in 1999. It was based out of the Netherlands and Germany. They claimed to have handwritten lyrics by Elvis of "Hound Dog" and "Don't Be Cruel." They claimed that Elvis had written out the lyrics to all these classic songs. I was extremely suspicious of this so I contacted Red West (a longtime Elvis friend and confidant) and some other people in the autograph industry. I did a lot of research and found that every one of them was a forgery. Now I'll tell you – they were pretty good forgeries. They had a lot of people fooled – a lot of people got stung. That is why a collector should never buy an Elvis signed item that has not been authenticated by someone who really knows what they are doing and that is backed by a respected third-party authentication company like PSA/DNA.
SMR: When you see an item that has supposedly been signed by Elvis, are there some obvious signs that make you immediately suspicious?
RC: There are absolute telltale signs of Elvis forgeries. I have certain things that I look for all the time, but I don't like talking about the specifics because if I do then some of the forgers pick it up. So I tend to keep those things to myself. But there are certain things – when I see them – I can tell right away they don't have the proper characteristics that indicate a genuine Elvis signature. There are significant things (to look for) in his writing, despite the fact that Elvis was very undisciplined when he signed his name. I have said many times that I don't think he ever signed his name the same way twice. You can also tell the difference from the way he signed in the mid-1950s as opposed to the '60s and '70s. He changed his signing habits as the years went by. Sometimes he would make the big loop in the "y" at the end of his name, and sometimes he wouldn't.
SMR: Most of the genuine authenticated Elvis material is signed with a ballpoint pen. Is that another telltale sign?
RC: That's correct. Most of the genuine Elvis autographs have been signed with a ballpoint. In my extensive collection of Elvis signed items I have only owned two items – and have only seen maybe between five to ten Elvis autographs – that were signed with a felt tip pen. I have also seen some early Elvis autographs signed with a fountain pen, and I've even seen some signed in pencil. Pencil signed items are very rare – but I have seen them.
Among the rare and unique
items in Consola's collection
is a high school yearbook
Elvis signed in 1953.
SMR: It seems that the most prevalent Elvis signed items tend to be photos or just a signature on a piece of paper. Were there things Elvis didn't sign?
RC: Yes, and that is another way to detect a forgery. I have never seen a genuine signed Elvis trading card. I have never seen memorabilia or an article of clothing signed by Elvis. He may have signed some of those straw hats that were used for promotion in the 1970s, but as far as signing articles of clothing – he didn't do it. When it comes to Elvis material, cuts are the most prevalent, while signed album covers are extremely rare. You do see them. In fact, I have some real ones. But you don't see many. Think about it, people didn't just walk around with Elvis albums under their arms and happen to bump into Elvis Presley and have him sign them. The ones that exist can probably be traced back to the fans that went to Memphis – to the gates of Graceland – and brought their albums with them for him to sign. Elvis signed photographs are more common. There are a good number of authentic signed photographs in existence.
SMR: You mentioned Elvis changed the way he signed throughout his life. Did he also change what he wrote when giving autographs?
RC: In the early years, he usually wrote "Yours Elvis Presley" or "Love Ya Elvis Presley." He also signed "Best Wishes" at times – that was most prevalent in the 1960s and '70s. He also wrote "Thanks" at various times.
SMR: Rich, what advice do you give to collectors who want to add an Elvis signature to their collection?
RC: Be very careful. If you are going to buy an Elvis signed item, know who you are buying from. Don't buy from anyone other than a reputable dealer who uses a reputable third-party authenticator such as PSA/DNA, and make sure you are dealing with people who really have studied Elvis' signing habits and know their stuff. Remember, certificates of authenticity mean nothing. If a person is willing to forge a signature, what would stop them from forging a certificate of authenticity? So that certificate is only worth the price of the paper it is signed on unless it has been issued by a reputable authenticator who stands behind it like PSA/DNA. You will pay more for it if it has been authenticated by PSA/DNA, but it is worth it. Who wants to pay for something that isn't real – something that is not what you thought it was.
SMR: From an investment standpoint, are there certain Elvis signed items that tend to be the most desirable and the most valuable?
RC: Elvis collectors tend to like the signed material from his early days. There will always be an aura surrounding things that came from the beginning of rock 'n' roll. However, unlike a United States President's signature being more desired and worth more if it was signed during the time he was President, Elvis' autograph, if it is authentic, is going to have pretty consistent value no matter when it was signed. It makes sense that an item signed by a President would have the most value if it was signed during the time he was in office. But with Elvis – well, Elvis was always The King!