Anyone pursuing a Master Set of a 1960s baseball star can tell you that some of the most elusive cards are the Venezuelan Topps issues.
You can imagine how difficult it must be then to track down Venezuelan cards of 50 diamond legends. But, that's the challenge that faces collectors attempting to assemble the 1967 Venezuelan Retirado set.
"The scarcity of the cards definitely makes the set tough to complete," noted Kirk H. Taniguchi, who owns the No. 2, 1967 Retirado set on the PSA Set Registry. "These cards were issued 40-plus years ago in a non-English speaking country, located thousands of miles away from the U.S., with a much smaller print run."
Richard Neal, proprietor of the registry's top Retirado set, shares similar observations.
"You have to have a lot of patience to put together this set," he said. "The cards are hard to find. You're not going to find them in your local card shop."
Josh Alpert, a hobby expert on Venezuelan sets, reports that these cards were distributed in four-card packs with gum. Each pack retailed for approximately six cents.
"I've never seen a pack and I've never heard of anybody that has one," said Alpert.
The Retirado set is the middle offering of three Venezuelan issues unveiled in 1967. The first series (#1 to 138) is the Venezuelan League series, featuring players that participated in Winter League ball. Only a few of the subjects – Luis Aparicio, Bobby Cox and Dave Concepcion – are recognizable big league names.
The third Venezuelan series (#189 to 338) boasts 150 cards of then-active major leaguers. These cards flaunt the same pictures that Topps used in their North American release.
"A lot of the individual players in the major league set are very, very popular with player collectors on the PSA Set Registry," noted Alpert.
Sandwiched in between these two series, however, is the 50-card Retirado set (#139 to 188). This series boasts cards of retired legends. Among the immortals included are Lou Gehrig (#141), Honus Wagner (#143), Joe DiMaggio (#145), Ty Cobb (#146), Babe Ruth (#147), Ted Williams (#148), Cy Young (#150), Christy Mathewson (#151) and Stan Musial (#157).
At first glance, one might question why players like Alex Carrasquel (#176), Alfonso Carrasquel (#181), Bobby Avila (#185) and Connie Marrero (#188) are included with such elite company. But these Latin players were likely added to generate greater interest amongst local collectors.
Alpert says that packs from the three 1967 Venezuelan issues were probably released at the same time in three different kinds of wrappers, giving collectors a choice of which pack they wanted to purchase.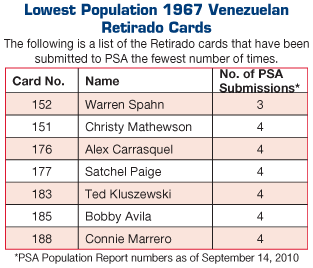 "If a kid had to choose between buying the local players (like the Venezuelan League cards) that they're very familiar with, and the Retirados, the kids weren't likely to pick the Retirado packs," said Alpert. "In the Retirado set, the kids in Venezuela had probably heard of the Latin players and about a dozen other players."
The Retirado cards measure approximately 2-3/8" by 3-3/8" each and feature a sepia-toned photo against a blue background. The player's name is in black at the top, while "RETIRADO" is exhibited in red along the bottom. There are small white borders surrounding the blue background.
The backs are green and boast a horizontal format that showcases biographical information in Spanish. There's no copyright information on these cards. An album was also available that included room for cards from all three Venezuelan series.
Ruth (#147) is the most famous player in the Retirado set. Of the 11 Ruths submitted, the two PSA EX-MT 6 copies represent the highest graded examples. One PSA 6 sold for $1,910.55 in a Memory Lane Auction in August 2009.
The PSA Population Report reveals that the Gehrig (#141) is the most frequently submitted card. Fifteen have been evaluated, with PSA EX 5 being the highest grade assigned. A PSA 5 sold for $999.95 on eBay in April 2010.
The Sandy Koufax (#162) card is also highly coveted. Taniguchi points out that this card is part of the Koufax Master Set on the PSA Set Registry, so competition for it can be fierce.
"The majority of the Retirado cards were issued after the player's career was completed, which eliminates most of the cards from qualifying for inclusion in a Master Player Set," explained Taniguchi. "The Sandy Koufax card may be the only card from the set that is included in a Master Player Set, since Koufax retired after the 1966 season and is featured on the National League Leader cards from the 1967 Topps domestic baseball issue."
Thirteen Koufax cards have been submitted and there is one PSA NM 7 (with no cards grading higher). One PSA VG-EX 4 sold for $3,650 on eBay in September 2007.
With just three submissions, the Warren Spahn (#152) is the lowest population single (See Accompanying Chart) from this series. A PSA PR 1 Spahn sold for $125.77 on eBay in September 2008.
"That card is very hard to find," said Neal, who owns a PSA PR 1 example.
There's also an error card in this set. The Ted Kluszewski single (#183) features a photo of Tigers pitcher Gene Bearden. This card was not corrected.
Alpert says cards of Latin players – Alex Carrasquel (#176), Alfonso Carrasquel (#181), Bobby Avila (#185), Minnie Minoso (#187) and Connie Marrero (#188) – are generally the most difficult to find in high-grade. These cards were highly sought-after by local collectors, and most copies uncovered today are in rough condition. The highest graded copy of Alex Carrasquel, for example, is a PSA GOOD 2. A PSA PR 1 Marrero sold for $252.27 on eBay in October 2008.
But most cards in this series are difficult to track down in top condition. Neal realized this early in his quest, and a testament to how elusive these cards are in high-grade is that it took him 10 years to put together his No. 1 registry set that boasts a 3.46 GPA.
"As with all Venezuelan cards of this era, the cards were printed on lower grade card stock without a glossy front finish, which also seems softer and more prone to wear than the card stock used by Topps for the U.S. domestic baseball card sets," said Taniguchi.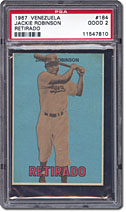 The veteran collector also adds that many of these cards were pasted or taped into an album.
"Venezuelan cards were often stored in a specially-made album, which meant that the backs of the cards are often found with tape, glue stains and/or paper loss, the latter of which almost always reduces the maximum potential PSA grade to a (PSA GOOD) 2," said Taniguchi.
The small white borders on the card fronts also make these cards susceptible to miscuts and the green borders on the backs readily showcase chipping.
These condition issues, combined with the scarcity of these cards, can create fierce competition for high-grade examples.
"There can be some serious competition for sure," said Neal.
This competition, however, is just another minor obstacle for these determined collectors to overcome in assembling this challenging set of baseball legends.
---
A special thanks to Josh Alpert and Kirk H. Taniguchi for their extra efforts on this article. Please contact Kevin Glew at [email protected] if you have any additional information or comments. Kirk H. Taniguchi and Richard Neal provided pictures for this article. Please note that the Population Report figures quoted and Set Registry rankings reported are those as of press time.