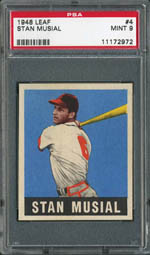 Stan is still "the man" to a modest-sized group of PSA Set Registry enthusiasts.
"I believe that there are quite a few serious Musial collectors out here," said Drew Shimko, owner of the registry's No. 3 Master Set, "but they are often overshadowed by collectors of Mantle, DiMaggio, Mays, Aaron and Clemente, among others."
Chad Addison, who has assembled the registry's top Musial Master Set, agrees.
"A lot of Musial's numbers are better than Mickey Mantle's and are very comparable to Willie Mays and some of the other great outfielders, like Henry Aaron, of his generation, but he just doesn't seem to get the respect," he said.
Stan the Man's numbers include a .331 batting average, 3,630 hits (fourth all-time), 725 doubles (third all-time), 475 homers (28th all-time) and 1,951 RBIs (sixth all-time). A consistent line-drive machine, the lifetime Cardinal earned seven National League batting titles during his 22-year career.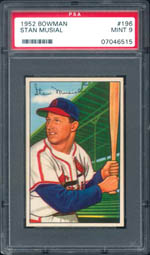 For his efforts, Musial was selected to participate in 24 All-Star games, garnered three MVP awards, was the backbone of three World Champion squads and was elected to the Hall of Fame in his first year of eligibility (1969).
A statue of Musial resides outside the new Busch Stadium bearing a quote about the Cards legend attributed to former commissioner Ford Frick: "Here stands baseball's perfect warrior. Here stands baseball's perfect knight."
Not a bad career for a small-town Pennsylvania kid who was originally signed as a pitcher in 1938. A minor league shoulder injury would end his mound aspirations and accelerate his transformation into a hard-hitting outfielder.
And though his popularity may not rival that of Mantle or DiMaggio, Musial continues to be revered in St. Louis, where many of those pursuing his Basic (10 cards) and Master (56 cards) registry sets reside.
"I'm a Cardinals fan and in my opinion, he's the greatest Cardinal there has ever been and probably ever will be," said Bob Schrum, who owns the registry's No. 2 Musial Master Set.
Shimko agrees.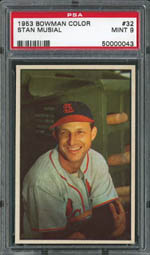 "I have been a lifelong St. Louis Cardinals fan and since Musial was the greatest player to wear a Cardinal uniform (I'm sure that others share this statement, but some may disagree) it seemed like a natural fit for me to collect Stan the Man," he explained.
The veteran collector has been fortunate enough to meet Musial several times.
"He is always kind with his words and generous with his time. The first time I met him, I was about 10 years old and my father took me to a card show at Pocono Downs Horse Track, where he was signing autographs," recalled Shimko. "I was one of the youngest, if not the youngest, individuals waiting for a chance to speak with this legend and have him sign my baseball. The promoter was trying to rush things along, but when Stan saw me decked out in my Cardinals attire, he picked me up and sat me down right next to him so that my father could take a picture of us together."
Shimko says Musial proceeded to talk baseball for about 10 minutes.
"We later had the picture enlarged and Stan signed it for me. This picture is probably my most prized possession as it takes me back to a place in time where it was just my father, Stan the Man and I, where nothing else mattered," said Shimko. "My father kept a small version of this picture on his desk at work for years until he retired. I have the large autographed one hanging on my wall at work where I see it every day."
Schrum also had the opportunity to meet Musial. His experience came at a Frontier League game in St. Charles, Missouri.
"I got to talk to him for about five minutes and he seemed like a real down-to-earth person," he said.
Card
No. of Submissions
PSA 9 or Higher*
1948 Leaf #4
2
1949 Bowman #24
9
1953 Bowman #32
15
1948 Bowman #36
16
1963 Topps #250
18
1960 Topps #250
21
1959 Topps #150
23
1962 Topps #50
24
1952 Bowman #196
33
1961 Topps #290
37
PSA Population Report Numbers as of Aug. 11, 2010.
Hobbyists seem to agree that Musial's 1948 Leaf rookie (#4) is his most prized single. This card was part of the first post-World War II baseball set to be issued in color.
"The card is very popular just because of the color and the popularity of that set. It has Jackie Robinson and a lot of tough-to-find Hall of Famers in it," explained Addison, adding that the Leaf rookie is tougher to obtain in high grade than Musial's Bowman rookie.
A number of condition woes hamper this card, including poor centering, print defects and toning. Of the 443 submitted, just two have received the coveted PSA MINT 9 grade. A PSA NM-MT 8 sold for $5,275 on eBay in March 2010.
His 1948 Bowman rookie (#36) is also popular, but its black and white picture makes it less appealing to collectors than the Leaf rookie. This card also suffers from its share of condition problems.
"A lot of them you see are not centered and the border coloring is off a little bit," said Schrum.
There has been just one PSA GEM-MT 10 example and 15 PSA 9s. A PSA 9 sold for $9,141.50 in a Memory Lane auction in December 2009.
Another desirable card is Musial's 1952 Bowman single (#196). The first full color Stan the Man card, this is one of his most visually appealing cards. Of the 941 evaluated, there has yet to be a PSA 10 and there are 33 PSA 9s. A PSA 9 commanded $1,944.62 in a Mile High Card Co. auction in March 2009.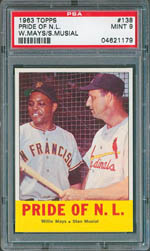 While Musial was not featured in the 1954 Bowman or Topps sets, he was part of the 33-card 1954 Red Heart Dog Food issue. While most cards in this set are readily available, the Musial, with its stunning red background, is a short print.
"The 1954 Red Heart is a popular card and I think that is just because of the color and just how pretty of a card it can be," said Addison.
Shimko notes, however, that the red coloring tends to bleed through the back on this card and that the centering is "hit and miss."
Just five PSA 9s exist, with one of them selling for $4,024.38 in a Mastro Auctions sale in August 2006.
Musial's 1958 All-Star card (#476) was his Topps debut. The Cardinals great hasn't provided an explanation as to why he didn't appear in a Topps issue until that late in his career.
"He just didn't want to sign for cards," longtime Topps executive, Sy Berger, told a USA Today reporter in an article published in March 2001.
In the same story, Berger adds that Musial agreed to appear in the 1958 set after Topps boss Joseph Shorin pledged $1,500 to a charity that Cards' owner August Busch was campaigning for.
It's the 1959 Topps single (#150), however, that Shimko found elusive in pristine condition.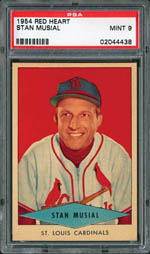 "For me, the most difficult mainstream issue to find in high-grade was the 1959 Topps card which can often be found off-centered or with those pesky fish-eyes in the blue background," he said.
There are just 23 PSA 9s of this card, with no examples grading higher. One PSA 9 sold for $1,261.95 in a Memory Lane auction in December 2009.
A number of oddball Musial cards also make completing the Master Set challenging. The 1962 Exhibits Pittsburgh card is particularly elusive. Little is known about this issue, but the set's emphasis on Pirates players suggests it was released in the Pittsburgh area in 1962 (though there's no copyright information on the cards). Featuring a playing card design, the cards were reportedly distributed in penny arcade machines at, among other places, Kennywood Amusement Park near Pittsburgh. The Musial card is the four of hearts. This is the only card that Addison is missing for his Master Set. Shimko owns the only graded copy (a PSA 6 MK).
Musial's 1962 Venezuelan Topps card (#50) is also evasive in top condition. Poor card stock is one of the reasons for this card's condition sensitivity. Albums were distributed for many of Venezuelan sets, encouraging collectors to stick their cards inside of them. As a result, many of these singles showcase glue damage or have paper missing.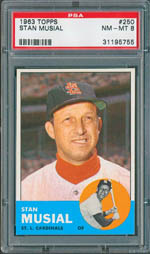 "The conditions are very, very poor on the Venezuelan cards," noted Addison. "Generally, the PSA 1s and 2s are selling in the $200 to $300 range, because that's the only condition you can really find them in."
Still living in St. Louis, Musial was feted prior to last year's All-Star Game at the new Busch Stadium. The ovation he received is a clear indication that, although he may not get the national recognition of Willie Mays or Hank Aaron, he's still "the man" in St. Louis.
"As far as I'm concerned, collecting a player as great as Musial, with as little competition as possible, is not a bad thing," said Shimko.
Please feel free to contact Kevin Glew at [email protected] if you have any additional information or comments. Chad Addison and Drew Shimko provided pictures for this article. Please note that the Population Report figures quoted and Set Registry rankings reported are those as of press time.
Toughest Stan Musial Basic Set Cards to Find in PSA MINT 9 or Better Condition